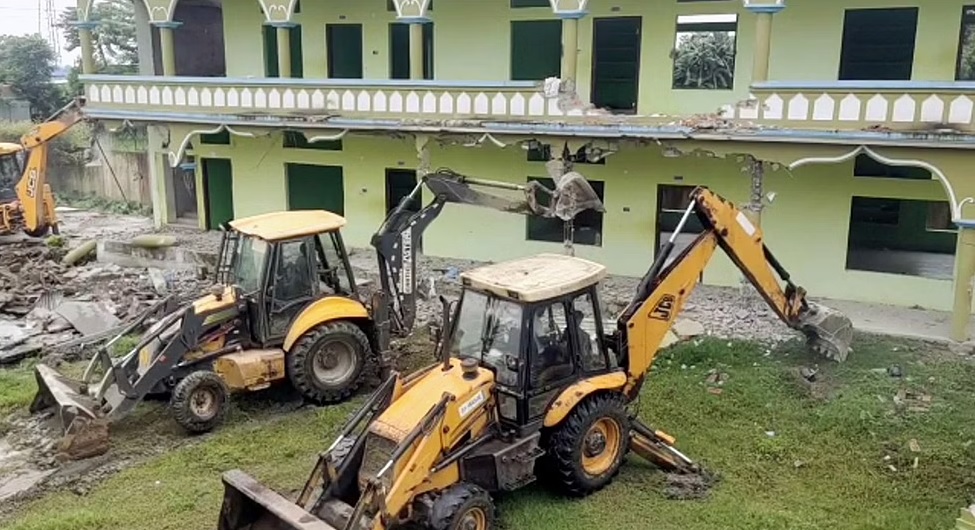 On Wednesday, August 31, a madrasa in Kabaitary in Assam's Bongaigaon district became the third to be demolished in connection with alleged links to terrorist organisations. However, now the All Assam Minorities Students Union (AAMSU) claims that it had nothing to do with terror links, but was instead demolished to allegedly intimidate the local Bengali-speaking Muslim minority community.
Readers would recall that madrasa demolitions began in Assam after the arrest of nearly 30 people, including a few Imams, who were all allegedly connected to Ansarulla Bangla Team (ABT), a banned terror group based out of Bangladesh, Ansal-al-Islam, and the Al Qaida in the Indian Subcontinent (AQIS).
But when it came to the Markazul Ma-Arif Quariayana madrasa located in Bongaigaon's Kabaitary part IV village, the notice served by the office of the Deputy Commissioner (Bongaigaon) before demolition said that the building was "structurally vulnerable and unsafe for human habitation" and was therefore being demolished.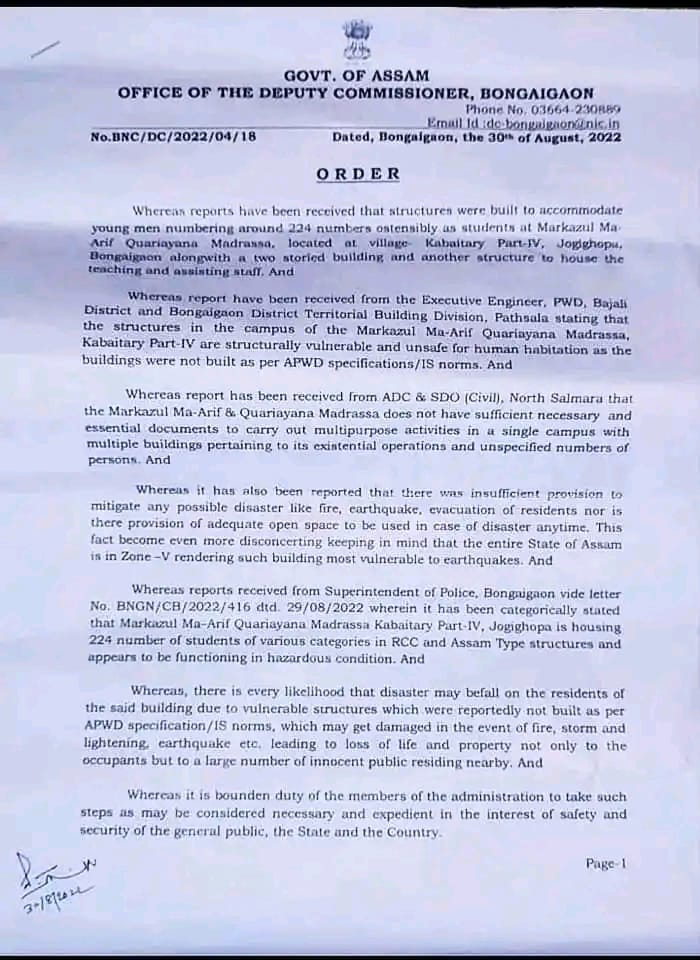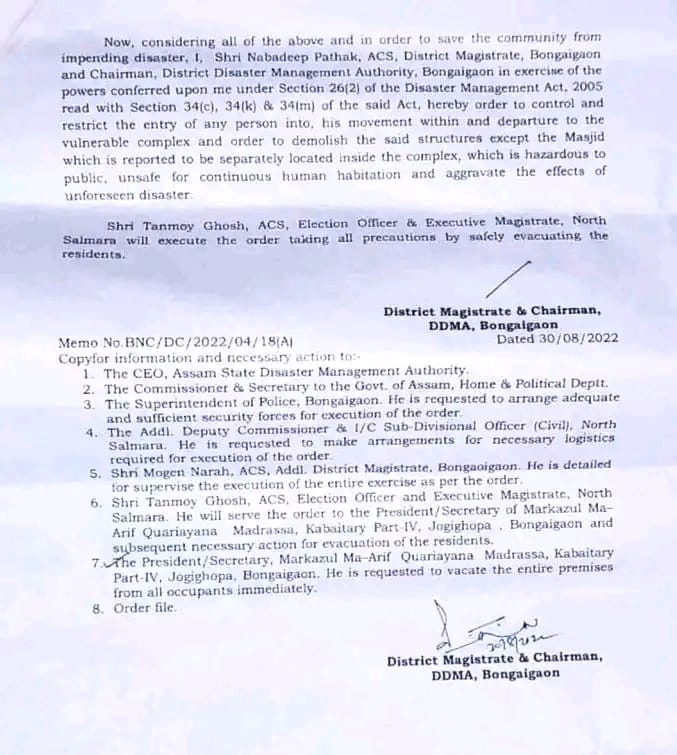 Discrepancy in reason for demolition
However, instead of structural vulnerability, District superintendent of police (SP) Swapnaneel Deka gave two other reasons for demolition – links to terror groups and lack of necessary permits before construction.
Deka was quoted by the Hindustan Times as saying, "We started the process of demolishing the madrasa at Kabaitari in Bongaigaon on Wednesday morning following recovery of incriminating documents, suggesting links with jihadi groups, during a raid on Tuesday." A notice was served to the over 200 resident students of the madrasa the previous day, asking them to relocate. On the subject of structural soundness, he added, "Besides, the madrasa on private land was constructed without following necessary provisions and permits. Hence, it was demolished under provisions of the Disaster Management Act."
It is this discrepancy that AAMSU is questioning. AAMSU President Rejaul Karim Sarkar told SabrangIndia, "We fully support the government if they act against terrorists. The inquiry against the arrested cleric is going on. If he is found guilty, he should be hanged. But would you demolish an entire University building if one teacher of student has terror links?"
Sarkar questions the different narratives surrounding its demolition. He asked, "First they said it had connections with terrorist groups, but then why was it demolished citing structural vulnerability by the disaster management authority?" He also points out, "If the structure was unsound, why did it take so many JCBs a whole day to tear down the structure?"
Sarkar said that the land upon which the structure was built is owned by the madrasa itself, and that the building was not an illegal structure. He shared with SabrangIndia the following documents of land ownership and building permissions: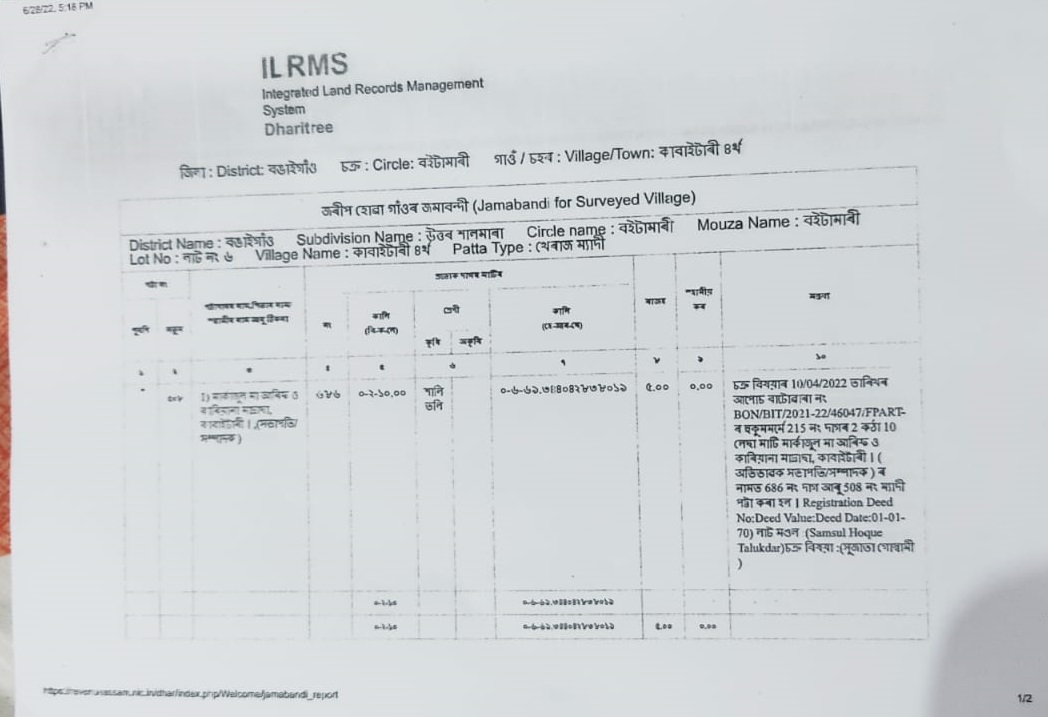 The above Jamabandi document shows that the land upon which the madrasa was built belongs to the madrasa itself.
And here are documents containing details of plans and estimated cost of construction that were submitted to the Junior Engineer of the Tapattary development block (his seal appears on the pages).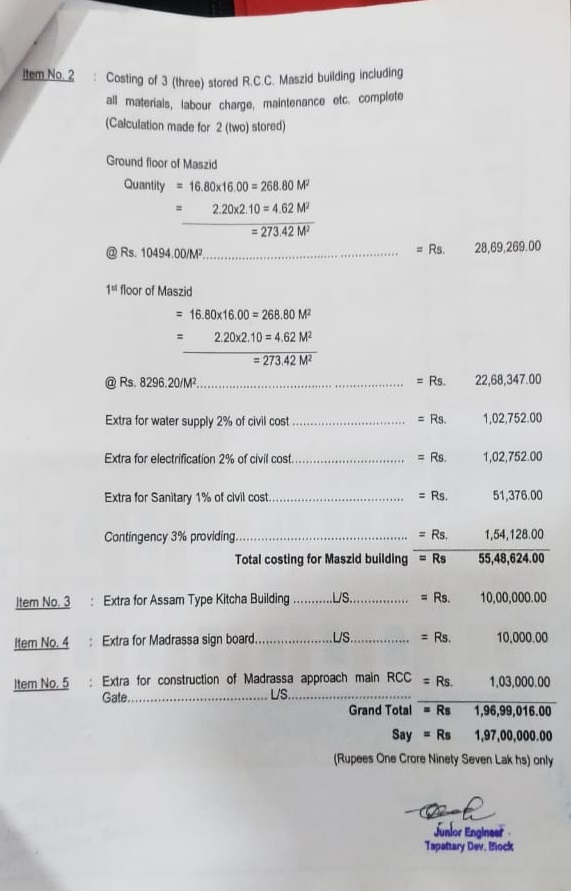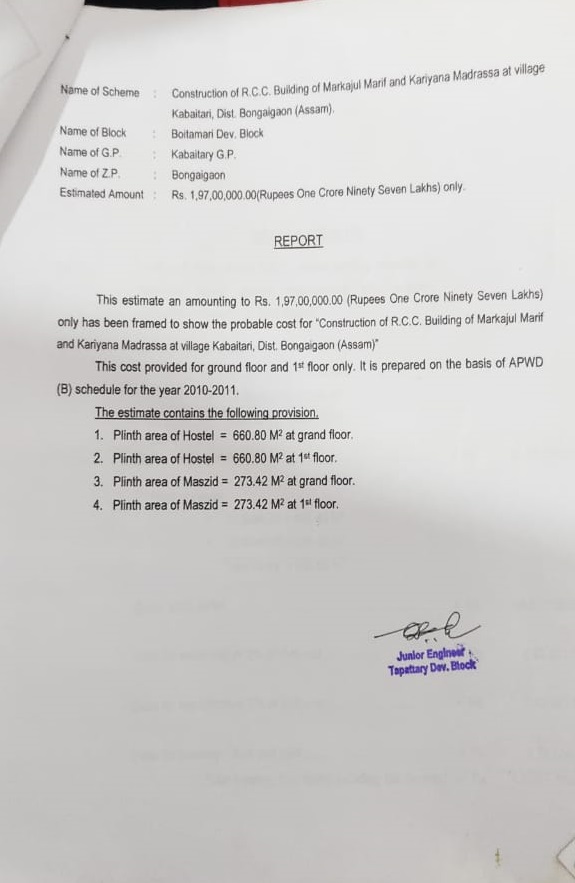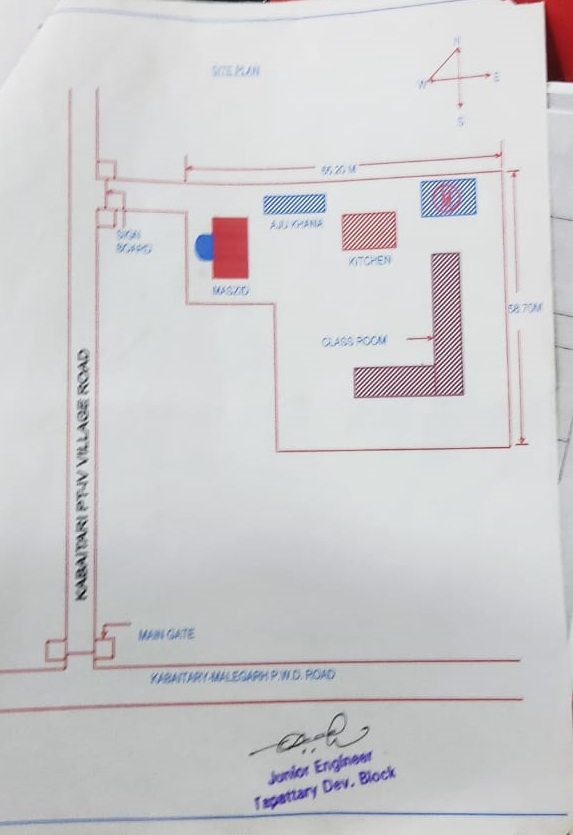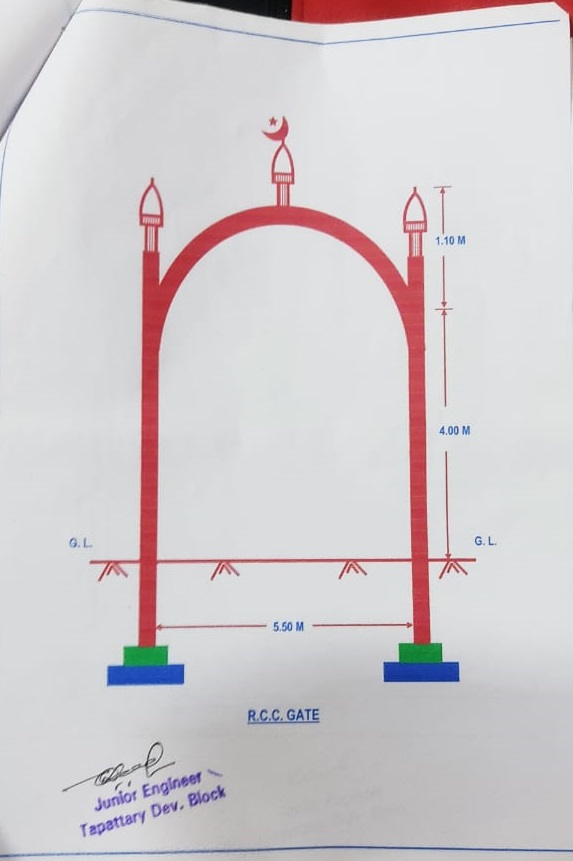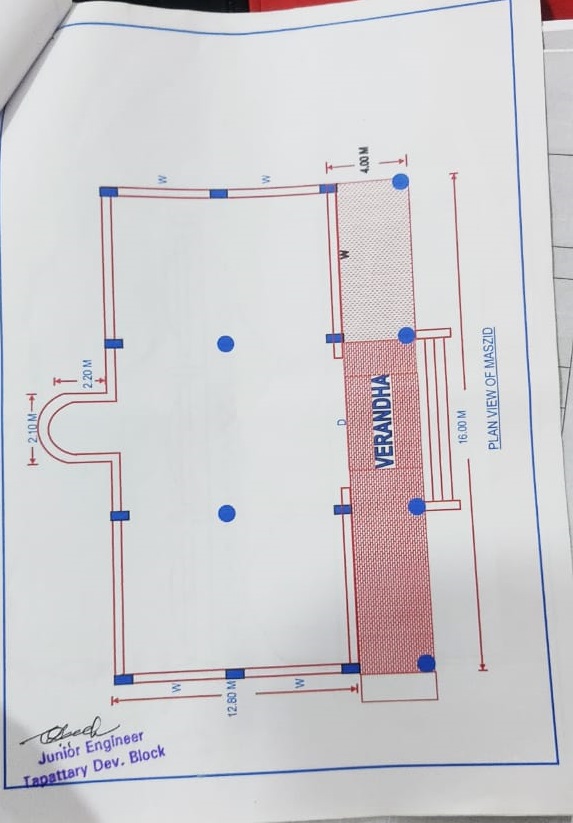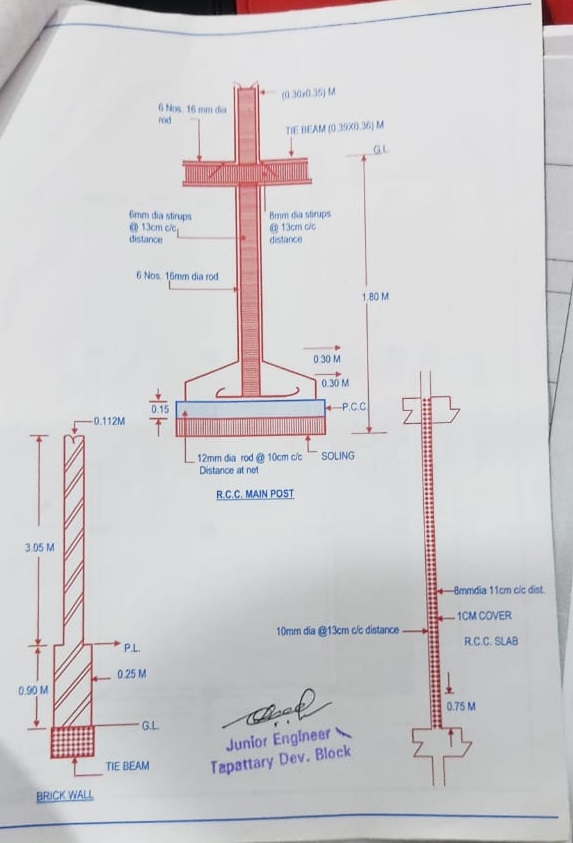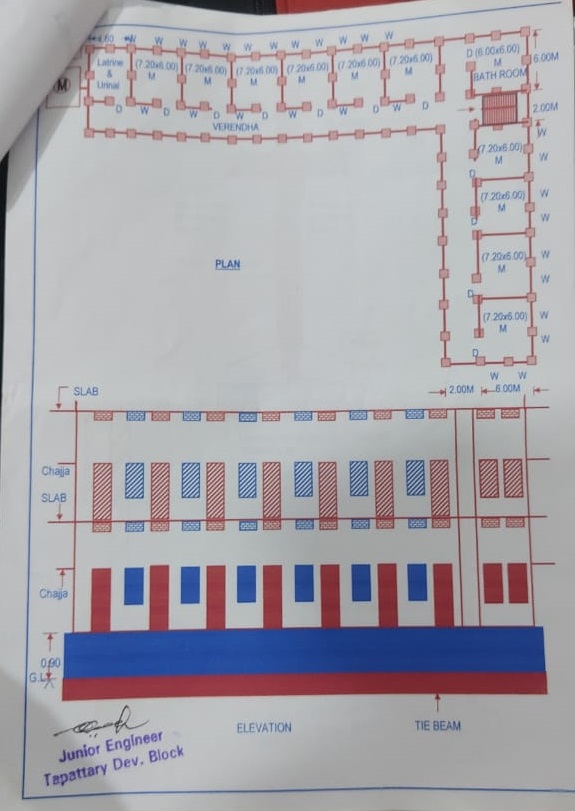 The local village panchayat also gave a no objection certificate for construction. It may be viewed here: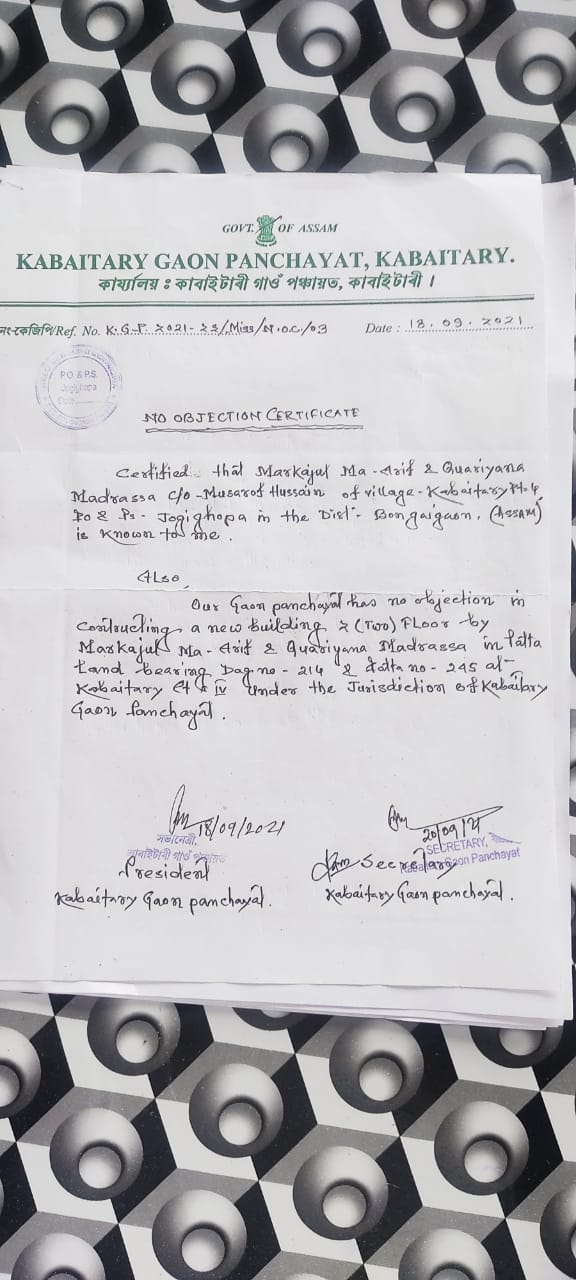 However, none of the documents shared by Sarkar show that permission for construction was actually granted.
Brief background of the madrasa demolitions
In March 2022, five people, including a Bangladeshi national living in Assam illegally, were nabbed from Barpeta, and six more were nabbed in April. They all stand accused of attempting to radicalize youth. On July 27, Mufti Mustafa, a 32-year-old madrasa teacher was arrested from Shahariagaon, located a little over 100 kilometers outside the state capital of Guwahati. Mustafa was charged under various sections of the Unlawful Activities (Prevention) Act.
Eleven other people were also nabbed in the operation that took place in four districts over a three-day period between July 27 and 29. The eleven others arrested were "connected to Islamic fundamentalism having linkages with global terror outfits such as the ABT and the AQIS," according to Special DGP (law and order) G.P. Singh. They hail from Barpeta, Goalpara and Guwahati, and were picked up from Guwahati's Hathigaon area. Then on August 20, two imams were arrested from Goalpara.
The Shahariyagaon madrasa, where Mufti Mustafa taught, was demolished on August 4, after which Chief Minister Himanta Biswa Sarma said that Assam had become a "hub of terrorist activities". NENow quoted him as saying, "Jihadi activity is very different from terrorist or insurgency activities. It starts with indoctrination for several years, followed by active participation in promoting Islamic fundamentalism, and finally going for subversive activities." He thanked peace-loving Muslims of Assam for aiding in the capture of the terror module members, and asked citizens to remain vigilant and report any suspicious activity.
On August 22, Assam Chief Minister Himanta Biswa Sarma announced that the state government is in the process of putting together a Standard Operating Procedure (SOP) to monitor the entry of Imams from outside Assam into the state. Sarma was quoted by the Times of India as saying, "We have made an SOP that if any imam comes to a village in the state and the villagers do not know him, they should immediately inform the police. Only after the police verify the antecedents of these imams, they will be allowed to stay." He said a government portal was being developed for such imams to register themselves when they came to Assam. He also clarified that this registration was not required for local imams.
After this, on Monday, August 29, authorities demolished the Shaikh Hind Mahmudul Hasan Jamiul Huda madrasa, a private madrasa located at the Joshihatapara area in Barpeta. According to Assam-based English language news portal Pratidin Time, this madrasa was allegedly established by a Bangladeshi national named Saiful Islam alias Harun Rashid alias Mohammad Suman, who allegedly had links to ABT.
The third madrasa to be demolished was the Markazul Ma-Arif Quariayana madrasa located in Bongaigaon's Kabaitary part IV village. It was demolished purportedly due to having an unsound structure and that was built on private land without proper permit. Though local authorities also said it had terror links.
The fourth madrasa was demolished allegedly by local villagers themselves! On September 6, villagers of Darogar Alga in Pakhiura Char of Goalpara district tore down a madrasa in wake of news of its alleged links to terror groups.
But now, Indian Express reports that villagers had carried out the demolitions after being allegedly asked to do so by the local police. Rahim Badshah, a villager who was one of the persons who pulled down the madrasa and a reed house on the same premises, told the publication that he did it after he was asked by Shukur Ali, another villager, to do so. He said Ali told him that Goalpara SP and DSP had asked him to demolish the madrasa.
But police have denied the allegations. Goalpara SP VV Rakesh Reddy told IE, "Some local villagers got agitated after they got to know the madrasa premises were being used for anti-Indian activities. They pulled down the structure in resentment and set an example that they wouldn't want to be party to any anti-Indian activity. It was a voluntary act and the administration or police weren't part of it."
Related:
Assam developing SOPs for Imams coming from 'outside'
HC paves way for Assam government's move to 'secularise' provincialised Madrasas
Assam to shut down gov't run madrasas, Sanskrit tols?
Jamiat Ulama to contest decision to convert all madrasas into regular schools in Assam