JNU Vice Chancellor passed all the agenda items of the Academic Council without allowing any deliberations.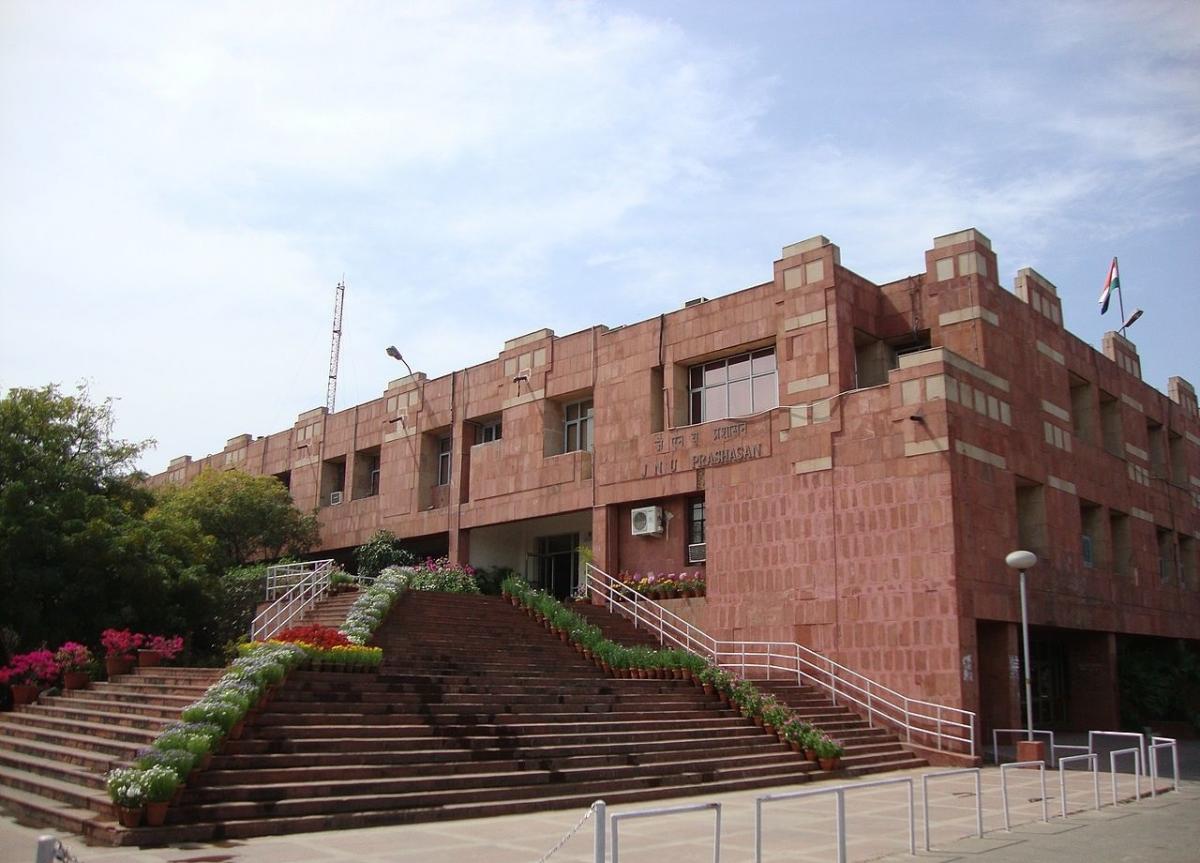 Jawaharlal Nehru University witnessed an undemocratic Academic Council meeting on 16th June. The people from the administration siding with the Vice Chancellor, heckled teachers and JNUSU representatives. The vice chancellor passed all the agenda items of the AC without allowing any deliberations. This meeting was a continuation of 143rd AC which was adjourned on May 9. It was held to discuss JNU admission policies and M.Phil. -Ph.D. seat cuts.
JNU VC, Prof. Jagadish Kumar imposed his decisions on students and teachers. When the JNU students' union and JNU teachers' association representatives pointed out the authoritarianism, the administration tried to manhandle them.
"There was no space for democratic discussion and deliberation. The Vice Chancellor and the administration were passing their agendas one after other without any discussion. And when we objected it, VC's minions started to manhandle the student representatives," said Mohit Kumar Pandey, JNUSU president.
"Atul Kumar Johri and Ashwini Mohapatra, held JNUSU Joint Secretary Tabrez Hassan by his collar and heckled him," Mohit added.
"It is not an isolated event, but a continuation of events occurred in the past," said Mohit, referring to undemocratic proceedings of the previous AC meetings. He further added that JNUSU has filed a complaint against the teachers- Atul Johari and Ashwini Mohapatra- who had manhandled the representatives during AC meeting.
Satarupa Chakraborty, JNUSU General Secretary said, "the VC did not allow anyone to speak on any agenda item. He did not even allow dissent to be recorded. An agenda items were stated and considered passed. VC gave the mic only to certain members to speak. No deliberations were allowed."
"Atul Johri is not even a part of the Academic Council. He came as a special invitee of the VC. He was attacking the students when we tried to record the meeting", Satarupa added
"JNU is mainly a research university, they are trying to impose Engineering and other certificate and diploma courses, including a course on yoga philosophy. Some members said there is no need for an entirely different course on it. If needed it could be incorporated in other courses. The VC agrees to only a certain kind of training for the course. The critical reflection of yoga philosophy would not be a part of it. A certificate course on yoga philosophy was passed. Earlier AC had clearly directed revision in the course as well as raised concerns over introducing such certificate courses. The VC unilaterally announced the course as approved. Similarly, a special center for disaster research, on which an overwhelming majority in AC objected, was passed without any discussion. While, a fundamental course on introduction of MSc Mathematics under School of Physical Sciences was obstructed by VC, along with Amita Singh and the Chairperson of Center for Sanskrit Studies. All these proposals have been passed undemocratically in the meeting. Hindutva agenda is clearly being imposed on the university.", said Satarupa. She also said that the Nafey committee recommendations, which were accepted by the earlier AC, are being tampered with. The weightage of viva-voce with respect to written was 30-70 in JNU. Prof. Abdul Nafey recommended that seeing the discrimination faced by students from deprived sections, viva voce with respect to written should be made 20-80. She added, "By making the Viva 100 % and introducing 50% blanket eligibility criteria, the reservation policy is being scuttled with. The VC didn't allow any discussion on these issues saying that the matter is subjudice. If the matter is subjudice, how can intake and Viva Voce marks, following UGC Gazette, be a part of the agenda? And how were they unilaterally passed by the VC?"
JNUSU has condemned the authoritarianism of administration and physical attack on students' representatives in a press release. The release added, "In the coming days, the students will fight back all these anti-student policies being imposed by the VC in authoritarian manner. We will also fight against the physical threats and intimidations. Our political and legal battle against the authoritarian JNU administration continues."
Courtesy: Newsclick.in