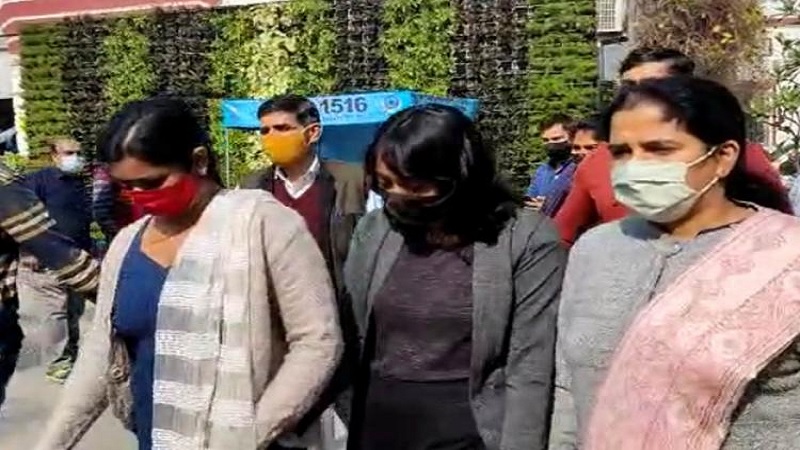 Image Courtesy:thenewsminute.com
The Patiala House court has sent the 21-year-old environmentalist Disha Ravi to three days judicial custody in connection with farmers' protest toolkit FIR, reported Bar & Bench. The order was passed by Additional Chief Metropolitan Magistrate Aakash Jain before whom Ravi was produced after the expiry of her five-day police custody.
Additional Public Prosecutor Irfan Ahmed informed the Chief Metropolitan Magistrate that during the course of interrogation, Disha Ravi was "evasive and shifted the blame to co-accused" Shantanu Muluk and Nikita Jacob. Ahmed further added that a notice has already been sent to Shantanu Muluk asking him to join the investigation on February 22.
The Delhi Police had issued non bailable warrants against lawyer/activist Nikita Jacob and Shantanu Muluk and engineer/activist, both allegedly involved in editing a google document which was meant to create unrest in Delhi. Both activists moved the Bombay High Court and were granted transit anticipatory bail for 3 weeks and 10 days respectively.
Advocate Siddharth Agarwal sought Ravi's release on the ground that the case diary was not being maintained as per law and raised apprehensions of tampering. It was also contended that the case diary was not paginated. He said, "I'm objecting to the manner in which the diary is being provided… I would request that this is not a case diary in accordance with law and I should be released on that ground alone."
Bar & Bench reported that the Court was also informed by Prosecutor Irfan Ahmed about Ravi's bail plea which shall come up for hearing on February 20 before the Sessions Court. Additional Solicitor General SV Raju also appeared before the Court through video conference.
Ravi was arrested by the Delhi Police and sent to police custody on February 14 on grounds that she had made edits to a Google document that was shared as a "toolkit" related to the ongoing farmers protests. The Police has claimed that this toolkit was created by a Khalistani group, Poetic Justice Foundation and was edited by Disha Ravi, Nikita Jacob and Shantanu Muluk to amplify the protests.
Related:
Why free speech supporters should consider Disha Ravi's arrest a cause for concern
Media cannot report in a sensationalised manner: Delhi HC on Disha Ravi's plea
Bombay HC grants 3 weeks anticipatory bail to Nikita Jacob in toolkit case
Nikita Jacob's pre arrest bail order reserved, Shantanu Muluk gets transit bail
Know your rights: Disha Ravi's arrest & the Delhi police witch-hunt