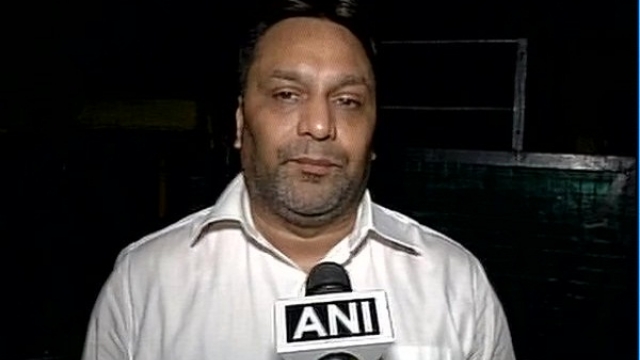 Image: DNA
UPDATE: March 18, 2016
Pushp Sharma, freelance journalist was called in for "questioning" for the third day running on March 18, 2016.
UPDATE: 10.50 p.m. March 16, 2016
Pushp Sharma was finally allowed to go by the Delhi police though the respite may be short as he has been summoned again for 'questioning' tomorrow, March 17, 2016 at 11, 11.30 a.m..
Speaking to SabrangIndia tonight, Push Sharma said that the FIR registered against him has been under sections 418, 468, 471 and 153A of the Indian Penal Code (IPC).
These sections relate to " cheating with knowledge that wrongful loss may ensue to person" (section 418), " forgery for purpose of cheating: (section 468) and "using as genuine a forged docuemnt" (section 417. Section 153 A related to promoting enmity between communities on account of religion etc.
Original Story:
Pushp Sharma, the freelance journalist who published his story in the Milli Gazette on the RTI reply he got from the Central government's Ayush Ministry that stated "according to government policy no Muslim will be selected (as Yoga teachers)…" is likely to be arrested soon.
Speaking to Sabrangindia Sharma said that while he stands by his story that is fully documented, the Delhi police is busy preparing a memo and is likely to formally arrest him soon. The FIR registered against him is under Section 153A of the Indian penal Code. Editor of the Milli Gazette, Mr Zafarul Islam-Khan also spoke to Sabrangindia. He was on his way to the police station with lawyers preparing the bail application for the journalist.
The Delhi police (that functions directly under the central government's ministry of home affairs) picked up Sharma last evening and questioned him for four hours.
The Milli Gazette Online has published the following statement along with a message from Sharma on March 16, 2016:
Kotla Mubarakpur police station, where journalist Pushp Sharma was being interrogated after he was picked up by a police force from his home in Lajpat Nagar at 6:30 pm this evening, allowed him to go home at 10:30 pm, with the instruction that he must report at the police station tomorrow at 10 am with all the papers relevant to his story about the AYUSH ministry. Dr Zafarul-Islam Khan, editor of the Milli Gazette which broke the story claiming that the ministry as per government policy did not recruit Muslims, said that this is plain harassment of media and muzzling of free speech. The ministry should make its enquiries to find out what really happened. He added that we are always ready to publish the ministry's version but will fight back at its high-handed tactics.
Pushp Sharma's message to his readers after his temporary release
To my readers at home and abroad
Dear readers,
My stand is the same now after this ordeal at the hands of the Delhi Police. I got many papers from the Ayush Ministry which any journalist will use if he gets such stuff which is harmful to the interests of the social and secular fabric of the country. Moreover, when the concerned ministry issued a press release denying what I had reported, we followed all journalistic rules and uploaded the ministry's press release as well as other documents in our possession. I told the cops that if any story is questioned by an interested party, then the globally accepted norm is for the interested party to provide its version which is later published or uploaded by the editorial board of the publication after consulting legal experts. We too follow same policy and are open to this even now.
Moreover, I told the SHO of the concerned police station that in the media if a group does a story and later any interested group or person updates it and sends facts, then the globally accepted policy is to crosscheck the content and publish or upload it with an apology. After listening this for a few minutes, I heard just abuses, and shouts and allegations, like: who is behind you and what is your motive? I told them that my decision and reason to do any story is always journalistic. So obviously people in power will try to spread rumours, do character assassination or try to connect me with some political outfit.
It seems the system is hell-bent to do character assassination, arms-twisting and stoops to the extent of mockery and issuing threats just because of a story.
I will revert with another exposé on Yoga soon, if I continue to have my freedom.
Warmly, Pushp
(Written after the journalist's temporary release at 11:00 pm on March 15, 2016 with the instructions to report back to the police station next morning at 10 am.
Released by The Milli Gazette at 12.50 am March 16, 2016.
References:
1. As per government policy, no Muslim selected: Modi Sarkar