First published on:  26 Oct 2019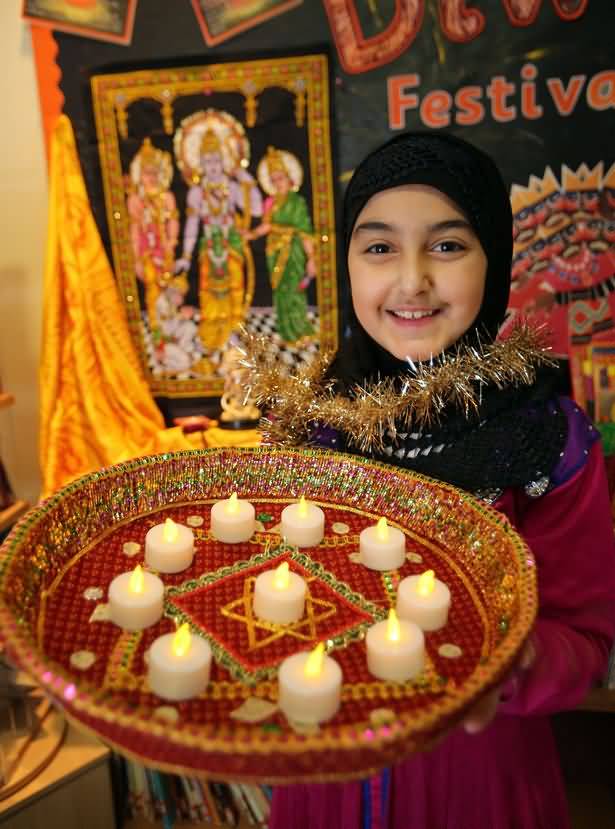 There is a lot of debate about bursting firecrackers on Diwali with regards to damage to the environment. Some defenders of firecrackers have made claims that firecracker ban on Diwali is anti-Hindu. So it might surprise some people to learn that the tradition actually has it roots in how Mughal emperors celebrated Diwali.
It was Muhammad bin Tughlaq, who ruled Delhi from 1324 to 1351, who became the first emperor to celebrate a Hindu festival inside his court. It was celebrated modestly with bonhomie and good food, organized by Tughlaq's Hindu wives.
This tradition continued down generations till Akbar took the Mughal throne and insisted that Diwali become a grand festival in the Mughal court. The Rang Mahal in Red Fort was the designated centre for the royal celebrations of Jashn-e-Chiraghan (festival of lights) as Diwali was called then, and the festivities were carried out under the Mughal king himself.
Akbar also began the tradition of giving sweets as Diwali greetings.Chefs from across kingdoms cooked delicacies in the Mughal court for the occasion. The ghevar, petha, kheer, peda, jalebi, phirni and shahitukda became part of the celebratory thali that welcomed guests to the palace for Diwali celebrations. On Diwali in Akbar's court, the Ramayana was read, followed by a play depicting Lord Ram's return to Ayodhya. This tradition strengthened Akbar's empire, (noted by his biographer Abu'lFazl in Ain-i-Akbari), as it helped the king bond better with his Hindu subjects, and encouraged many Muslim merchants to take part in the festivities.
Shah Jahan took the celebrations a step further by incorporating Muslim new year festival "Navroz" into Diwali, making it a joint biggest festival of the empire. He invited chefs from all over India and imported ingredients from Persia, for the chefs to prepare the most decadent sweets for ChhappanThal (consisting of sweets from 56 kingdoms) which became a Diwali tradition. Aurangzeb also followed the tradition of sending sweets to noblemen on Diwali.
Another ritual that marked Diwali during the Mughal empirewas the traditional lighting of the Surajkrant, the empire's permanent source of fire and light.According to historian R Nath, the process began at noon. When the sun entered the 19th degree of Aries, the royal servants exposed a round shining stone called the Surajkant to the sun's rays. A piece of cotton was held near the stone, which would then catch fire from the heat. This celestial fire was preserved in a vessel called Agingir (fire-pot) and later used to light up "Akash Diya" (sky lamp) which was a giant lamp on top of a 40 yard high pole, supported by sixteen ropes.
Shah Jahanapparently began the Akash Diya tradition as an ode to religious harmony when he set up the city of Shahjahanabad.The tradition of fireworks during Diwaliis also attributed to Shah Jahan who put up an elaborate fireworks display on the banks of the Yamuna every Diwali.
Even the last of the Mughal emperors, Bahadur Shah Zafar organised plays to be performed around the theme of Diwali at the Red Fort, along with Laxmi Puja, which was opento public. Fireworks would also be set off near Jama Masjid, Delhi, for the occasion. William Dalrymple's book, 'The Last Mughal: The Fall of Delhi, 1857', says, "Zafar would weigh himself against seven kinds of grain, gold, coral, etc and directed their distribution among the poor." The Hindu officers were presented gifts on the special occasion.
In contemporary India, we see these traditions live on in the form of syncretic celebrations of Diwali by Muslims. From the lighting up of Haji Ali Dargah in Mumbai to decorations and diyas adorning the HazratNizammudinDargah in Delhi, Muslims are very much a part of Diwali celebrations of this nation. The dargah of Baba HazratMaqbool Hussein Madani near Shanivar Wada, Pune, has been decorated with diyas on every Diwali since twenty years, when a Hindu family in the area had requested to light a diya at the Dargah. Gradually, other people started following the practice and now every year, residents of Shanivar Wada collect money to buy diyas and decorations to light up this Dargah which was constructed in the 13th century.
Kammruddin Shah's Dargah in Jhunjhunu, Rajasthan, has a similar story. Hindus and Muslims celebrate Diwali at this Dargah together to honour a 250 year old story of friendship between Sufi saint Kammruddin Shah and Hindu saint Chanchalnathji who used to meet in a cave that connected the Dargah and Chanchalnathji'sAashram. The residents believe it is their moral duty to continue the tradition of Hindu-Muslim unity by lighting diyas and fireworks together at the Dargah.
While the debate about fireworks rages on, people need to keep in mind that this is not a communal issue but an environmental one. Hindus and Muslims of India do not need to be mired in another divisive issue which has no roots in logic. We have celebrated and honoured Diwali together for centuries, and we need to follow the examples of friendship and harmony to unite for causes that matter. We are all building our next generation's future right now, wouldn't we want them to grow up in a nurturing, harmonious, and healthy environment?
This Diwali, if you choose to celebrate, read about environmental consciousness, air and noise pollution; and celebrate Diwali with your friends and neighbours irrespective of caste and religion. May the light from the diyas penetrate all our lives with warmth and love, Happy Diwali!
Related articles