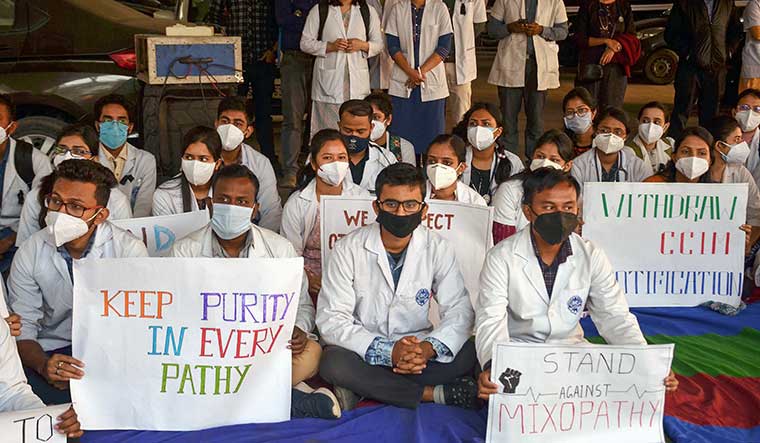 "Medical fraternity is very upset… all politicians must get surgeries done from ayurvedic doctors only and not make the general public guinea pigs. Sincere request to PM and Health minister to add a line [to the plan to allow Ayurvedic practitioners to do surgery] that all politicians will get surgery done from ayurvedic doctors only," Secretary General of Delhi Gynaecologist Forum, Dr. Sharda Jain's views on what the medical fraternity of has termed #MIXOPATHY are being shared widely over social media and whatsapp groups.
Secretary General of Delhi Gynaecologist Forum, Dr. Sharda Jain's views on #MIXOPATHY pic.twitter.com/AEWv8ThWFH

— Erinadus International Education Pvt. Ltd (@ErinadusAbroad) December 14, 2020
In a gentle calm way, the good doctor has put forth concerns that doctors have been raising since the Union Government, in November 2020, announced that postgraduate Ayurveda practitioners will be trained in performing surgical procedures.
On November 19, a government notification listed out surgical procedures that postgraduate medical students of Ayurveda must be "practically trained" in so they can "independently perform" surgeries. This was soundly criticised by the Indian Medical Association (IMA). The IMA had raised concerns and objected to "the competence of Ayurveda practitioners" to carry out surgical procedures. It called this proposal "mixopathy" and called for a suspension of all non-essential and non-Covid services on Friday, December 11 to protest the notification. The doctor's protest strike happened across the country.
Meanwhile, the government's AYUSH (Ayurveda, Yoga and Naturopathy, Unani, Siddha and Homeopathy) ministry got into a collaboration with the country's premier medical institute, "to work together to set up a Department of Integrative Medicine".
On December 9, the Ministry of AYUSH and AIIMS announced that they have "decided to initiate work on setting up a Department of Integrative Medicine at AIIMS." The decision was taken after a joint review by Vaidya Rajesh Kotecha, Secretary, AYUSH and Dr. Randeep Guleria, Director, AIIMS of the Centre for Integrative Medicine and Research (CIMR) at AIIMS, New Delhi. According to the official statement issued by AYUSH Ministry, "cutting edge research activities being held by CIMR in the Yoga and Ayurveda disciplines were reviewed and the research outcomes were seen to be impressive." So impressive that "Ministry of AYUSH and AIIMS decided to extend the duration of the research collaboration at CIMR and also to extend the scope of collaborative activities."
Soon it may set up a "dedicated OPD and IPD beds for CIMR" and may find it "feasible to further develop it into a standalone Department for Integrative Medicine at AIIMS in the short-term future. This may be developed with dedicated faculty and staff to make it into a permanent Department at AIIMS." According to the statement it was also decided that "CIMR, AIIMS may develop an integrated protocol with Ayurveda and Yoga for study on Post Covid treatment. The Ministry of AYUSH could collaborate in the same through the Extra Mural Research Scheme. The progress in establishing the Integrated AYUSH cancer care facilities at the National Cancer Institute at Jhajjar, Haryana was also reviewed. It was decided to follow it up and expedite the process for early establishment and functioning of the center."
The IMA has not agreed to what the center calls 'integration' and they call 'mixology'. The IMA has an Anti Quackery Wing and its website lists the various court orders, rules and regulations as a ready reckoner for doctors regarding "specific provisions and orders barring quackery by unqualified people, practitioners of Indian & Integrated Medicine to practice Modern Medicine" (http://www.ima-india.org/ima/left-side-bar.php?pid=291)
According to the information provided here, "It is estimated that about 10 lakh quacks are practicing allopathic medicine, out of which 4 lakh belong to practitioners of Indian Medicine (Ayurvedic, Sidha, Tibb and Unani)". The IMA call this a risk to the "health of the gullible people including poor, critically ill, women and children". It states that there "is a greater need to act against quacks."
It categorically lists as quacks: "practitioners of Indian Medicine (Ayurvedic, Sidha, Tibb, Unani), Homeopathy, Naturopathy, commonly called Ayush, who are not qualified to practice Modern Medicine (Allopathy) but are practicing Modern Medicine."
It lists the following medical Acts to support its definition of and warning against quacks.
Meanwhile mustiple news reports came in from various parts of the country as doctors protested in solidarity with Indian Medical Association's call for a strike against 'Mixopathy'. According to a report in the Indian Express, the IMA national president Dr R Sharma said, "Modern medicine is controlled and research-oriented, we are proud of the heritage and richness of Ayurveda but the two shouldn't be mixed."
It reported that over 30,000 doctors from Gujarat have joined the nationwide strike, as did doctors from Guwahati and elsewhere, demanding the Government withdraw the CCIM Act notification and the NITI Aayog committee for integration (of all medicine systems). According to news reports doctors on essential services performed their duties while wearing black armbands and ribbons. The IE reported that the Resident Doctors' Association of AIIMS-Delhi, stated, "This step will not only encourage already rampant quackery, but also undermine the safety of public. We request the government of India to retract this notification immediately". The striking doctors were also supported by those working in private hospitals, nursing homes, and diagnostic centres in Uttar Pradesh, as well as Maharashtra.
The Union Health Minister Dr Harshvadhan has not yet responded to the doctor's demands. Instead he has been busy echoing the government's stand on the Farm Laws, that lakhs of farmers have been protesting for months.
यह सत्य किसी से छिपा नहीं है कि PM श्री @narendramodi
जी सभी के हितों का ध्यान रखकर काम करते हैं। देश के अधिकतर किसान नए कृषि क़ानूनों से खुश हैं, लेकिन कुछ लोग अपनी राजनीतिक रोटियां सेकने के लिए किसानों को भ्रमित कर उनका नुकसान कर रहे हैं।#FarmersWithModi @PMOIndia pic.twitter.com/Qx7sm6sApK

— Dr Harsh Vardhan (@drharshvardhan) December 13, 2020
Related:
Stop advertising, publicising 'Covid cure' claims till examined: AYUSH Min to Patanjali
India has the lowest cases and deaths/million population: Dr. Harsh Vardhan