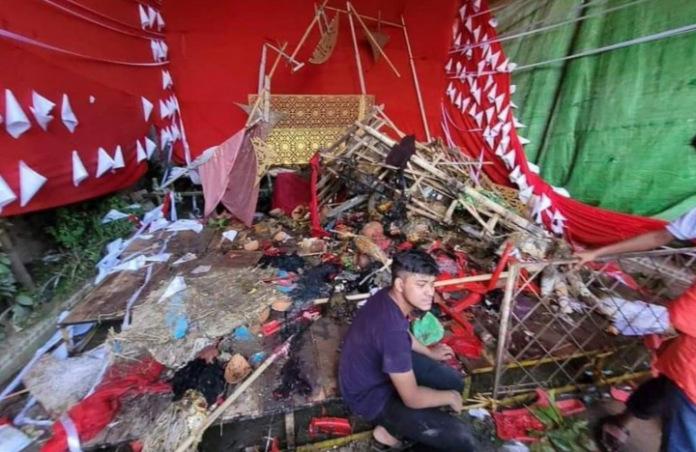 Image: twitter
Disturbing incidents of vandalism were reported from Hindu temples in Chandpur's Hajiganj, Chattogram's Banshkhali and Cox's Bazar's Pekua, in Bangladesh. That this happened during Durga Puja, a festival dear to Bengalis across the globe makes it even more disturbing.
Soon after reports of the Hindu temples being vandalised in Bangladesh came in, India responded firmly and demanded a probe into the matter. Ministry of External Affairs spokesperson Arindam Bagchi told the media that India has noted the prompt action of the Bangladesh government to control the situation. Bagchi said, "We've seen some reports of attacks on religious gatherings in Bangladesh. We note the government of Bangladesh has reacted promptly to ensure the control of the situation including deployment of law enforcement machinery" adding that "we also understand the ongoing festive celebration of Durga puja continues with the support of the government of Bangladesh agencies and a large section of the public. Our high commission and our consulates are in close contact with government and other authorities and at the local level."
Those behind the violence will not be spared: Bangladesh PM
According to news reports from Bangladesh PM Sheikh Hasina said that the people behind the violence during Durga puja in Cumilla city will be hunted down and given "appropriate punishments" in order to stop the recurrence of such communal acts. "The incidents in Cumilla are being investigated. Nobody will be spared. It doesn't matter which religion they belong to," said the Bangladesh PM, while exchanging greetings with people of the Hindu community on the occasion of Durga Puja on Thursday, stated news reports.
On Thursday Bangladesh Prime Minister Sheikh Hasina assured the Hindu community saying, "This land belongs to you, you have your rights. Don't consider yourselves as minorities, you should have this confidence." According to a report in The Telegraph, she asked that neighbours like India should also be vigilant to ensure that religion is not used to divide people, "You all know that those who came to power in our country after 1975 used religion to divide people.… The rise of global terrorism also has had its impact on our country. Countering this is not only our responsibility, and neighbouring countries like India should also remain vigilant." She added that 32,118 Durga pujas were organised in Bangladesh this year and her government was making all efforts to provide security: "The number of pujas is more this year.… The law-enforcing agencies always provide security to the big pujas, but a lot of small pujas also take place and it is sometimes difficult to provide security to them. In India, I mean in Calcutta, pujas are held subject to permission from the government. We don't have such provisions here…. I would urge the Bangladesh Puja Ujjapon Committee to consider whether they should frame some guidelines for organisers so that the administration is aware of all the pujas," the Prime Minister was quoted by TT.
What happened in Bangladesh?
Communal violence broke out in several places in Bangladesh on Wednesday. This reportedly followed "social media rumours" about the alleged desecration of the Holy Quran at a Durga Puja venue on the bank of Nanuar Dighi.
In the violence that followed, unidentified miscreants reportedly attacked temples in Bangladesh during Durga Puja celebrations. In response, the Bangladesh government instantly deployed paramilitary forces in 22 districts, soon after three people were reportedly killed and many others injured in the communal riots. At least three people were killed and 60 injured including journalists, reported Dhaka Tribune, about the communal violence during Durga Puja celebrations in Chandpur's Hajiganj Upazila. Other reports added that in Cumilla, at least 50 people were injured when a mob of religious extremists clashed with law enforcers in the Nanua Dighirpar area earlier, when the 'reports' of "demeaning the Holy Quran" at a Puja Mandap, was first shared.
Politics heating up in India?
According to news reports, Bharatiya Janata Party (BJP) leader Suvendu Adhikari has also written a letter to Prime Minister Narendra Modi asking that he take urgent steps to provide relief to the 'Sanatani People' of Bangladesh.
I urge Hon'ble PM @narendramodi ji, Hon'ble HM @AmitShah ji, Hon'ble EAM @DrSJaishankar ji & Hon'ble Governor of WB @jdhankhar1 ji to take up this painful & shameful issue with the Bangladeshi authorities diplomatically, & support the Sanatani Bengalis in this times of distress. pic.twitter.com/2k5r1quwla

— Suvendu Adhikari • শুভেন্দু অধিকারী (@SuvenduWB) October 14, 2021
Adhikari wrote: "The notorious vandals are habituated in targeting the 'Sanatani' minority community of Bangladesh. This time the religious fanatics took to the streets to vandalize several Durga Puja pandals and various temples also."
The Vishva Hindu Parishad has demanded that "Bangladesh government must protect Hindus and crack down on 'Jihadis'"
Press Statement:
Bangladesh government must protect Hindus and crack down on Jihadis: VHP pic.twitter.com/cR2aY30btd

— Vishva Hindu Parishad -VHP (@VHPDigital) October 14, 2021
Related:
150 years of Gandhi: A legacy of Ahimsa and Communal Peace
RSS grows in West Bengal, but no match for Didi's outreach during Covid
Remembering Kazi Nazrul Islam: Syncretic secularism in face of a communal divide