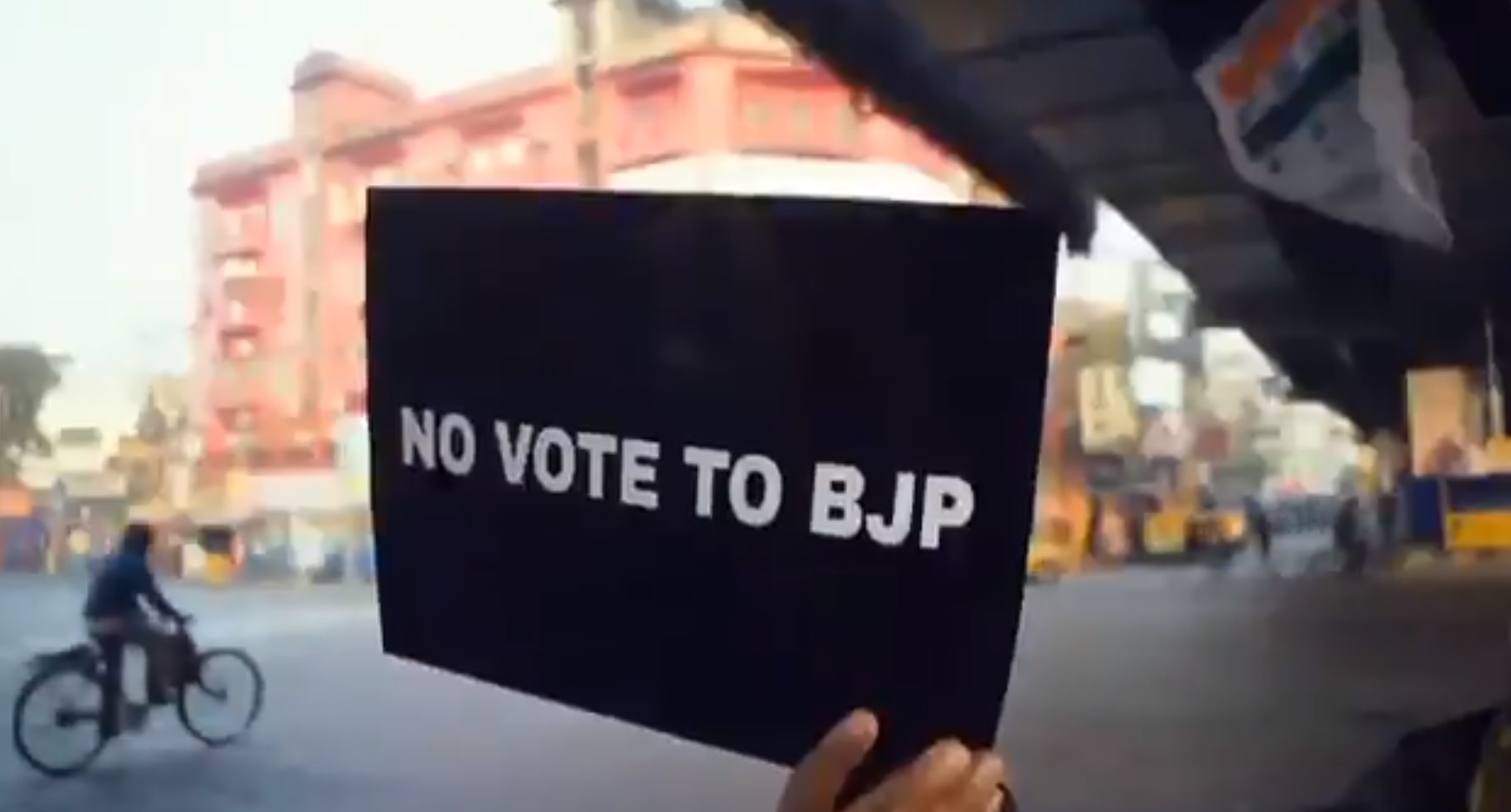 Samyukt Kisan Morcha (SKM) leaders appealed to the people of West Bengal on March 12, 2021, not to vote for the ruling Bharatiya Janata Party (BJP) that labelled farmers as "dalal, terrorist and traitors" and oppressed protesters opposing the three farm laws.
Stating that the BJP only understands "votes and seats" a delegation of SKM left for West Bengal where elections are about to begin. Members included Balbir Singh Rajewal, Yogendra Yadav, Hannan Mollah, Medha Patkar, Atul Kumar Anjaan and about 12 other farmer leaders.
Along with physical visits, members also started a #NoVoteToBJP campaign on social media.
'No Vote To BJP' is all what one must be aware of.
An appeal to people not to stand with the party.
Same Cry, Different Reasons!!#NoVoteToBJP pic.twitter.com/7OY1E2JZqU

— Kisan Ekta Morcha (@Kisanektamorcha) March 12, 2021
"We are here not to directly intervene in the elections. We do not have any candidate. We have not formed a political party. We just want to say, don't make the mistake of voting for the lotus flower," said Yadav while addressing media persons at. Instead, he said farmers were appealing to people to jarr the party by costing them the much-coveted Bengal elections.
Speaking at a press conference at the Kolkata Press Club on Friday, Anjaan said, "BJP is stating various lies to win over Bengal citizens. Prime Minister Modi is the biggest liar."
Similarly, farmer leader Hannan Mollah spoke in Bengali and appealed to the state that gave a resounding response to Bharat Bandh earlier to support the farmers in their opposition to the three agricultural laws – the Farmers (Empowerment and Protection) Agreement on Price Assurance & Farm Services Act, the Farmer's Produce Trade and Commerce (Promotion and Facilitation) Act, and the Essential Commodities (Amendment) Act.
Punjab leader Gurnam Singh Chaduni reminded farmers that crops continue to sell at below Minimum Support Prices (MSP). In this situation, farmers would suffer if agriculture is privatised, he said.
Later, Medha Patkar pointed out that farmers have oppressed not only peasants but women in particular, who have long since fought for the protection of land and water.
At around 2:30 PM, the delegation began a vehicle rally from Gandhi Statue to RamLila Park in the city where a state-level Kisan-Mazdoor mahapanchayat will take place.
According to the SKM, the delegation will then spend March 13 and March 14 observing mahapanchayats at various places such as Mayo Road, Nandigram – where Chief Minister Mamata Banerjee recently sustained injuries – Singur and Asansol. On Saturday, there will also be a Jan Sabha at Sarat Bose Road, Kolkata.
Related:
Farmers call for Bharat Bandh on March 28!
Battleground Bengal: Mamata Banerjee injured in Nandigram
Battleground Bengal: Five sitting TMC MLAs join BJP
Haryana: Manohar Lal Khattar-led govt survives no-confidence motion
Adivasi Mahila Kisan: the unsung voices of Indian agriculture
Karnataka farmers ask: Where is MSP Modi ji?
India's farmers and workers to commemorate Anti-Privatisation Day on March 15
Farmers focus on assembly election stating "govt only understands votes"