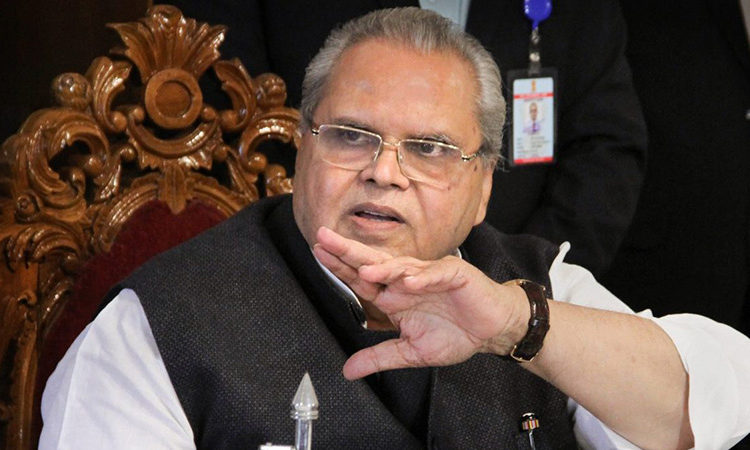 Meghalaya Governor Satya Pal Malik urged the central government on March 14, 2021 to not harm agitating farmers protesting against the new farm laws at Delhi borders, reproted the Indian Express.
Speaking to people at a felicitation ceremony at the Sheelchand Inter College in Baghpat district of Uttar Pradesh, Malik claimed that the government should pay heed to farmers' demands the include the withdrawal of the three laws – the Farmers (Empowerment and Protection) Agreement on Price Assurance & Farm Services Act, the Farmer's Produce Trade and Commerce (Promotion and Facilitation) Act, the Essential Commodities (Amendment) Act – and a legal guarantee to Minimum Support Price (MSP).
"I requested both the Prime Minister and the Home Minister that they should not send the farmers back empty-handed. Sikhs will remember it for 300 years. The day there was talk of Tikait (BKU leader Rakesh Tikait) being arrested, I intervened at 11 PM, making sure it didn't happen," he said.
Malik said he recently appealed to a journalist close to Prime Minister Narendra Modi to explain the implications of pressuring and humiliating farmers. He suggested that the government should legalise MSP so that farmers will return to their hometowns.
The Meghalaya official further said that he was advised by people not to speak about the issue. Nonetheless, after watching the events unfolding in the struggle, Malik decided to voice his opinion.
His support for farmers is among the first responses of the state regarding the farmers' movement. Unlike neighbouring states like Assam, Meghalaya farmers have not been vocal about their stand on the national agitation.
Nonetheless, Malik, hailing from the aforementioned district, said that the government should carry out its duty. He emphasised that none of the laws favoured farmers and that "wherever one goes, there is a lathicharge." He said that no one can save a country where farmers and soldiers are not satisfied.
Malik stated that India's farmers are getting poorer everyday while salaries of government officials and staff increases after every three years. "Whatever is sown by a farmer is cheap and whatever he buys is expensive. They do not know how they are becoming poor," he said.
According to a documentary by EastMojo this may be because local farmers have never really enjoyed the benefits or policies affected by the three laws. For example, MSP was introduced only recently in 2018. Another reason may be that farmers in the state also engage in other occupations to sustain themselves.
Speaking from his experience as the former Governor of Jammu and Kashmir when the erstwhile state's special status was revoked, he said, "When Article 370 was repealed, I had a duty that I handle things… Farooq Abdullah had said there will be a bloodbath. (Mehbooba) Mufti said no one will hold the national flag… But the government showed courage. We didn't have to fire a single bullet and not even a bird was harmed. I carried out my duty."
Related:
Farmer and workers leaders to meet and plan March 26 Bharat Bandh!
India's farmers and workers to commemorate Anti-Privatisation Day on March 15
Mitti satyagraha begins on the same day as the historic salt satyagraha!
Punish anti-farmer BJP and its allies in upcoming elections: SKM
Farmers call for Bharat Bandh on March 28!
Karnataka farmers ask: Where is MSP Modi ji?
India's farmers and workers to commemorate Anti-Privatisation Day on March 15
Contract employees flood Patiala streets, demand regularisation of workers