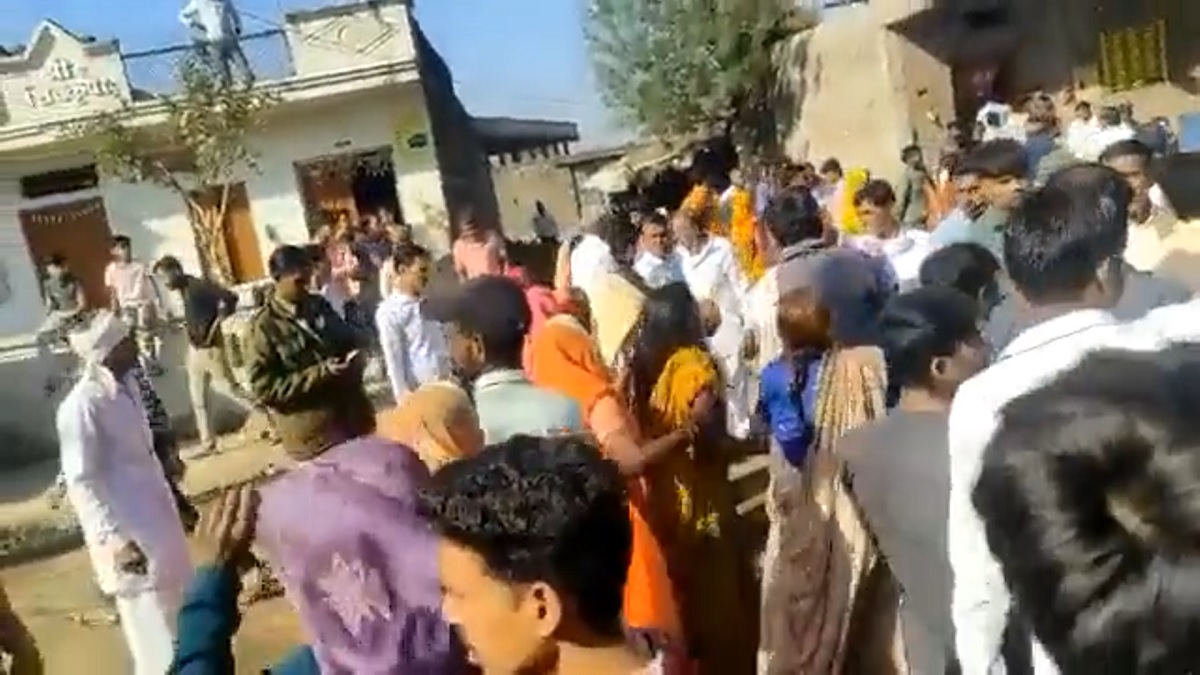 Clashes broke out between the Dalit community and the privileged castes in Khargone, Madhya Pradesh as the Dalits were denied entry in a Shiv temple on the day of Mahashivratri. After a physical altercation, stones were pelted by both groups, wherein 14 persons were injured.
In Chhapra village, Sanawad in Khargone over 100 persons in two separate cases have been booked as either side filed an FIR in this matter. Premlal, a Dalit filed an FIR alleging that one Bhaiya lal Gurjar from Gurjar community stopped Dalit girls from entering the temple.
Sub Divisional Officer of Police Vinod Dixit said that there were already tensions between the two communities in connection with a proposal to construct a statue of BR Ambedkar near the temple and the cutting of a banyan tree, reported Scroll.
A #Dalit women #ManjuBai was abused by caste & shoved by women for offering water to the #Shivlinga in #MadhyaPradesh's #Khargone.

The dispute led to the clash & stones were pleated from both sides leaving 14 injured.

2 FIRs, one from each, were lodged & over 100 people booked. pic.twitter.com/FgL11O6U1X

— Hate Detector ? (@HateDetectors) February 20, 2023
Another similar incident took place in Chhoti Kasrawad village where Manju Bai, a Dlait owman was prevented from praying at the Shiv temple. Manju Bai alleged that she was abused over her caste and shoved by other women who objected to her offering water to a Shivling. While a case has been filed, the woman prayed at the temple amidst police protection.
Last year as well, during Mahashivratri, Khargone saw a similar incident where a priest, Vijay Barvey, denied entry to a Dalit woman at a temple in Dendla village. Despite multiple requests the priest maintained that a Dalit cannot enter the temple.
This takes us back to Dr Babasaheb Ambedkar's Kalaram temple Entry movement of March 1930 which was more than just a movement for the right to enter a temple. It was a movement for equal rights. Dr Ambedkar viewed temple entry as a means of parity and not as an end goal of the depressed classes.
"If the Hindu religion is to be their religion, then it must become a religion of Social Equality. The mere amendment of Hindu religious code by the mere inclusion in it of a provision to permit temple entry for all, cannot make it a religion of equality of social status. All that it can do is to recognise them as nationals not aliens, if I may use the common terms which have become so familiar in politics. But that cannot mean that they would thereby reach a position where they would be free and equal. , without being above and below anyone else, for the simple reason that the Hindu religion does not recognise the principle of equality of social status : on the other hand it fosters inequality by insisting upon grading people as Brahmins, Kshatrias, Vaishyas and Shudras, which now stand toward one another in an ascending scale of hatred and descending scale of contempt," said Dr Ambedkar in his argument denying support to Dr. Subbarayan's Temple entry Bill.
Denial of entry to a temple not only violates right against discrimination under Article 15, right to equality before law (Article 14) of the Constitution but also violates Article 17 that abolishes untouchability.
Related:
TN: Over 200 Dalits Enter Village Temple in Tiruvannamalai Amid Protests From Dominant Castes
K'taka HC says downtrodden still unable to do business like "upper caste"
Tamil Nadu: Dalit family in Thoothukudi allegedly denied use of road to crematorium