Dr. Kafeel Khan said that his brother was shot 500 metres away from UP CM Yogi Adityanath's home but is stable and in the ICU. He also accused the police of wasting crucial time and delaying treatment.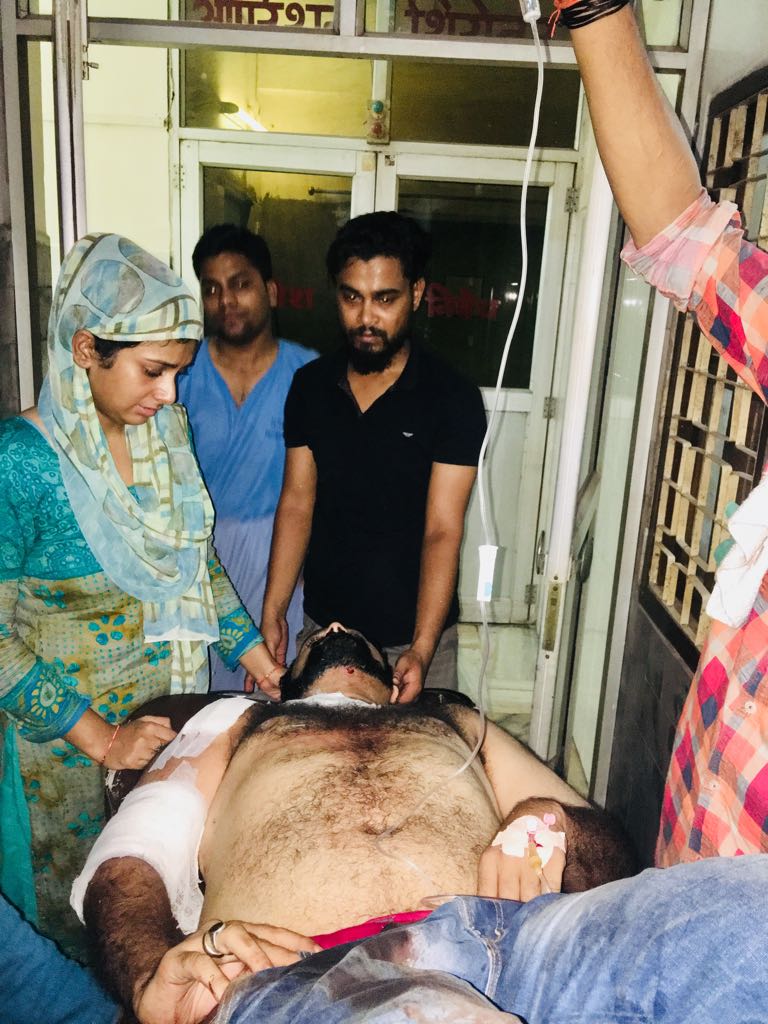 Gorakhpur: Dr. Kafeel Khan's brother was shot thrice on Sunday night by two bike-borne assailants in Gorakhpur, UP. Kashif Jameel, 34, is a businessman and was returning home late night when he was shot and the miscreants fled. His condition is stated to be stable and he is in the ICU.

Though he actually saved lives by garnering the desperately required oxygen cylinders, he was accused of being involved in the BRD Medical tragedy where almost 60 children died due to the lack of oxygen in August 2017. He was recently granted bail in May after spending eight months behind bars. He had said that he feared for his own and his family's life and was being made a scapegoat in the tragedy.

On the night of June 10, his fears came true. "Around 11 pm, in the Humayunpur north area near the JP hospital in Gorakhpur, some bike-borne miscreants shot at Kashif Jameel. He sustained injuries on his right upper arm, neck, and chin," Kotwali police station Inspector Ghanshyam Tiwari said in a report by Firstpost.

"He was shot near the famous Gorakhnath Temple by two unknown gunmen who came near Kashif with an Activa. One gunman was wearing a helmet while other had a towel wrapped around his head. Kashif has sustained three bullet injuries. One on the neck, one on the shoulder and last one on the forearm. All three wounds have been reported on the right side of the body. He is being treated at the Star Hospital in Gorakhpur," an earlier report by Sabrang India stated.

Their brother Adil Ahmad Khan said in an interview that whoever shot at him had all the intentions to kill him. Their mother Nuzhat Parveen asked the government to provide police protection to her family and it was unfortunate that this happened in the holy month of Ramzan.

At 5 am today, Dr. Khan posted a video on his twitter profile recounting the whole ordeal.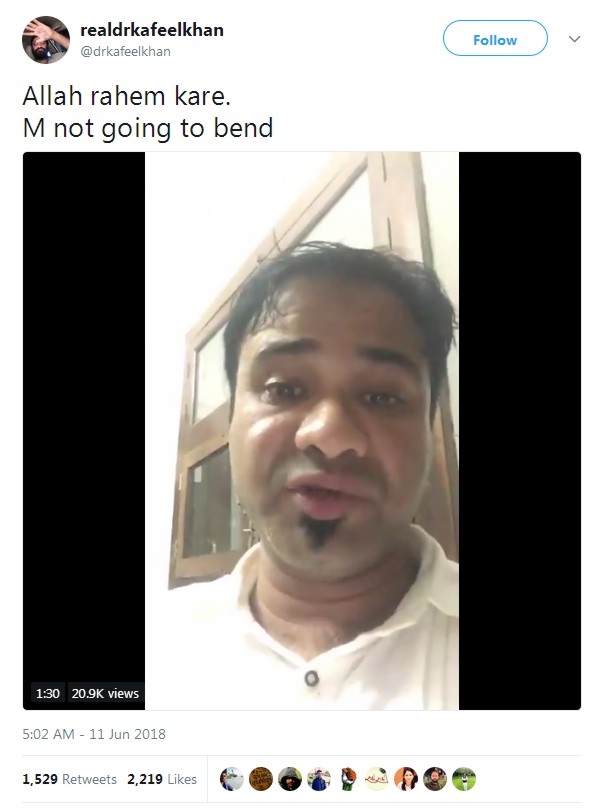 Dr. Khan said that he was not going to bend. He stated that the operation was successful and the bullets were removed. "First, I thank everyone. Because of their good wishes, the operation was successful. The bullets have been removed. He is in ICU. He is fine. He was shot at thrice. Jameel was shot just 500 metres away from Gorakhnath temple which is CM Yogi Adityanath's home. Two people came on a scooty. They shot at him and ran away. I don't know why they did this. The police caused unnecessary delay in getting him urgent treatment. They insisted on taking him to Sadar Hospital for medicolegal and then for a second medicolegal at the BRD Medical College. When we resisted, five jeeps of policemen came and forcefully escorted us to the medical college. The police wasted precious time from 10 pm to 2.30 am," he said. Jameel's surgery reportedly took place at 2 am, three hours after the firing and Dr. Khan insisted that crucial time was wasted.

Shalabh Mathur, SSP, Gorakhpur told ANI that no written complaint has been filed by the family yet.

Dr. Khan was in charge of the paediatrics wing at BRD Medical and had arranged oxygen cylinders from a private hospital when the incident occurred last year. He was removed and arrested on charges of negligence. He wrote a letter from jail detailing his actions and how he procured cylinders and paid off suppliers with his own money to save children at the hospital.