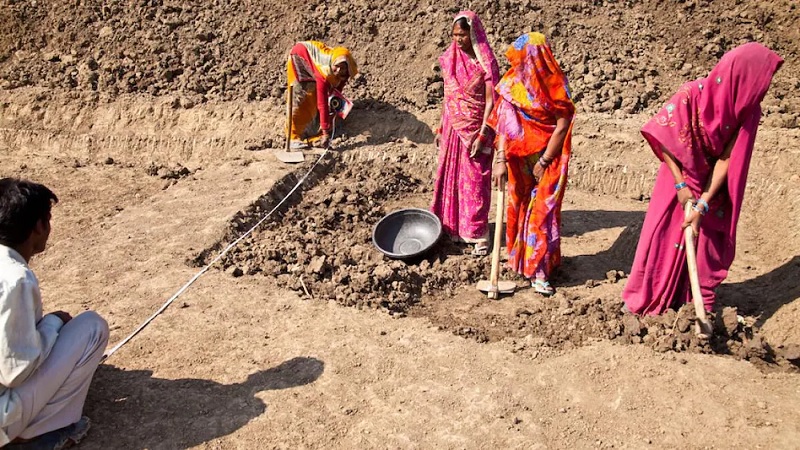 Image Courtesy:businesstoday.in
Centre's e-SHRAM portal registered over 8.57 crore registrations from people in the unorganised sector on November 21, 2021 since its launch on August 26. On Sunday, the Union Labour and Employment Ministry boasted of the registration of over eight crore unorganised sector workers, most of whom were engaged in agriculture and allied occupations. But the dismal enrollment from workers hailing from Scheduled Caste and Scheduled Tribes paints another picture.
Focusing on week-wise data on the increase in number of registrations on the portal over the previous 12 weeks, it said maximum increase of registrations were recorded between November 2 and November 8 when 1,15,66,985 registrations took place. This was followed by 86,83,881 registrations between October 12 and October 18. The highest number of completed registrations took place on October 28 with 20.12 lakh people applied for the social security and employment-based benefits.
However, another break-up of people on the portal showed that most of these 8,57,32,842 registrations were people from the general and Other Backward Classes (OBC). Informal workers from the Scheduled Caste and Scheduled Tribes accounted for 23.82 percent (1,18,27,533 workers) and 8.45 percent (41,98,057 workers) respectively.
Hurdles faced by SC/ST workers
Earlier, publications like Locked Out: Emergency Report on School Education and many others have indicated SC/ST communities' struggles in accessing virtual forms of registration or access due to unavailability of smartphones or adequate data services.
For this reason, most workers have accessed the portal through the help of Common Service Centres (CSC). As per government data, around 80 percent registrations were done through CSCs followed by self-mode of registrations — 19.59 percent of workers. State Seva Kendras accounted for 90,005 or 0.1 percent of registrations.
Similarly, The Telegraph also reported that Centre of Indian Trade Unions (CITU) workers in Durgapur district of West Bengal helped over 300 workers register on the website on Sunday. The state recorded the highest number of registrations – more than 2.02 crore workers. Other states with high registration are Uttar Pradesh (1.59 crore workers), Odisha (1.18 crore workers), Bihar (over 95 lakh workers) and Jharkhand (42 lakh workers).
Secoral and gender-wise break up
As always, maximum registrations were from the agriculture sector followed by construction, domestic and household workers, apparel and the tobacco industry. Meanwhile gender-wise data showed more female workers – 4.44 crore registrations or 51.82 percent. This busts the myth that earning a living is predominantly a man's work in India, as clearly women are holding up more than half the sky!
Shockingly, the portal is yet to add data about the transgender community, showcasing how this group of people are rarely given the respect they deserve even in terms of mere recognition of their gender while such important data is being collected nationwide.
Ministry pats itself on the back
"By November 20, out of the total registrations, 48.2 percent (4,06,86,429) were male workers and 51.8 percent (4,37,00,713) female workers. In the first week of registration, of the total workers getting registered, around 5 lakhs were males and about 2.7 lakh were females. This has increased to 3.8 crore registrations for males and 4.05 crore registrations for females in week 12. The registration for the 'Others' in terms of gender, at the e-SHRAM portal has been slow, with around 2,095 total registrations completed by November 20," said the Ministry in a press release.
Lastly, officials also seemed optimistic about the number of unorganised sector workers providing bank account and nominee details. Such information can help people avail benefits from government schemes such as accident covers in case of death or disability or partial disability. By November 21 88.89 percent of registrations had provided nominee details while 87.44 registrations had provided bank details. What they fail to acknowledge is how many of the workers are denied this basic service because they keep moving from one place to another, as migrant workers living in shanty-towns alongside their latest project. Thus, devoid of a proper address, they remain grossly underserved by the banking sector.
Related:
Over 1 crore people register for jobs on eSHRAM portal!
India's workforce demands fiscal support following the second wave of Covid-19!
92 percent of India's workforce faces historic and unprecedented crisis: SWAN report
India's dairy farmers face another harsh summer – but not because of the heat