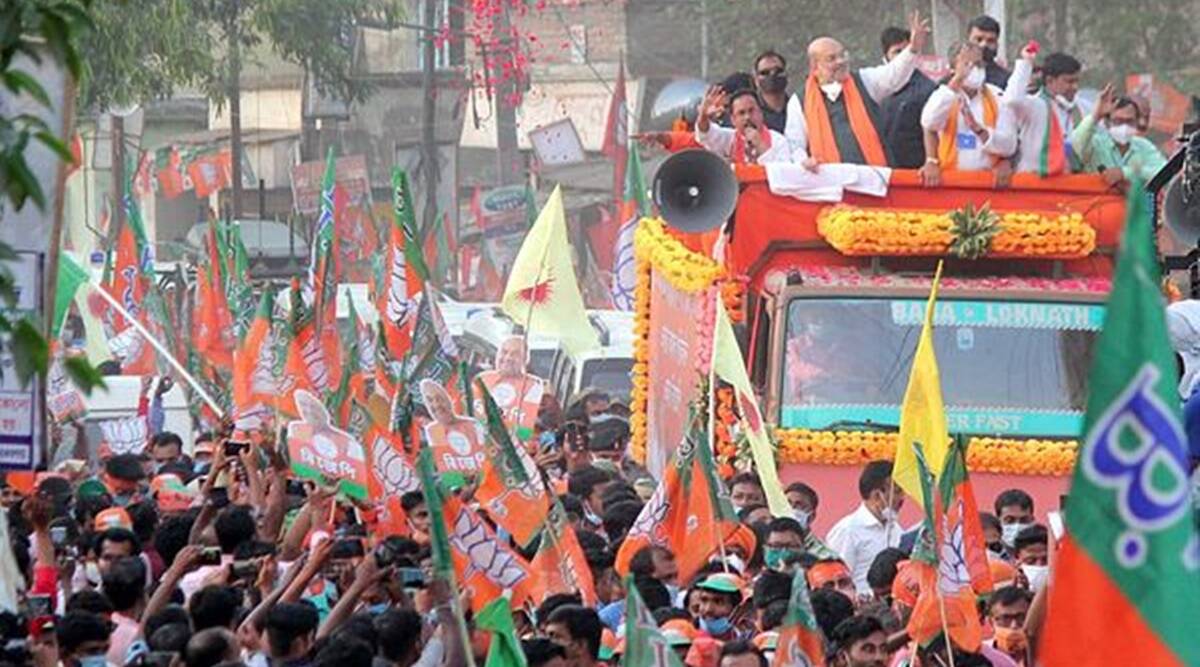 In what seems to be an immediate response to the Calcutta High Court's censure of Election Commission for ill management of elections amid the pandemic, the EC has barred election rallies and only allowed public meetings with a limit of less than 500 people in attendance.
The order states that there will be no roadshows/pad yatras, neither will there be any cycle/bike/vehicle rallies allowed. Even public meetings will be limited to 500 people where social distancing is possible to maintain while adhering to COVID-19 safety protocols. All permissions for road shows etc stand withdrawn.
The Commission, in its order, said it had noted "with anguish" that many political parties/candidates were still not adhering to the prescribed safety guidelines during public gatherings, thereby making this measure necessary. To the dismay of the court, the commission had failed to implement its own guidelines and circulars despite the court directing the administration to follow through.
The EC order comes in the wake of the high court reprimand as Bengal concluded its sixth phase of polling on April 22 and while the remaining two phases are scheduled for April 26 and 29.
The EC in its order noted, "Several instances of election meetings and campaigns wherein norms of social distancing, wearing of masks have been flouted in blatant disregard of the Commission's guidelines". The EC also took a serious view against "repeated violations by star campaigners/political leaders/candidates who are supposed to be torch bearers for the campaign against COVID-19, grossly violating COVID-19 protocols thereby exposing themselves as well as the public to the danger of infection."
Prime Minister Narendra Modi has cancelled four of his election meetings scheduled on April 23. "Tomorrow will be chairing high-level meetings to review the prevailing Covid-19 situation. Due to that, would not be going to West Bengal," he tweeted around 5 P.M.
The CPM was the first to cancel big public meetings citing the surge in cases, followed by Congress leader Rahul Gandhi who on April 18 took to Twitter to declare that he will no longer be holding public rallies. Yet, Union home minister Amit Shah addressed three campaign meetings in Harirampur, Gajole and Durgapur East on April 22 while Bengal BJP chief Dilip Ghosh held four roadshows, while another party leader held roadshows in Calcutta.
"In the wake of upsurge in #COVID19 cases across the country and the ECI Order dated 22nd April, 2021, I am cancelling all my prescheduled meetings and we will reach out to the people virtually. We will be sharing the updated schedule of the virtual meetings shortly," the incumbent Chief Minister of Bengal, Mamata Banerjee tweeted. She had already announced on April 19, that she would not organise any big rallies or roadshows in Kolkata to avoid large gatherings and would also curb the duration of these gatherings. "I have decided not to hold any big campaign rallies in Kolkata, barring one which would be held at Beadon Street on the last day of campaigning on April 26. It would be a symbolic meeting," Banerjee had said on April 18.
While campaigning in South Dinajpur's Tapan, Mamata Banerjee announced that the state government would bear the cost of Covid-19 vaccines to be administered to those above the age of 18 from May 5 in Bengal.
Amidst all the election chaos, and while public rallies continued until the evening of April 22, an indigenous triple mutation of Covid-19 called B.1.618 was found in West Bengal. Its E484K mutation, characteristic of Brazilian and South African variants, can escape attack from antibodies taught to fight against virus sans this mutation. This includes antibodies developed by vaccines.
West Bengal on April 22 registered the highest single-day spike of 11,948 Covid-19 cases. The death toll also went up to 10,766 as 56 more patients succumbed to the disease, the health bulletin said. The number of active cases in the state currently is 68,798, the bulletin said.
Related:
Battleground Bengal: EC revises date for elections in light of Eid
Covid-19: Triple mutation in West Bengal virus raises concern among experts
Battleground Bengal: 'They are selling all our public assets. They will end up selling the country!'