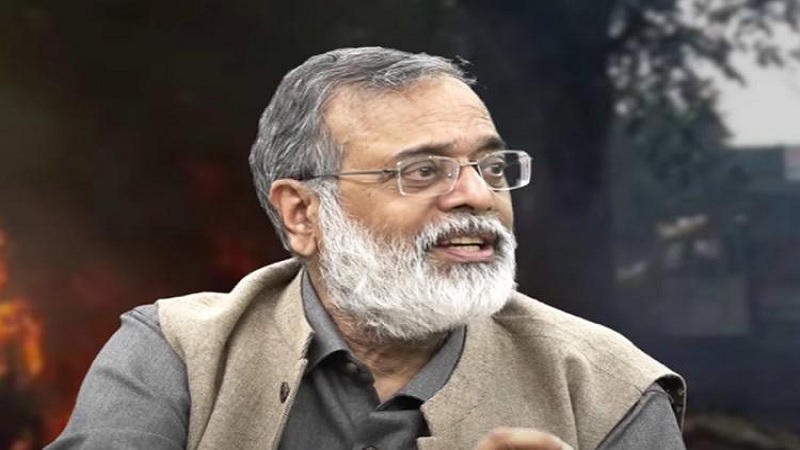 Image Courtesy:thenewsminute.com
NewsClick Editor-in-Chief and Founder Prabir Purkayastha continued to be 'questioned' by the Enforcement Directorate (ED) office on February 11, 2021, to discuss the accusations against the organisation for "financial irregularities," .
The independent news organisation witnessed ED personnel raid its office, as well as Purkayastha's house on February 9 to find clues of alleged money-laundering. The raids began at technology columnist Bappaditya Sinha's home in Chittaranjan Park on Tuesday. He was finally released at 1.30 AM on Wednesday despite the fact that Patna High Court had held in 2012 that continuous search and questioning by the income tax department for 36 hours amounted to torture and violation of human rights.
Commonwealth Writers' Prize winner Githa Hariharan was also held in his house, who owns shares in the PPK NewsClick Studio Pvt Ltd that owns the website. Hariharan runs the Indian Cultural Forum on the premises.
Meanwhile, Editor Pranjal Pandey and HR Head Amit Chakraborty were allowed freedom of movement. According to news reports, ED officials took their phones and laptops as well as other electronic devices, including two hard drives, from their office and homes.
To those who have visited the organisation's office such as Columnist Aunindyo Chakravarty, the news comes as greatly disturbing.
In a tweet Chakravarty said, "I have been making videos for @newsclickin for more than a year now. Used to visit its office every week till Covid came. It is so small that as a visitor, I felt I should wash the cup that I was given tea in. Obviously, such an organisation must be of great interest to the ED.
"I mean this quite literally. I saw everyone washing their cups and putting it back on the rack in a small kitchen. I too followed suit. It is cash-strapped and can't afford to subscribe to video services. Yet, everything they produce is under creative commons for everyone to use."
The Telegraph said that the ED handed questionnaires to people and at least one person faced tangential queries and remarks on their proximity to the Communist Party of India (Marxist) – CPM or the farmers' movement.
Regardless, the raids have drawn widespread condemnation from journalists, activists, political organisations, people's organisations and even the Bharatiya Kisan Union – Ekta Ugrahan, one of the leading farmers' organisations. Their statement of solidarity also drew parallels between the ED raids and the cases filed against journalists covering farmers' protests.
Similarly, the Editors Guild of India demanded that NewsClick's news operations, journalists and stakeholders should not be undermined or harassed under the garb of measures that "measures to suppress free and independent journalism."
Responding to the events so far, NewsClick said in a statement that the raids' purpose appeared to be to cow down an independent voice. It claimed that the present raids seem to be along the same lines as the actions of the Central Bureau of Investigation and the National Investigation Agency in the recent past.
"NewsClick will continue to report and record voices of the unheard and unseen people of India, and the world, who are struggling to build a life of dignity and well-being," said the portal.
Related:
Truth shall prevail, have full faith in legal system: Newsclick
Enforcement Directorate raids NewsClick.in
Condemn targeting of Newsclick
Journalist Mandeep Punia granted bail by Delhi Court
Solidarity is the biggest need for Indian journalists today
FIR against senior journalist Siddharth Varadarajan