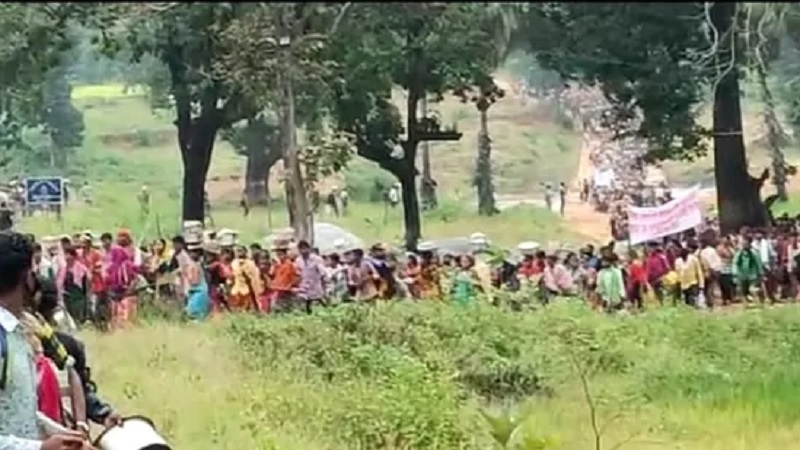 Image Courtesy:hindustantimes.com
The Adivasi residents of Edesmetta have been protesting in the jungles of Bijapur district in Chhattisgarh's Bastar region since October 9, demanding action in the Edesmetta encounter case and seeking 1 crore compensation to each family of the victims, reported Hindustan Times. No action has yet been taken against the CRPF personnel who reportedly shot at a group of 30 tribals, unprovoked, while claiming that they busted a Maoist hideout.
In May 2013, some 30 people had gathered to celebrate the annual Beej Pandum festival, a tribal festival to worship new life in the form of seeds; however, this occasion of joy turned into a bloodbath as a 1,000 CRPF strong force shot "in panic" at the tribals, leaving two dead and injuring five which also included minors. A judicial Commission led by Justice VK Agrawal, former judge of Madhya Pradesh High Court, reportedly concluded in September this year, that the forces seemed to have fired in panic and the incident could have been avoided had the field intelligence been clear, reported The Times of India. The CRPF had, however, claimed that they had busted a Maoist hideout and retaliated after they were shot at.
Calling the incident "a mistake" thrice in the report, Justice Agarwal said the tribals killed were unarmed and died in gunfire of 44 rounds, 18 of which were fired by a single constable of the CoBRA unit of the CRPF, reported Indian Express. The CBI is also conducting an inquiry into the incident following the Supreme Court order of May 2019.
"There was no strong intelligence behind the operation. None of the gathered people had weapons, nor were they members of the Maoist organisation," the report stated.
"A judicial inquiry has little meaning if there is no follow up. The report has not yet been tabled in the Assembly, as is the official procedure. The government is duty-bound to act on the findings of the report: punish the guilty policemen including the officials in command and compensate victim families. The government cannot go in hiding like any ordinary murderer," Bela Bhatia, a human rights activist who works in the Bastar region told HT.
This is not the first time that an inquiry commission has found that the CRPF fired without provocation at innocent tribals, in Bastar region alone. A probe into the Sarkegouda encounter of 2012, revealed that civilian lives were lost in CRPF firing.
Related:
Bhopal jailbreak encounters: 5 years on, families of 8 victims await justice
Supreme Court raps UP, says 'laxity' in action against policemen: 2002 encounter killing
Assam Police Firing: Who are "encroachers" and who are "indigenous"?