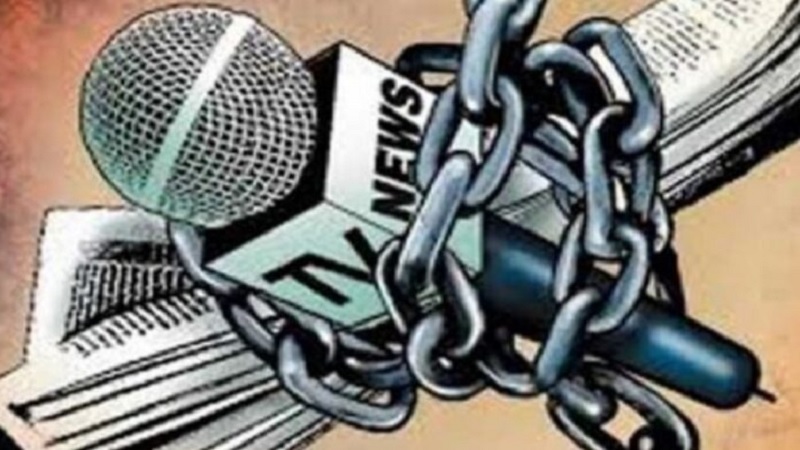 Image Courtesy:thenortheastaffairs.com
The Editors Guild of India (EGI) is sending a three-member fact-finding team to Agartala to investigate the many reports of draconian criminal laws that have been invoked against media, and thus preventing journalist from reporting on the aftermath and the reasons behind the recent communal violence in Tripura. The EGI issued a statement signed by Seema Mustafa, president, Sanjay Kapoor, general secretary and Anant Nath, treasurer, detailing its team of senior journalists Bharat Bhushan, Pradip Phanjoubam and Sanjay Kapoor. The team is expected to meet government officials, media persons as well as members of the civil society.
Tripura Police had imposed the Unlawful Activities (Prevention) Act (UAPA) against 102 social media handles, including journalists who reported or merely commented on news of the alleged attacks on mosques and the violence that ensued. The statement may be read here: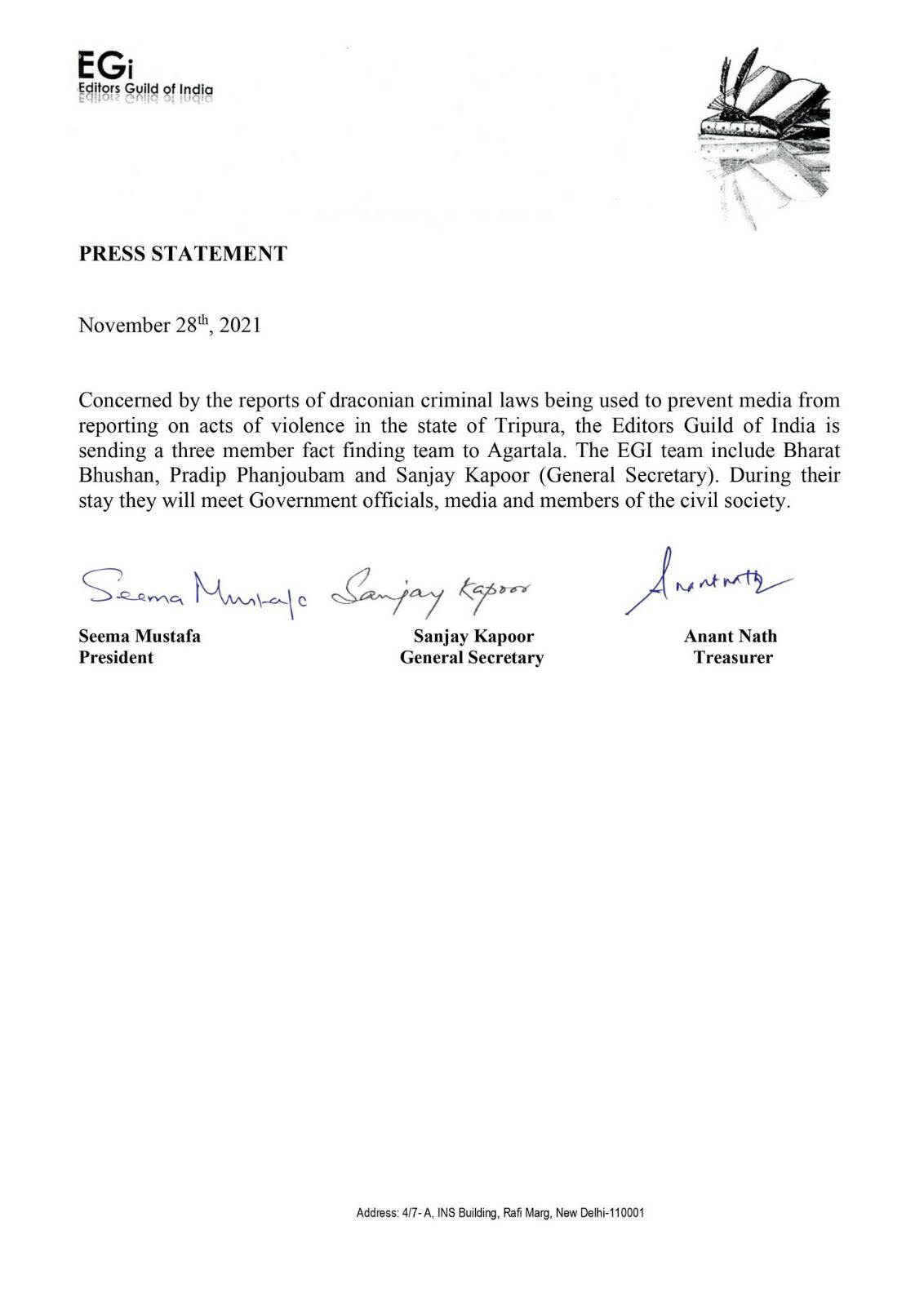 Tripura Chief Minister Biplab Kumar Deb tells DGP to "review" UAPA cases
Over three weeks later, on Sunday November 28, Tripura Chief Minister Biplab Kumar Deb has instructed Director General of Police V S Yadav to "review" the UAPA cases against social media accounts, and submit a report. In turn, stated news reports Yadav directed the Crime Branch, which is now investigating these cases, to review them. According to Indian Express, an unnamed senior official of the Chief Minister's Office (CMO) said, "There was a conspiracy to disturb the law and order in Tripura a few days back through fake photos and videos of alleged arson at mosques on social media. In order to bring the situation under control and maintain communal harmony, Tripura Police filed cases against 102 people, including some journalists and lawyers."
Journalists reporting from Tripura's are under a scanner
When the UAPA had been invoked the EGI had expressed shock at the action initiated against journalists who were "reporting and writing on the recent communal violence". Various journalists covering the aftermath of Tripura's communal violence have so far been questioned, detained, arrested, even allegedly attacked for doing their jobs.
The latest was journalist Ali Akbar Lashkar (27), who works for the Kolkata-based Bengali news portal Ab Tak Khabar. He had come to Tripura on morning, to report on the situation in the state, after TMC leader Saayoni Ghosh, was arrested and accused of criminal conspiracy and attempt to murder, but was allegedly attacked by a mob "I have come to Tripura for the first time and I was attacked… imagine how scared the locals must be," he said.
Related:
Tripura: Journalists still make headlines for surviving attacks, rather than reporting them
UAPA is used as preventive detention law, without it being one: Ex-civil servants petition SC
Journalists Samriddhi Sakunia and Swarna Jha granted bail
Tripura Police demand suspension of 68 Twitter profiles for comments on communal clashes
Tripura violence: Hate and communal polarisation
Notice under UAPA: A never ending spiral of detention
Tripura: CJP writes to NCM over vandalisation of mosques and shops owned by Muslims