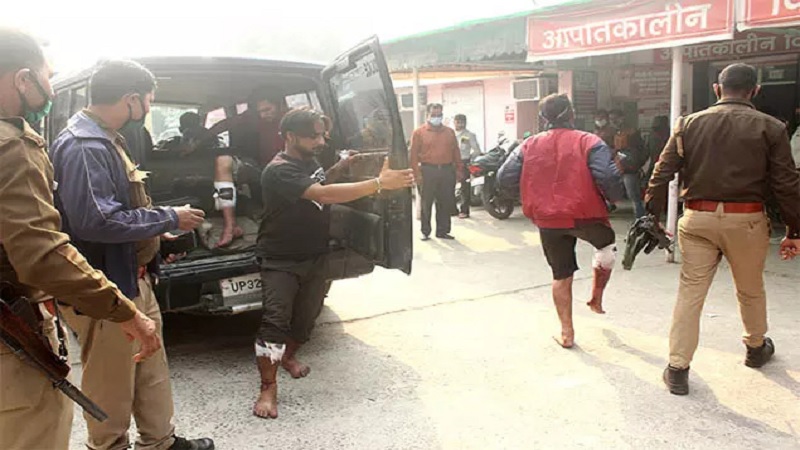 Image Courtesy:timesofindia.indiatimes.com
The Delhi State Committee of the Communist Party of India (Marxist), has written to UttarPradesh, Chief Minister Adityanath, on the alleged "encounter" by the Loni police in Ghaziabad district on November 11, 2021. They have put on record for the CM the events of the reported 'encounter' where each of the seven men have "identical uniform injuries" below the knee.
The committee has called this an act of "shocking police atrocity" adding that the police SHO was only suspended after he "publicly objected to his transfer". The CPI(M) Committee has stated that it is "extremely unjust that without any independent inquiry, false cases have been foisted on the seven men and they have been locked up in jail," and have called for an independent inquiry under judicial scrutiny.
The Committee has also demanded that "a case of attempt to murder and other relevant sections should be levied on the SHO and he should be arrested and prosecuted". The letter recalled that even the local MLA Nandkishore Gurjar made "a series of highly objectionable statements with the intent of creating communal disharmony and enmity between communities." They have called him a "serial offender in this regard" and demanded that cases be filed against him under the relevant provisions of the IPC.
It is important to note that the injured men are all Muslims. The letter highlights that this "substantiates the apprehension of many citizens in the area that they have been targeted because of their religious identity. They are all daily wage workers in the unorganised sector, taking whatever work is available. Many of them have been doing manual labour as loaders, some as street vendors, as construction workers and so on. They also all belong to the Rangrez caste and traditionally their profession has been as dyers. At present they were hired as workers to clean drums with chemicals and also to separate waste material."
A delegation of CPI(M) members, Brinda Karat, K.M.Tewari, Sehba Farooqui, Asha Sharma, Aman Saini met the families along with local leaders. They were informed by the families "that their feet had been affected by the chemicals used to wash the drums" adding that "they have never been remotely connected with the cattle trade leave alone slaughtering cattle." It added that "it seems that they have been made a scapegoat in a more sinister plan to create communal tension and disharmony in the area as a default electoral strategy." Those with the gunshot injuries require proper treatment now and according to the committee the "the facilities in the jail are not adequate." Their families are also too poor to afford lawyers, and do not have copies of the FIRs or know what charges have been filed against their sons, noted the committee members, adding that the men now in jail were the main earning members, and now their families are also in "a financially desperate situation."
The committee has asked that "pending the inquiry which if impartial will no doubt find the police guilty and the victims innocent, the Government should release the victims on bail without delay."
What had happened at the "encounter"?
Uttar Pradesh Police were forced to order a probe after Loni Police Station SHO Rajendra Tyagi, was transferred. He reportedly wrote a note in the General Diary saying he was being targeted due to the "encounter". The "encounter" survivors, Shoaib, Mustakeen, Salman, Monu, Intezar, Nazim and another youth, who is a minor according to his family, are in judicial custody, and according to news reports had identical injuries, a few inches below the knee. The Ghaziabad police had told the media that these men had been injured after an "encounter" operation, led by Tyagi, and were accused of being involved in "cow slaughter".
The "encounter" reportedly took place at 6.10 am on November 11 near a scrap godown that was raided in Baheta Hajipur of Loni, reported Indian Express. It was after the identical injuries on the men 'nabbed' were reported that questions were asked. Initially, Loni Police Station SHO Rajendra Tyagi, who led the "operation", was transferred. However he raised a noise about the transfer. The police had made a media statement on November 11, that they "acted on a tip-off regarding cow slaughter, and that the accused fired seven rounds, and they returned fire 13 times, hitting all the accused in the leg." The police also claimed to have recovered "three animal carcasses, seven country-made pistols, two axes, five knives, and two bundles of plastic wire from the accused."
Why was Inspector Tyagi transferred?
Ghaziabad SSP Pawan Kumar told the media the encounter was being probed following the police officer's "misconduct" adding that the Inspector was suspended for "violating the Official Secrets Act" as "The entry that was made in the official document was unauthorised. Secondly, this secret document was leaked. The policeman also went on leave that had not been sanctioned."
Inspector Tyagi, was served transfer orders to the Indirapuram Police Station on November 12. His note as quoted by IE said, "On November 11, my team and I arrested seven persons for cow slaughtering after they were shot in the leg. We recovered carcasses of cows and a vehicle. Since I handled the operations, I believe I have been transferred for this reason. This has dented my morale. I am not in a state to work and I have never been accused of something like this… My character is of the highest standard. Before transferring me, this incident should have been probed."
Tyagi meanwhile, has been supported by Bharatiya Janata Party's Loni MLA Nand Kishor Gurjar. He accused police of receiving money from cow smugglers, and transferring the Inspector, "Police have taken lakhs of rupees from the cow smugglers. The SHO wanted to name the main accused but he wasn't allowed to. He tried to take action against cow slaughter and was punished," reported IE.
Ironically, social media recalled that Tyagi when he was as SHO of Kharkauda Police Station in Meerut, in 2018, had held himself responsible for a cow-slaughter incident in his jurisdiction, even then he had put this in a note in the General Diary.
Meerut:Kharkhoda SHO Rajendra Tyagi filed complaint against himself & others in General Diary at police station after incidents of cow smuggling took place in his jurisdiction.SHO says,'I had introduced a concept that cop will be responsible if action isn't taken against a crime' pic.twitter.com/D0wymMlc95

— ANI UP (@ANINewsUP) July 15, 2018
Who is Nandkishore Gurjar?
In February he was accused by farmers of trying to break up the Ghazipur protest, which he denied and claimed that it was not even a farmer-led protest. He had also called the protesting "farmers" asking police to "shoot them" saying "his own people were ready to beat them with shoes".
'जो किसान बैठे हैं ,वो सौ फीसदी आतंकवादी हैं , पुलिस उनको शूट करे , अगर वो नहीं भागते तो हमारे लोग जूते मारकर भगाने को तैयार हैं '

मोदी जी और योगी जी के सिपाही बीजेपी विद्यालय नंद किशोर गुर्जर का बयान https://t.co/iGy6SP3z9x pic.twitter.com/NNHT7BQKYq

— Ajit Anjum (@ajitanjum) February 1, 2021
In 2020, he was among the first political leaders to have demanded that meat sellers be forced to down their shop's shutters during Navratri. He had also claimed his area was under an aircraft fly path and 'bones' etc were dangerous as they could lure birds to circle and threaten bird hits and a potential aircraft crash. He has since then been projecting himself as a Hindutva leader in his constituency.
Related:
Noida hate crime survivor approaches SC seeking fair investigation
Krishna Janmabhoomi: Application before DM to stop namaaz at Shahi Idgah
UP ASHAs have had enough of empty election promises