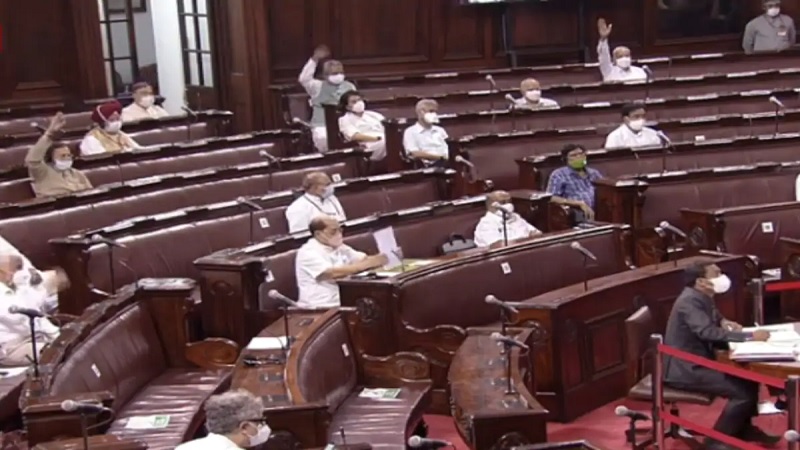 Image Courtesy:news18.com
Objecting to how the Rajya Sabha proceeded to pass three key agriculture bills on Sunday, the All India Kisan Sabha (AIKS) dubbed the proceedings in the Upper House in the Parliament a "naked violation of the Constitution."
The organisation's anger was aimed at the three agriculture Bills, namely the Farmers Produce Trade and Commerce (Promotion and Facilitation) Bill, the Farmers (Empowerment and Protection) Agreement on Price Assurance and Farm Services and the Essential Commodities (Amendment) Bill that were allegedly undemocratically passed by the Centre on Sunday without required votes in the Rajya Sabha.
"This is nothing but the end of Parliamentary Democracy. Though the members in the opposition demanded division they were not allowed to vote by the Deputy Chairman. This kind of manipulation is shameful and such authoritarian fascist behavior under the guidance of the RSS-BJP led Modi Government in order to aid the corporate interests cannot be allowed in a democracy," said the AIKS press release.
The statement added that by negating voting rights, the Centre's passing of the Bill becomes null and void and called for a nation-wide protest on September 25.
Moreover, the MPs in opposition gave a no confidence motion against the Vice Chairman. MPs from the ruling alliance like the Telangana Rashtra Samithy, All India Dravida Munnetta Kazhakam also spoke strongly against the agriculture Bills.
"The government was not morally enjoying the majority support in the upper house. This is the indication of the political polarisation taking place at the state and national level based on the awakening among the peasantry against the anti-farmer policies of the Modi Government," said AIKS.
The repercussions of the Bills were witnessed even before what transpired in the Rajya Sabha, when a 70-year-old farmer died by suicide on September 18 while protesting against the Bills in Punjab.
Farmers organisations in Punjab declared the man as the first martyr of the "Anti-Agriculture Bills movement," said a Gauri Lankesh News report. The aged farmer had been participating in protests organised by the Bharatiya Kisan Union (BKU Ekta Ugrahan) since September 15 at Badal village.
While the police do not know the cause behind the aged farmer's extreme step, the BKU's (Ekta Ugrahan) General Secretary Sukhdev Singh claimed that he was under debt and demanded the administration give compensation to the family of the deceased.
Related:
Amendments to agricultural laws, dangerous for farmers: National Unions
Harsimrat Kaur Badal's resignation, a public warning from Punjab farmers?
Over 42,000 workers from informal sector allegedly die by suicide
AIKS congratulates farmers on protests against anti-farmer ordinances issued by Centre