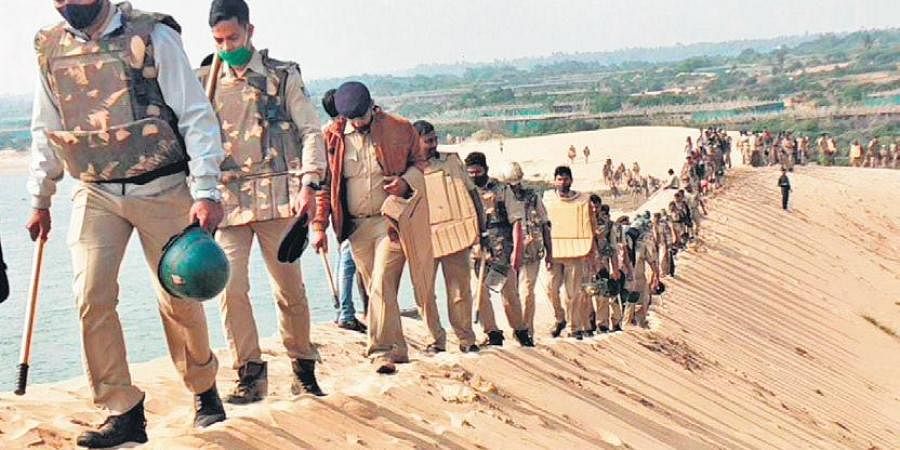 Image: The New Indian Express
International human rights body FIAN International voiced solidarity with Odisha's Dhinkia villagers on December 20, 2021 and called for the withdrawal of police force in the area, in a letter addressed to Union Environment Minister, Bhupendra Yadav and Prime Minister, Narendra Modi among others.
The Germany-based organisation expressed concern about the December 4 incident where over 200 police officers brutally lathi-charged villagers when they refused to allow the arrest of Anti-Jindal and Anti-POSCO movement (JPPSS) leader Debendra Swain. It condemned the tyrannical manner in which personnel verbally abused residents – 80 percent of whom belonged to scheduled castes – subjected them to charges of violence and deployed security at the village's entry and exit points.
According to the JPPSS legal council, more than 400 criminal cases are pending since the time of the anti-POSCO movement. Warrants have been issued against around 700 people, including 300 women and approximately 20 cases have been filed.
While decrying this, the FIAN said the Indian government breached obligations under the International Covenant on Economic, Social and Cultural Rights (ICESCR) by failing to settle land claims and assert rights of villagers under the Forest Rights Act (FRA) 2006.
"By inflicting the above-described violence on villagers it appears that the Odisha government has not complied with its obligations under international human law," said the FIAN.
It also pointed out that the alleged incidents also violate the Scheduled Castes and Scheduled Tribes (Prevention of Atrocities) Act, 1989.
In light of all this, the organisation for the right to food and nutrition asked that officials give due consideration to gram sabha resolutions rejecting diversion of forest land. Alongside, it requested that individual and community forest rights claims be filed urgently as per the FRA.
Similarly, the Odisha government and other relevant authorities must ensure the implementation of the 2018 NGT judgment that called to remove any construction already made on forest land. While the JSW Utkal Steel Ltd. had not received an environmental clearance, the area for the proposed project was already fenced with a tender announced by the Odisha Industrial Infrastructure Development Corporation (IDCO). The FIAN said this fencing should be removed as per the 2018 judgment as well.
"Quash the public hearings conducted on December 20, 2019 and require them to be reconducted as per the procedure established by the EIA notification, 2006," it said.
Lastly, it asked the administration to ensure India's commitment to the Convention on Biological Diversity, the Paris Agreement on climate change and the 2030 Sustainable Development Goals (SDGs).
For the last two years, the FIAN has repeatedly raised the issue about the evictions, loss of livelihood and criminalisation faced by Jagatsinghpur district's villages since the land was forcibly acquired by POSCO.
"We regret to learn that the government has not taken any action, and in fact, the intended projects are allowed to proceed despite not following due procedure," said FIAN International.
The complete letter can be read here:
Related:
Odisha Police beat up Adivasi villagers
Tougher than Steel: Odisha villagers condemn govt's to attempts to usurp their land
Tougher than steel: Decades on, Odisha villagers still struggle to protect their land
Tougher Than Steel: Odisha Community Rally Against Transfer of Their Land, Again