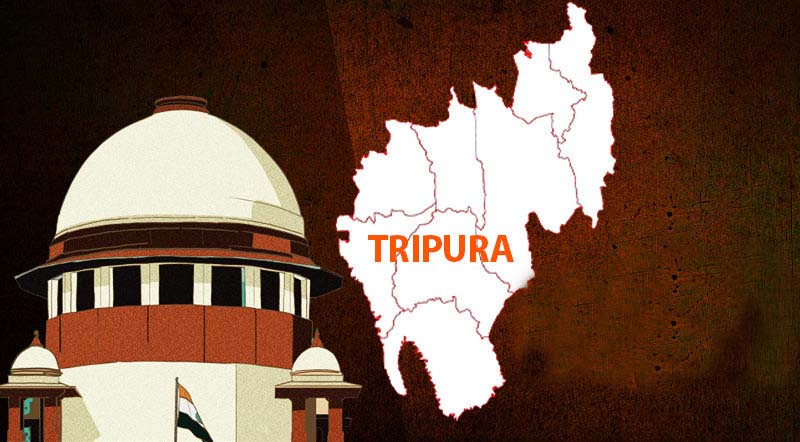 In fresh development in the case surrounding the protests and communal violence that broke out in Tripura in wake of the attack on temples in Bangladesh during Durga Puja last year, one of the men accused of using social media to spread unrest has moved Supreme Court saying police are harassing him. In response to this the apex court has cautioned the police to exercise restraint with respect to their crackdown on social media.
Brief background of the case
In October 2021, disturbing incidents of vandalism were reported from Hindu temples in Chandpur's Hajiganj, Chattogram's Banshkhali and Cox's Bazar's Pekua, in Bangladesh. Bangladesh Prime Minister Sheikh Hasina quickly swung into action and announced that the people behind the violence during Durga puja in Cumilla city will be hunted down and given "appropriate punishments" in order to stop the recurrence of such communal acts.
She assured the Hindu community of safety and their place in Bangladesh's society saying, "This land belongs to you, you have your rights. Don't consider yourselves as minorities, you should have this confidence." Subsequently, paramilitary forces were deployed to curb the communal unrest that had erupted in wake of the temple desecration and Bangladesh Police also took cognisance of these and all subsequent cases of temple desecrations and filed cases.
Meanwhile, communal violence broke out in Tripura, allegedly in retaliation to the violence against Hindus in Bangladesh. During this wave of violence homes and businesses belonging to Muslims were allegedly targeted and destroyed, there were also reports of mosques being damaged and desecrated in some parts of the state – something the local administration and police dismissed as rumours. They also cautioned people against using social media to spread such rumours that could create further communal unrest.
On October 29, SabrangIndia's sister organization Citizens for Justice and Peace (CJP) wrote to the National Commission for Minorities (NCM) seeking an inquiry into news reports that indicated vandalism of mosques and properties belonging to Muslims. In its complaint, CJP has also annexed videos found on social media which showed grocery and ration shops being burnt, a destroyed mosque property and some videos of mobs chanting inflammatory and derogatory anti-Muslim slogans.
The NCM then sought an expedited action taken report (ATR) from the Chief Secretary of Tripura, in two successive letters dated November 8 and November 18, 2021.
Crackdown on journalists
Apart from allegedly trying to crackdown on people sharing images and videos on social media, the Tripura Police also allegedly tried to silence journalists covering the violence and its aftermath. Sammriddhi Sakunia and Swarna Jha from HW News who were covering the story were hounded not only by right-wing goons, but also the police!
After a Hindutva group supporter filed an FIR, the women were hounded by police, first in Tripura, and then in Assam, both governed by the Bharatiya Janata Party (BJP), for allegedly disrupting communal harmony. The two Delhi-based journalists alleged that they had been "intimidated" by local police personnel in the hotel at Dharmanagar area of Tripura, where they were staying during their reporting visit to the state. A few days later, they were detained in Assam, another BJP-governed state.
After much pressure from local journalists' associations and lawyers, and being detained at the police station for over four to five hours, they were sent to a Shelter home at Nilambazar near the police station. Initially the Tripura police team was insisting on their detention/arrest without any woman official present. Citizens for Justice and Peace, with its wide network of rights activists in the state, assisted in legal aid for the duo.
They were detained and subsequently arrested on Sunday, November 14 when they were granted bail by the Chief Judicial Magistrate (CJM) Court in the Gomati district of Tripura, on a bail bond of Rs 75,000 each. The journalists then challenged the action in the Supreme Court and demanded that the FIRs against them be quashed. In December 2021, the Supreme Court stayed further proceedings in FIRs against the journalists.
Present case related to social media posts
Petitioner Samiullah Shabbir Khan, a journalist who had posted a tweet about the violence and tagged the police's official Twitter handle in it, had been granted protection against arrest by the SC on January 10 this year. But on Monday, February 7, he moved court alleging that he and a few others had been once again served notices by the Tripura Police who have summoned them in connection with their social media posts. The matter was heard by a Bench comprising Justices DY Chandrachud and Surya Kant.
Upon hearing about Khan's plight, DY Chandrachud reportedly addressed Tripura government's standing counsel, Shuvodeep Roy, and asked, "Mr Roy, please inform your SP (superintendent of police) not to harass people like this. Why should everybody be required to run to the Supreme Court?"
The Telegraph further quoted the Bench as saying, "Once we have passed an order covering an issue, albeit in one case, you must show the responsibility and show some deference to the court. Otherwise, we will call your SP to be present… if he is trying to evade complying with the order by issuing all these kinds of notices to others."
Roy requested that the matter be adjourned for two weeks. Shockingly the physical copy of the January 10 order hasn't reached the Tripura police! This despite the order being reported widely in the media and uploaded on the court's website. Moreover, the case was scheduled to come up on Monday, therefore it is bizarre that the Police would plead ignorance!
The court ordered, "Mr Shuvodeep Roy, learned counsel appearing on behalf of the State of Tripura shall communicate both a copy of the present order and the previous order dated 10 January 2022 to the Superintendent of Police to ensure strict compliance and obviate harassment." It also said, Since the applicant has been protected by the previous order of this Court dated 10 January 2022, no further steps shall be taken in pursuance of the notice under Section 41A pending further orders."
The order may be read here:
Related:
NCM asks Tripura gov't to expedite report about alleged vandalism of mosques
BJP govt "underplayed" Tripura violence: Fact finding report
Journalists Samriddhi Sakunia and Swarna Jha granted bail
Two Delhi-based women journalists arrested by Assam police on request from Tripura cops
Don't consider yourselves as minorities: Sheikh Hasina reassures Hindus