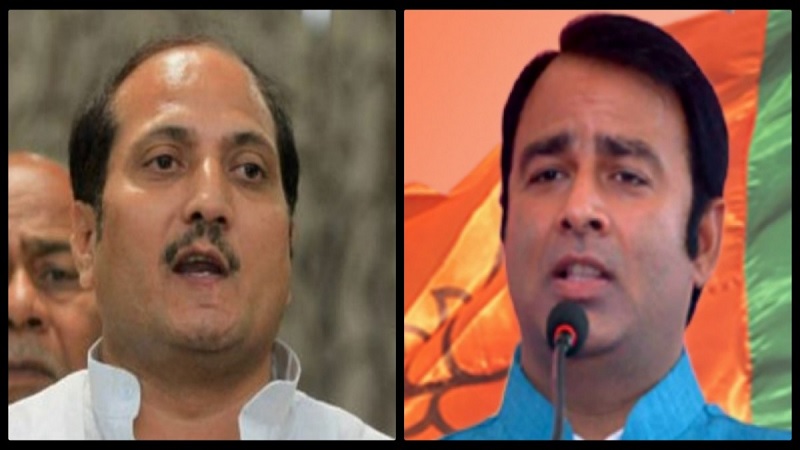 Image Courtesy:thewire.in
The names of Sangeet Som, Suresh Rana and Umesh Malik are well known in Uttar Pradesh and beyond. They have been in the news as being mascots of Hindutva, and were among the key accused in Muzaffarnagar 2013 riots. They, along with Mriganka Singh (daughter of the late Babu Hukum Singh, of Kairana, Shamli), have all lost their seats in the recently concluded Assembly elections.
The voters of Uttar Pradesh have shown them that their hate speeches have had no impact. Another hate monger who lost was Raghavendra Pratap Singh who had attacked Muslims with a vengeance in his campaign speeches. In the list of Hindutva mascots who lost, are also 11 ministers, who were all said to be close to chief minister Adityanath. It is crucial to note that these 10 men, and a woman, lost because both Muslims, and many Hindus did not deem them worthy of a vote.
This is especially true for Sangeet Som, Suresh Rana and Umesh Malik who had come in on a 'strong plank' and this was evident even in March 2021, after a Muzaffarnagar court allowed withdrawal of cases against these BJP leaders as well as former MP Bhartendu Singh and Vishva Hindu Parishad (VHP) leader Sadhvi Prachi, who were booked for violating prohibitory orders, deterring public servants from discharging their duties, wrongful restraint and for making incendiary speeches that led to the riots. The application made by the Adityanath-led UP government stated that it has been decided to not proceed with the cases against the BJP leaders "in public interest".
Over 60 people died and around 40,000 were displaced in the riots. After which, arrests were made and the National Security Act (NSA) was also invoked. However, later on, the NSA advisory board had revoked the charges against them and bail was granted. Many of the accused went on to thrive in politics. But the people did not forget their history this year. Here is a look at some of heroes of Hindutva brigade who lost face, and seats this election:
Sangeet Som, lost Sardhana, Meerut: In March 2021, a Muzaffarnagar court accepted the closure report filed by Special Investigation Team (SIT) in the case of BJP MLA Sangeet Som's controversial statement with respect to an inflammatory video ahead of the communal riots in the area, in 2013. Sangeet Som was accused in the Muzaffarnagar riots. Som has been defeated by Samajwadi Party's Atul Pradhan. Known in the area as Thakur Sangeet Som, he was confident of retaining his position as the Member of Legislative Assembly (MLA) from the Sardhana constituency. He had a lead in the initial phases of voting but by the end of counting Samajwadi Party candidate Atul Pradhan crossed the winning line with a massive 18,160 margin. It is for the first time that SP has won from this constituency, according to ground reports, Muslims, Gurjars and Jats all voted against the BJP and in favour of Atul Pradhan.
Suresh Rana, lost Thana Bhawan, Shamli: Rana was the Sugarcane Minister of the state and said to be very close to Chief Minister Adityanath. He was among those accused of inciting the 2013 riots, and was known for spreading communal hatred. In 2013, his was the first major arrest of a politician for the Muzaffarnagar violence. Suresh Rana was arrested on charges of making provocative speeches to cause riots by Lucknow police while he was on his way to Gomti Nagar from the party office, stated news reports from that year. He has now lost his home seat to RLD's Ashraf Ali Khan by well over 10,000 votes. RLD candidate Ashraf Ali Khan got 82,566 votes and Rana got 72,080 votes.
Umesh Malik lost Budhana, Muzaffarnagar: Named in Muzaffarnagar riots case Umesh Malik (56) hoped that the Bharatiya Janata Party's Hindutva card, and his own image as a Hindutva leader would help him retain his seat. It didn't. Malik lost to RLD's Rajpal Baliyan by a massive margin of 28,130 votes. According to news reports the BKU's headquarters in Sisauli is under this constituency, and Malik's defeat is also a reflection of the farmers' anger as well as that of the Jaat community.
Mriganka Singh lost Kairana, Shamli: She is the daughter of the late Babu Hukum Singh, and was defeated by Nahid Hasan of Samajwadi Party who won with a margin of 25,887 votes. Hukum Singh was a minister in the BJP governments of Kalyan Singh and Rajnath Singh. He was named as an accused in the 2013 Muzaffarnagar riots case. Singh was reportedly the one who alleged a "Hindu exodus" from Kairana. He was also accused of "orchestrating the issue to promote the political career of one of his five daughters," stated a Mail Today report adding it was the UP police who claimed that "Singh brought up the exodus issue to consolidate Hindu votes to benefit his daughter in the 2017 elections." This year, Kairana had got special attention from Home Minister Amit Shah as well as CM Adityanath. Both invoked the communal riots of Muzaffarnagar and Saharanpur, and the alleged "exodus" of Hindus from Kairana. The CM had been claimed, "Those who had allegedly forced the traders and residents of Kairana to flee had in the past four-and-half-years been forced to flee themselves," adding, "If a criminal dares to shoot a trader or a citizen, then the bullet will hit him and will send him next world ('doosre lok')."
Raghavendra Pratap Singh lost Domariyaganj: Saiyada Khatoon of Samajwadi Party (SP) defeated the incumbent Member of Legislative Assembly (MLA) from Domariyaganj Raghavendra Pratap Singh of the Bharatiya Janata Party (BJP). Khatoon's victory is a resounding slap in the face of divisive forces, given how Singh had claimed that if he were elected again, Muslims will wear tilaks. Saiyada Khatoon has won from the Domariyaganj assembly seat by a margin of 771 votes, polling 85,098 votes against Singh's 84,327 votes. Singh who is said to be devoted to Uttar Pradesh's chief minister Adityanath, had had an anti-Muslim stance during his election campaign. He had made shocking statements such as, "If you make me MLA again, they (Muslims) will stop wearing skullcaps and start applying tilaks." Singh also claimed that after he got elected in the last election, "250 acres of land belonging to Muslims got confiscated, their shops destroyed."
Deputy Chief Minister Keshav Prasad Maurya lost Sirathu: Maurya emerged as one of the biggest losers in UP Assembly elections and was defeated by SP's Dr Pallavi Patel. Proof that voters rejected a culture of hate in many areas which had powerful BJP candidates. In January this year, Keshav Prasad Maurya had walked out of a BBC interview when he questioned the BJP leadership's silence over Haridwar dharma sansad's hate speeches. Maurya went a step ahead and defended the right of expression of the hate speech makers. Maurya too is known for his anti-Muslim speeches, and in the recent past has called Muslims "lungi chaap, jaalidaar topi goondas" .
Anand Swaroop Shukla lost Ballia Nagar: A minister, Shukla was defeated by SP candidate Jaiprakash Anchal by about 12,000 votes. According to news reports, his fate was sealed when BJP rebel Surendra Singh dented his vote bank. Singh won over 28,000 votes. Jaiprakash Anchal got 71,241 votes, and Shukla got 58,290 votes. Anand Swaroop Shukla had said in 2021, that Hindu gods Ram, Krishna, and Shiva were "ancestors of Indian Muslims" and Muslims should bow to the "land and culture of India". He claimed Prime Minister Narendra Modi and Uttar Pradesh Chief Minister Yogi Adityanath have "defeated the mindset which intended to create an Islamic State in the country by raising the flag of Hindutva and Indian culture." He had in 2021, written to the Ballia district magistrate, asking that the volume of loudspeakers at mosques should be fixed according to the High Court orders claiming "Namaz is offered five times in a day, and throughout the day. As a result of it, I face problems in doing Yoga, meditation, puja (worship) and discharging government duties."
Then there are more ministers who lost including Chhatrapal Singh Gangwar who was defeated by Ataur Rehman of SP by 3,355 votes in Baheri seat of Bareilly district. Rural Development Minister Rajendra Pratap Singh alias Moti Singh who lost the Patti seat of Pratapgarh to Ram Singh of SP by 22,051 votes and Minister Chandrika Prasad Upadhyay, lost in Chitrakoot to SP's Anil Kumar by 20,876 votes.
Related:
UP Assembly Elections: Margin of victory less than 500 votes in 11 seats!
UP's tribal belts show unusual voter activity
Case registered against Saiyada Khatoon, newly elected MLA of Domariyaganj
Anil Bhanot, Director-Trustee, Hindu Council UK, quits when called out for Islamophobia
UP Assembly Elections: More poll code violations, CJP moves ECI again