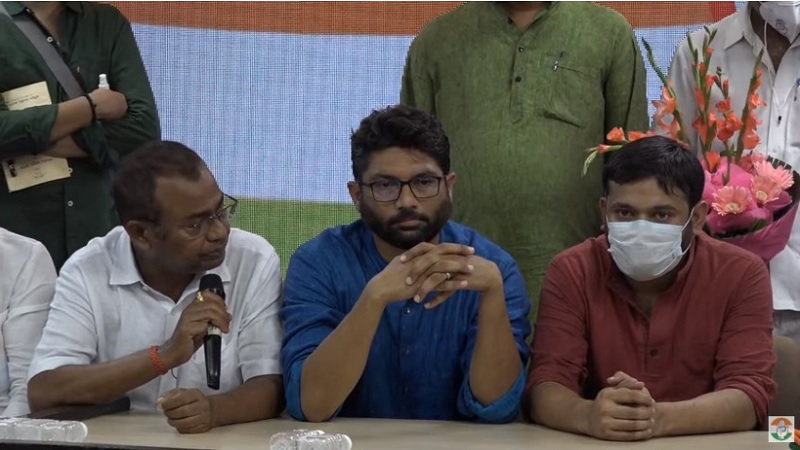 Image Courtesy:youtube
Former JNU students' union president, CPI (M) leader from Bihar Kanhaiya Kumar formally joined the Congress party on September 28. Gujarat MLA Jignesh Mevani, announced that he will extend support to the party now, and perhaps join it at a later date.
While speculations about Kanhaiya Kumar and Jignesh Mevani, joining or associating with the Congress in a major way had been doing the rounds for sometime now, they chose to make their decision public on September 28, soon after they accompanied Rahul Gandhi to pay respects to the monument dedicated to Shaheed Bahgat Singh. The evening press conference, streamed live, and the online audience of over 12 thousand viewers at one point, was proof of the iconic status the two young leaders enjoy, especially among the youth. Their joining and support, is one of the most crucial moments for the party which has seen a some senior member exit including former Mahila Congress chief Sushmita Dev (now with the Trinamool Congress,) former Union Minister Jitin Prasada (now with the Bharatiya Janata Party) and veteran Goa leader Luizinho Faleiro, not to mention the dramatic resignations of Amrinder Singh and Navjot Singh Sidhu from their posts. The party is gearing up to fight the Assembly elections in key states including Uttar Pradesh, Gujarat, Punjab, Goa and Uttarakhand in 2020.
LIVE: Special Press Conference by Shri @kcvenugopalmp, Shri @rssurjewala and Shri @BHAKTACHARANDAS at the AICC HQ. https://t.co/cwYVpZXvRH

— Congress (@INCIndia) September 28, 2021
Shri @kanhaiyakumar & Shri @jigneshmevani80 join the Congress party in the presence of Shri @RahulGandhi. pic.twitter.com/ceJMXJPs8P

— Congress (@INCIndia) September 28, 2021
Jignesh Mewani, a Dalit leader, is especially popular and has won his Vadgam constituency seat as an independent MLA, the Congress had not fielded its candidate in the 2017 Gujarat Assembly election, against him. For now Mevani, told the media that he has extended his support to the party but cannot join it formally due to "technical reasons" as he is a sitting MLA as an independent in Gujarat.
As the state goes to polls next year, Jignesh Mewani will be the man to watch. After appointing Charanjit Singh Channi as Punjab's first Dalit Cheif Minister, the Congress is likely to work towards earning the support of Gujarat's Dalit community as well. Mewani, who got as warm a welcome as Kumar, said he "could not join the Congress formally due to technical reasons. I am an independent MLA, if I join a party, I may not continue as an MLA…I am part of the Congress ideologically but I will fight the upcoming Gujarat polls from Congress symbol." Mewani, may or may not be projected as the CM face of the party in Gujarat, but he will have a key role to play in the 2022 state elections.
Randeep Singh Surjewala, General Secretary, Member, Congress Working Committee was effusive in his welcome, saying that Kumar and Mevani will strengthen the party. Congress General Secretary KC Venugopal added that the party was looking forward to working with the two young leaders to combat "fascist forces ruling this country today" adding that Kanhaiya Kumar had "fought against fundamentalism as a student leader."
Kumar told the media that he was joining the Congress "because it's not just a party, it's an idea. It's the country's oldest and most democratic party, and I am emphasising on 'democratic'" , He had joined the CPI ahead of the 2019 Lok Sabha polls, and contested from his hometown Begusarai, but had lost to BJP's Giriraj Singh. He had reportedly been in talks with Rahul Gandhi for a few weeks and formally signed the joining paperwork in his presence.
Both did not mince their words and were openly critical of the right wing ideology of the RSS, and BJP, as being followers of Mahatma Gandhi's assassin Nathuram Godse. The two leaders who are well known for their articulate and vociferous opposition to the Bharatiya Janata Party (BJP), and it's right wing allies, swore allegiance to the Congress on the birth anniversary of revolutionary freedom fighter Bhagat Singh, a national youth icon of his time and beyond.
झूठ के साम्राज्य में सच से ही क्रांति आती है।

नए-पुराने सभी साथियों को मिलकर इस सत्याग्रह में भाग लेना होगा।#BhagatSingh pic.twitter.com/NycbXjHI04

— Rahul Gandhi (@RahulGandhi) September 28, 2021
Punjab's political pot boils away
Hours after Navjot Singh Sidhu resigned as Punjab Congress chief, it was reported that the resignation was not yet accepted by the party. His resignation came as a surprise as the state had just taken a step towards stability with the change of Chief Minister. However the cricketer-turned-politician tweeted his "resignation letter" as the Punjab Pradesh Congress Committee leader, and once again exposed the weak links in the Punjab Congress, even though he stated that he "will continue to serve the Congress."
— Navjot Singh Sidhu (@sherryontopp) September 28, 2021
According to news reports Sidhu was upset about changes made by Chief Minister Charanjit Singh Channi, especially the appointment of SS Randhawa as a minister. The former Chief Minister Amarinder Singh, too made it a point to taunt his bete noir Navjot Sidhu.
I told you so…he is not a stable man and not fit for the border state of punjab.

— Capt.Amarinder Singh (@capt_amarinder) September 28, 2021
Related
Congress may get young leaders Jignesh Mevani Kanhaiya Kumar, to join Congress
Can Charanjit S Channi, Punjab's first Dalit CM help Congress retain power in the state?
Can detain activists, cannot detain anger: Jignesh Mevani
JNU sedition case: Court directs police to supply chargesheet copies to Kanhaiya, Umar and 8 others