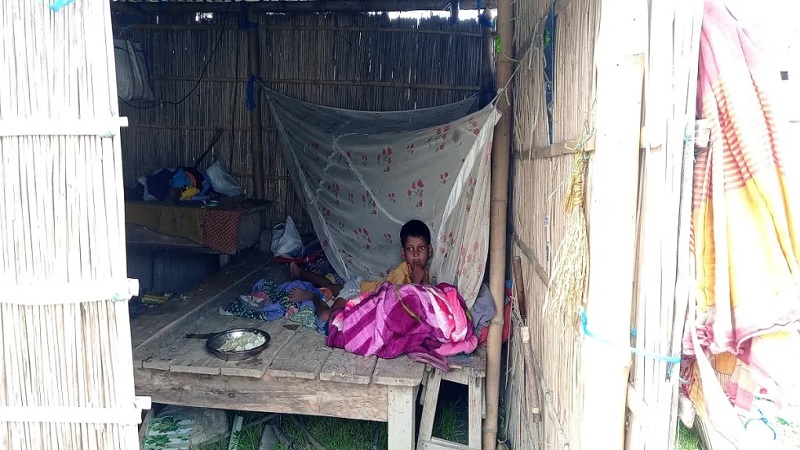 In yet another example of the Assam state government's apathy, it has submitted before the Gauhati High Court that land has been demarcated to rehabilitate evicted and displaced people, however, their citizenship will have to be ascertained before confirming their eligibility, adding fuel to the baseless narrative that "outsiders" and "illegal migrants" had "encroached" upon public land.
This is shocking because this was in connection with families that were first forcibly evicted from their homes in Darrang district, and then faced a hail of bullets from the Assam Police when they protested. On November 3, a Bench comprising Chief Justice Sudhanshu Dhulia and Justice Kakheto Sema was hearing a batch of petitions related to rehabilitation of these evicted families.
Criteria for rehabilitation
Bar and Bench reports that Advocate General Debojit Sakia submitted that rehabilitation of evicted and displaced people will be carried out and that 1,000 bhigas of land were set aside for this purpose. However, in order to determine eligibility, it will have to be ascertained if the evicted people were indeed landless migrants, including ascertaining if they had a similar status in the districts from where they had originally migrated. He further said, it would have to be determined if they were landless on account of effects of erosion. Finally, he submitted that their names will have to be checked against the National Register of Citizens (NRC) to ascertain if they are indeed Indian citizens.
The last bit, is significant because the regime and their lapdogs have repeatedly taken advantage of how citizenship is a rather touchy subject in the state of Assam, where much blood was spilled before signing of the Assam accord. The NRC was also updated purportedly to weed out "illegal Bangladeshi migrants" from Assam.
Who are the "outsiders"?
However, as we have reported previously, nearly 60 percent of the people excluded from the NRC are rural housewives who do not have any documentation such as birth certificates or school leaving certificate, as most of them are born at home, rarely sent to school and married off in their teens. Thus, by the time their names are enrolled in the Voters List in their marital villages, the only document connecting them to their birth families as natal villages are certificates issued by the Gaon Burah (Village Panchayat Secretary). But this document was deemed a "weak document" and therefore isn't enough to prove citizenship.
Also, when it comes to erosion, the area where evictions are taking place is a riverine region. Here entire villages are washed away in floods and people are forced to frequently relocate. In fact, the families that are now facing the brunt of evictions have descended from people who were forced to come to this region from Upper Assam (further upstream) where the erosion is more severe. They have been living here for anywhere between 40-50 years.
In fact, the only comfort these people have drawn since the September 23 firing is that eviction have been put on hold since then, and there has been no further violence.
Gauhati HC's order
In its November 3 order, the court recorded, "Mr. D. Saikia states that as of now for the remaining alleged encroachers, no coercive measure is being adopted as efforts are being made to convince them to move to the demarcated area. All the same, as and when such measures are adopted, the petitioner would be at liberty to move an application before this Court."
The State was granted one week to file a detailed counter-affidavit in the matter, and the petitioner was granted three weeks to subsequently file their rejoinder. The matter will be heard next on December 14, 2021. The entire order may be read here:
Brief background of the issue
As we have reported previously, the Assam state government has been conducting an eviction drive to rid public land of people it calls "encroachers". They say this land will then be handed over to indigenous youth for agricultural purposes. As part this eviction drive hundreds of families have been evicted from Gorukhuti, Phuhurtuli and other nearby villages that fall in the Sipajhar circle of the Dhalpur region of Darrang district.
On September 20, around 200 families were forcibly evicted from their homes in Phuhurtuli in Dhalpur. It is noteworthy, that 49 families nearby had been evicted from the same area on June 7. The support for the evictions came from the highest authority, with the Chief Minister congratulating the district administration on Twitter.
On June 7, I had inspected riverine areas encroached by illegal settlers near Dholpur Shiva Mandir. I had assured temple mgmt & local people to set up a Manikut, build a guest house & boundary wall. Today's eviction is aimed at starting community farming by removing encroachment pic.twitter.com/VmnsfDXz8r

— Himanta Biswa Sarma (@himantabiswa) September 20, 2021
The narrative around the Shiva Mandir, added a communal angle to the entire inhuman exercise. A day after the firing, an unrepentant Himanta Biswa Sarma remained defiant and told mediapersons in Guwahati, "They call me Talibani, but can we leave Assam like this? Should we allow them to encroach on Shiva temple land? Next, they will encroach on the Kamakhya temple land." The communal spin to a human tragedy did not go unnoticed.
In fact, we had reported on how the eviction drives are disproportionately targetting members of the Muslim community. There were also allegations of the forced conversion of a Hindu temple priest's widow, an allegation Parbati Das, the woman in question, shot down in an exclusive interview to us.
Police Firing incident
Then came the fateful day of September 23. At midnight residents of Gorukhuti were sent notice of eviction via Whatsapp, in complete contravention of set procedure and law. The next morning, they were thrown out of their modest huts, with little time to gather together their meagre belongings. District officials had arrived with armed police personnel, and when people protested the injustice, police opened fire. Two people, Maynal Haque and Sheikh Farid, were killed in the firing.
While Maynal Haque was a daily wage earner, responsible for feeding his family of elderly parents, a wife and three small children, Sheikh Farid was a 12-year-old boy returning home from a nearby Aadhaar Card centre. What was also shocking was how, again in complete contravention of set procedure, police did not shoot people below the knee. In fact, victims and survivors sustained bullet wounds to their head, face, chest and stomach.
And since then, at least three infants belonging to evicted have died, purportedly due to being forced to live in makeshift tents that offer little defence against the elements. The youngest was just 5 days old.
Evictions – CM's pet project, Darrang SP – CM's brother
Three things cannot be ignored:
Police action was disproportionate, brutal and illegal

A majority of people evicted from their homes so far belong to the minority community

The Superintendent of Police of Darrang district where the firing took place and where these evictions are being carried out is none other than Sushanta Biswa Sarma, brother of Assam Chief Minister Himanta Biswa Sarma.
The bigger questions are:
Did a high-ranking police officer allow his family connection or personal politics to interfere with how he discharged his duties?

Is the state government, run by a party with an anti-minority ideology abusing power and connections to selectively target followers of a certain faith?

Does this not reek of ethnic cleansing?
Speaking to media person a day after the attack, the Chief Minister had refused to take action against district authorities and his own brother who heads the police in Darrang. He asked, "Why should I fire the District Collector and SP of Darrang when they were operating under my orders?" He tried to blame "outsiders" who he claimed had instigated locals to attack the police, forcing them to fire in retaliation.
Even then, Sarma had shot down demands for relocating evicted families saying, "Those who come from Baghbor and Sarukhetri, they have their own land at home. So why should I give them lands? It's not my own land that I'll give anyone I want. But those who are landless, I'll give them 6 bighas of land as per the Land Act of Assam. And I have been saying this for two months!"
Related:
EXCLUSIVE: Three infants from evicted families die in Assam
Assam police firing: CJP aids families of victims move HC
Assam Police Firing: 12-year-old shot dead while returning home from Aadhaar centre!
Photo Feature: Evicted villagers struggle to rebuild lives in Dhalpur
Finally, FIRs filed in Dhalpur firing death cases