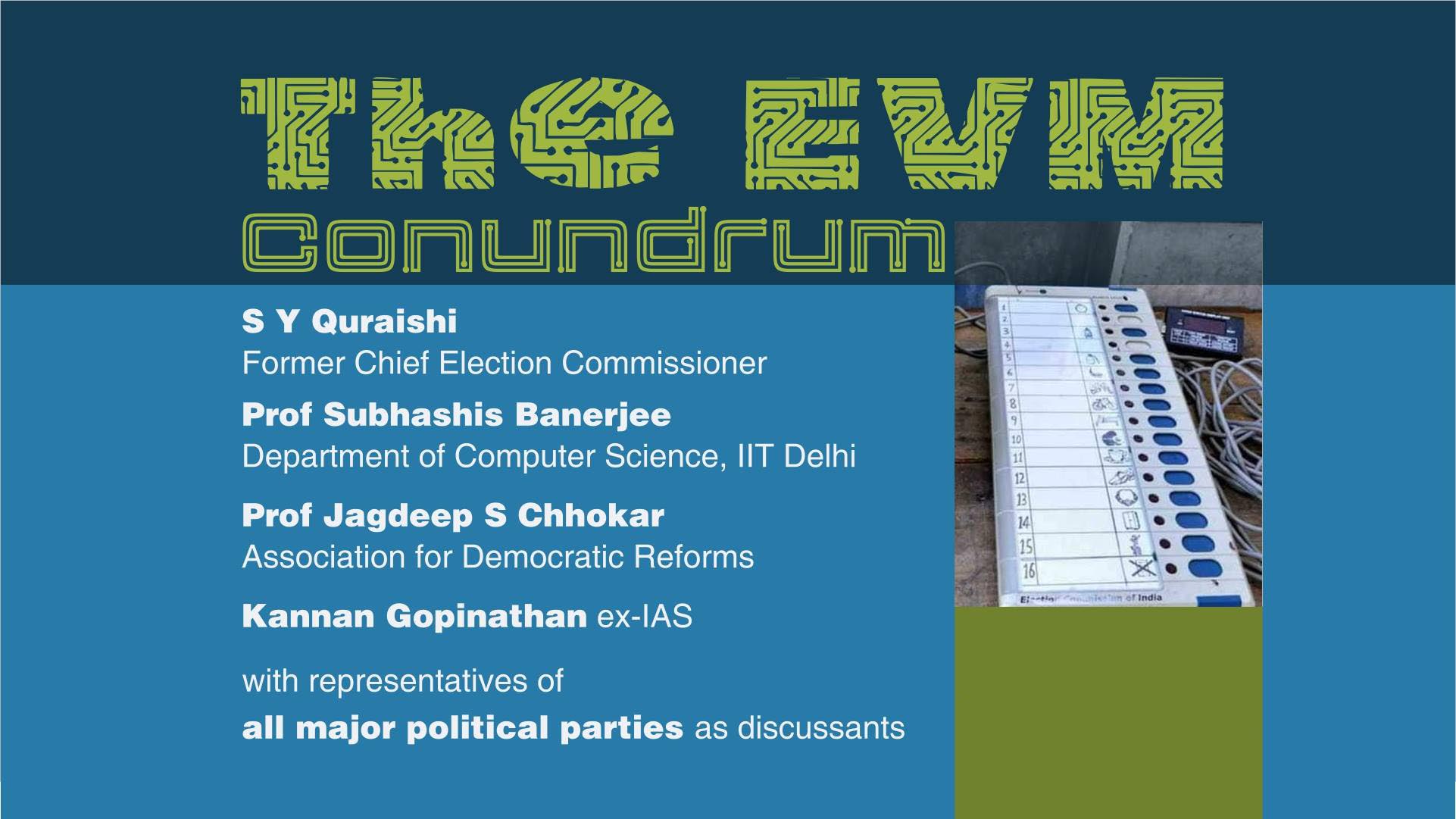 On Monday, January 25, SabrangIndia hosted a webinar titled The EVM Conundrum, to look deeper into various concerns raised by a variety of stakeholders in the Indian democracy, including but not limited to representatives from top political parties, advocacy groups, former bureaucrats, academics and experts from the field of technology.
The technology behind Electronic Voting Machines (EVM) and now the introduction of Voter Verified Paper Audit Trail (VVPAT), have both raised concerns among all these groups and citizens in general.
Speakers included, former Chief Election Commissioner (CEC) Dr. SY Quraishi, Prof. S Banerjee from IIT Delhi's Department of Computer Science, former bureaucrat Kannan Gopinath, Prof JS Chhokar from the Association of Democratic Rights (ADR), Dola Sen (TMC), Debabrata Saikia (Congress), Ghanshyam Tiwari (SP), Faud Halim and Samik Lahiri (CPI-M) among others.
SabrangIndia co-founder, human rights defender and journalist Teesta Setalvad moderated the online discussion. She began by saying, "Some people have raised concerns about the technology. It is important to have an informed discussion," and invited Kannan Gopinath to share his concerns.
Gopinath said, "I used to defend EVM saying they are candidate agnostic and secondly, they are not connected to anything else. But it was during the training related to EVMs before the 2019 elections that I noticed for the first time, the machine was connected to another device." He explained his apprehensions saying, "Earlier the machine could only see candidate 1, candidate 2 without knowing the name or party of the candidate. But with VVPATs, now that identification became possible and that raised concerns."
Prof. Banerjee said, "Whether it is hackable or not, is not the question. When it is hacked, it is hacked." As far as trust in EVMs goes, Prof. Banerjee asserted, "You will be able to put trust in it if it follows principles, and is not based on ad hoc strategies." He said there was a huge body of literature on how to do audits, how to design VVPAT system etc. He also batted for EVMs over paper ballots saying, "Paper is a very untrustworthy system. It should be an EVM plus a VVPAT system."
Dr. Quraishi said, "No machine in the world is non-hackable. We have to be careful. Both internal and external security are crucial," adding, "It is a national concern, not just a party issue. The ECI has to look at the issue with an open mind, consult experts at every level, and consider the machine as a friend of the system, rather than foes."
He said that words of assurance from technical experts can help alleviate concerns. He also suggested, "Right now the VVPAT is visible to the voter for 7 seconds. This time is very short. It should be extended to 12 seconds as after a vote is cast, the machine anyway becomes dead for 12 seconds, so this will not affect the polling our counting duration." Addressing the issue of mismatch between VVPATs and the imprisonment clause incorporated for those demanding reassessment, he suggested, "As of now if the machine gives correct result during reassessment the person raising concerns can be sent to jail. This can be very discouraging. But how about putting two buttons, one red and one green. As soon as a person casts his vote, and their VVPAT is displayed, if the result is correct they should press green button and if it is wrong, they have the option of pressing the red button which will raise an alarm and the process will be repeated."
At this point Teesta Setavlad pointed out, "We had invited the ruling party at the Center, unfortunately they have not joined us today." She then invited representatives of other parties to join the discussion.
TMC's Dola Sen asked, "The central issue will always remain that, what will be the measures instated by the ECI to ensure absolute safety and confidentiality?"
CPI-M's Fuad Halim observed, "Even the people within the ECI who do not have a technology background, who do not have a grasp on what is happening within the EVM depend on technical advisors. And as a common citizen and as a representative of a political party, it is totally opaque, because we don't know who these people are!"
Samajwadi Party's Ghanshyam Tiwari raised an interesting point. He said, "We are talking about it as if we are designing something to send man on Mars! But in truth, simpler, more convenient technology is readily available, and can be used to make the EVMs more reliable." He asked, "What is the simplest way to do what we are doing? We need to keep asking ourselves the necessity of new technologies. Are they making the process simpler?"
ADR's JS Chhokar reminded everyone that at one point or another, all political parties have questioned EVMs and supported EVMs. "An important spokesperson and member of the present regime had authored a book against EVMs and the foreword to that book was written by a former Deputy Prime Minister," he said. He also said parties themselves planted seeds of doubt in voters' minds, "The root of the EVM controversy comes from political parties planting that seed of doubt. These parties have to learn to be responsible with what they say. Once the seed of mistrust is sown in the public, it is difficult to regain the trust."
Chhokar's organisation ADR, has moved a petition before the Supreme Court regarding concerns generated by EVM use.
The entire webinar may be viewed here:
Related:
How states can ensure transparency in EVM based assembly elections
ECI Silent on Serious Irregularities in May 2019 Gen Election: Constitutional Conduct Group