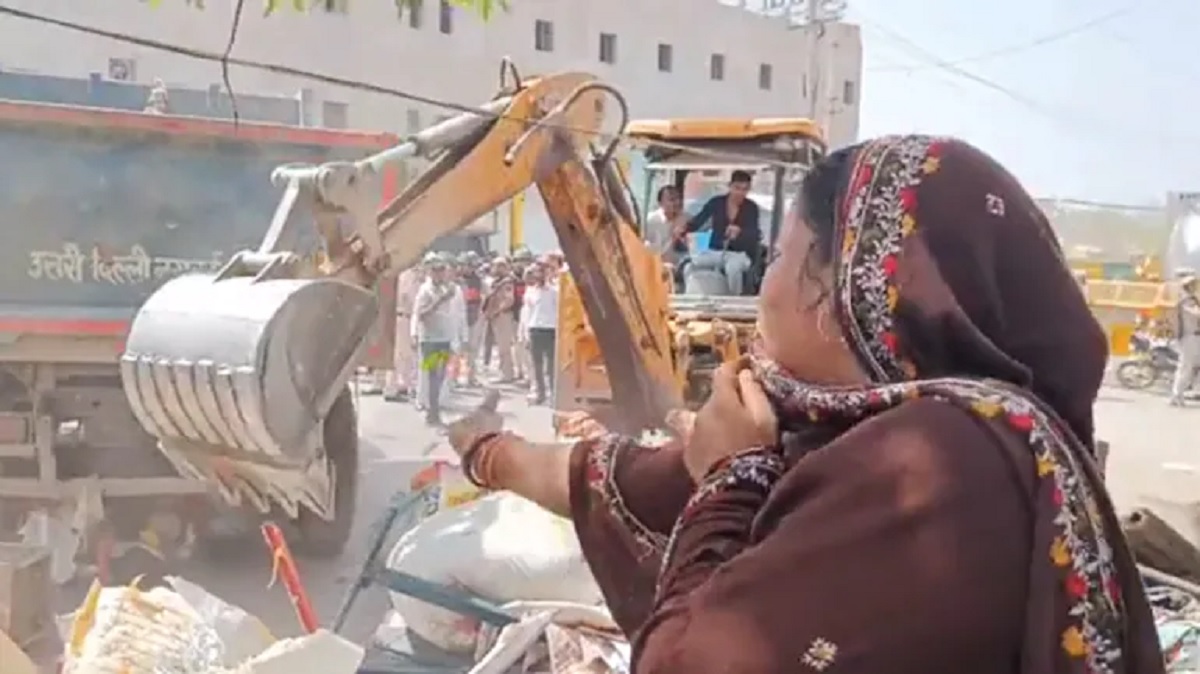 Image: Screengrab/Twitter@hey_eshwar
As #BulldozerJustice trends on Twitter, perhaps it is time to take a look back at how the piece of heavy machinery has been deployed by multiple regimes to serve different agendas. How the actual term should read Bulldozer Injustice, because the people who are targeted are always economically weak and underprivileged.
Though the arguments put forth by various regimes have thus far boiled down to clearing encroachments and removing squatters and "miscreants", the unspoken objective has been to sweep the great unwashed from the sightlines of the wealthy, right to shelter be damned! However, of late, the regime is using it to target minorities, specifically Muslims. What's worse, is that now even members of other political parties have started insisting that the encroachers are "outsiders".
Emergence of the Rohingya – Bangladeshi narrative
Bengali speaking Muslim residents of Jahangirpuri, the site of recent communal violence and an allegedly retaliatory demolition drive, were summarily dubbed "Rohingya" and "Bangladeshi", first by Adesh Gupta who is the president of the Delhi unit of the Bharatiya Janata Party (BJP), and later even Aam Aadmi Party (AAP) leaders such as Rajya Sabha Member of Parliament and National Spokesperson of AAP, Raghav Chada and Atishi Marlena, who accused the BJP of settling Rohingya refugees and Bangladeshis in different parts of the country to spark communal violence!
जहांगीरपुरी में बुलडोजर कार्यवाही पर प्रतिक्रिया pic.twitter.com/IgFBsmdtlm

— Raghav Chadha (@raghav_chadha) April 20, 2022
जिस दिन Amit Shah के घर Bulldozer चल जाएगा, इस देश में दंगे बंद हो जाएंगे।

BJP ने दंगे करवाने के लिए देशभर में बांग्लादेशियों और रोहिंग्या को बसाया है।

BJP List दे, किसे कहाँ बसाया है? इससे पता चल जाएगा- अगले दंगे भाजपा कहाँ करवाने जा रही है।

–@AtishiAAP #BulldozeBJPHQ pic.twitter.com/zxs3Das1gJ

— AAP (@AamAadmiParty) April 20, 2022
This narrative was fueled further by media houses sympathetic to the regime, who somehow accepted this as justification for a demolition drive, that incidentally was carried out despite an order from the Supreme Court to maintain status quo. The mayor acted with impunity when he insisted that demolitions would stop only when authorities received a copy of the SC order!
It was crystal clear that the demolition was a way to punish the local Muslim residents of Jahangirpuri for protesting a Hindutva procession that passed through the neighbourhood on the occasion of Hanuman Jayanti on Saturday April 16. While most media focused on reporting on the stone pelting and how at least eight policemen were reported injured in the clashes, one cannot ignore how vehicles were allegedly set on fire, and shops of Muslims were vandalised. In fact, subsequent news and fact-finding reports revealed that sensible community leaders had actually restrained impressionable youngsters from retaliating violently.
In the aftermath of the violence, the police arrested 14 Muslims. Though Prem Sharma, a member of the Vishwa Hindu Parishad (VHP) was also arrested, the police later withdrew their initial statement, allegedly under pressure from the VHP.
On Thursday, April 21, the SC ordered that status quo be maintained for two weeks even as it heard submissions in two Public Interest Litigations (PIL) against the demolitions that highlighted how the entire process was carried out in contravention of set procedure and law.
So, how did we get here?
Now, it is well known that after facing persecution in Myanmar, members of the Rohingya community who used to live in the Rakhine state started fleeing their homeland. While over 2,00,000 fled to Bangladesh where they continue to live even today in one of the world's largest refugee camps in Cox Bazaar, lakhs of others fled to other countries including India. In fact, according to official figures as many as 40,000 Rohingya refugees were welcomed into India and settled mainly in Jammu, Rajasthan, and Delhi. Some of them migrated to other parts of the country such as Bangalore and Hyderabad, some even took refuge in Mizoram as they have families in the state. So, why is it after showing grace and compassion by letting in refugees, that politicians, who are seemingly across party lines, are suddenly blaming them for a law-and-order problems, especially in wake of the outbreak of communal violence during Ram Navami and Hanuman Jayanti?
As far as the Bangladeshi bogeyman goes, it has been used for over 50 years to spark ethno-linguistic divisions in the North East, especially in Assam. So much so that a blood was spilled during the Assam Movement that finally led to the signing of the Assam Accord that in turn paved the way for updating the National Register of Citizens (NRC). In the 1980s Assam saw the violent fallout of the Assam movement in the Nellie massacre (February 18, 1983), where it was this narrative of the illegal Bangladeshis "infiltrating" Mongoldoi's electoral rolls that unleashed terror and killing of Indians was spread far and wide. The massacre remains a blot on Assam's history.
On the back of this was built, the shrill and hegemonistic movement for a 'Grand Temple at Ayodhya' (a euphemism for the demolition of the 400-year-old Babri Masjid) This movement saw violence erupt in several parts of India. Mumbai, then known as Bombay, was among the worst hit. In December 1992, as targeted violence erupted in several parts of the city, as the victory temple bell ringing processions (Ghantanaad celebrations) were allowed, and the spectre of evidence of communal bias (prejudice) in a once professional police force raised its ugly head. The right-wing BJP held up the 'bogey' of illegal Bangladeshi immigrant in bastis like Antop Hill being the epicentre of the violence. (BJP state chief Dharamsingh Choradia was confronted with this at a press conference, and when unable to pinpoint the baseless allegation, stood exposed.
In the recent past two chief ministers and one home minister of BJP ruled states have been at the forefront of this Bulldozer Injustice – Chief Minister Yogi Adityanath of Uttar Pradesh, Chief Minister Himanta Biswa Sarma of Assam and Home Minister Narottam Mishra of Madhya Pradesh.
The rise of Bulldozer Baba in UP
Adityanath has been given the moniker of Bulldozer Baba for authorising the demolition of homes and properties of people who the regimes dubbed as either criminals or members of the mafia. In fact, it had all started with the use of bulldozers to raze the properties of those who had protested the Citizenship Amendment Act (CAA) in 2019. Adityanath had himself referenced the heavy machinery in multiple speeches in the run up to his re-election, further solidifying his reputation when his followers took out bulldozer rallies to celebrate his victory.
Himanta Biswa Sarma's eviction drives in Assam
This was first seen around July 2021 in Assam, where shortly after coming to power, Assam Chief Minister Himanta Biswa Sarma authorized a series of demolition drives to clear land "occupied by encroachers" so that it may be given to indigenous youth for farming and fishing. Two such drives took place in Dhalpur in Darrang district, a region that is home to hundreds of families who migrated here from other flood-prone regions of Assam. The eastern Indian state has been facing river erosion for decades, and often entire villages are washed away when the mighty Brahmaputra either overflows or changes course during the monsoon. Their homes and agricultural lands submerged, these people had no other option to move to safer regions within the state. In fact, most of the families evicted during the drives in August and September had been living there for 40-50 years.
However, a vast majority of such migrants are Bengali speaking people, instead of Assamese speaking people. These Bengali speaking Muslims and even Hindus are viewed as "outsiders", often dubbed "illegal Bangladeshi immigrants" in a state that has a bloody history of an ethno-linguistic struggle that is still a very sensitive subject. In short, there has been a fear that illegal Bengali migrants (both Hindus and Muslims) have entered Assam from Bangladesh by crossing a very porous and largely riverine border, and that their alleged objective is to supplant the state's original Assamese population with a predominantly Bengali population. While this dispute had remained essentially ethno-linguistic for decades, the BJP added to it a distinct communal hue to it in a purported bid to further their divisive and communal agenda.
As was evident in the eviction drive, especially the one in Dhalpur, it was the homes of Bengali speaking Muslims that were targeted during the demolition drive. The Chief Minister had not only congratulated the local administration for their work in removing encroachments, he had also categorically dubbed the evicted people as "outsiders". After the brutal police firing on September 23 in Gorukhuti, the demolitions were halted, but the stand of the ruling regime became even clearer when they insisted that rehabilitation and compensation will only be provided to families whose name appears in the NRC, thereby feeding into the whole Bangladeshi infiltrator narrative once again.
It is also noteworthy that the Assam state government has always been vocal about how they are not satisfied with the outcome of the updated NRC that was published on August 31, 2019 and left out over 19 lakh people. Muslim minority leaders have alleged that the demolition drives were authorised only because the regime could not exclude a desired number of Muslims from the NRC.
Narottam Mishra's "stone for a stone" justification
Just a day after communal clashes erupted during a Ram Navami procession in Madhya Pradesh's Khargone, the district administration demolished 16 houses and 29 shops in five areas across the town. Home Minister Narottam Mishra issued a warning, saying, "Jis ghar se pathar aaye hain, us ghar ko hi patharon kaa dher banaenge (We will turn the houses from where the stones were pelted to a heap of rubble)." Mishra squarely blamed Muslims for the attack and attempted to justify the retaliatory demolitions that took place without following due process of the law.
He had used similar words in 2020 saying, "Jahan se pathar aaenge, wahin se toh nikale jaaenge' (the evictions will happen where the stones came from)". Narottam Mishra's was then justifying the demolition of a poor Muslim man's house. That demolition too was an act of "instant punishment" for the Muslim man, after allegations of 'stone pelting' at a mob were made during a communal clash in Ujjain.
But while the spotlight might be shining bright on Bulldozer Injustice at present, it has a history dating back to the mid-70s and early 80s.
Turkman Gate massacre
While one might fondly remember former Prime Minsiter Indira Gandhi's "Garibi Hatao" slogan urging that poverty be removed from India, one cannot ignore how during the Emergency, she and her son Sanjay Gandhi presided over one of the first bulldozer campaigns in the country's history. The 1976 Turkman Gate massacre is still fresh in the minds of people, even though the news media were prevented from covering the brutal incident where police opened fire upon people protesting the bulldozing of properties in low-income neighbourhoods in the area.
The whole project was primarily the brainchild of Sanjay Gandhi who wanted to move poor people outside the city. But the residents of the Turkman Gate area had lived there since Mughal times as it was part of the walled city, and would find it tedious and expensive to commute from the outskirts of the city to work every day. Understandably they refused to vacate the area. But this defiance cost them their lives when they ended up facing bulldozers and bullets. The only official record of death comes from the Shah Commission Report that says that 20 people were killed in police firing, actual casualties are debatably higher.
AR Antulay's pavement clearing drive
Bulldozers were also deployed against alleged squatters, encroachers and sundry residents of low-income neighbourhoods (heartlessly dubbed slums) in Mumbai in the 80s. Then chief minister AR Antulay wanted to evict pavement dwellers and demolish their modest roadside huts during the monsoon of 1981. Most of these shanties belonged to migrant labourers who lived hand to mouth on their daily wages. In fact, it was due to a PIL filed by journalist Olga Tellis that led to the recognition of two basic elements of any eviction of any demolition drive. First, that the Right to Life conferred under Article 21 also includes the right to livelihood. Secondly, if a person is evicted from their home, it will also impact their livelihood. Though the right to shelter was not recognised as a fundamental right, the petition let to pathbreaking jurisprudence where the Supreme Court ordered that in case of evictions it would be mandatory for authorities to provide alternate accommodation to people if their shanties were torn down.
Mumbai's Slum Rehabilitation failure
Over time, a cut-off date of January 1, 1995 was established, so that the government would not be held responsible for the rehabilitation of people who had settled on public or private land thereafter. The Slum Redevelopment Scheme was brought in by the Maharashtra government in 1998, and the Slum Rehabilitation Authority was tasked with building homes to relocate residents evicted from the land that was being cleared of encroachments. But a large number of people evicted from slums have been forced to live amidst squalor in transit camps in the absence of prop er rehabilitation.
Case in point is Rafiq Nagar in Govandi in Mumbai's eastern suburbs. It is teaming with thousands of people forced to live cheek by jowl, their only luxury – 30 minutes of water supply each day. These people have been living in limbo as they were thrown out of their homes when the land was cleared for a redevelopment project, but most were never assigned homes under the SRA scheme. Some who did get homes were relocated to Malad! It is also noteworthy that a vast majority of Rafiq Nagar's residents hail from the Muslim community.
Not far away is Cheetah camp, another low-income neighbourhood in Mankhurd that is home to some of the most economically weak families hailing from not just the Muslim community but also Dalits, who were forcibly moved here from the Janata Colony slum in 1976 to create space for expanding the Bhabha Atomic Research Centre (BARC) premises. But this area has been vilified as "Mini Bangladesh" with rumour mills churning out new conspiracy theories about the intentions of its residents over the years.
It isn't difficult to put two and two together to figure out who benefits from spreading such communal rumours.
But the woes of Mumbai's low-income neighbourhoods did not end there. In January 2011 a demolition drive was started in Golibar in Khar. The area has been eyed by major real estate players as it is not only a stone's throw from the airport and the railway station, but also close to other high income neighbourhoods in Bandra and across the tracks in Khar West where property prices are some of the highest in suburban Mumbai. In fact, Medha Patkar, spearheading the Ghar Bachao Ghar Banao Andolan (GBGBA) had held a protest fast to urge the state government to reconsider their inhuman and greed-driven decision. It was revealed that not only were consent letters for a rehabilitation scheme in the area forced or forged in many cases, out of the 10,000 people displaced, only about 500 were rehabilitated. Patkar ended her fast after nine days only after then Chief Minister Prithviraj Chavan gave an assurance to investigate the scam.
Delhi's apathy towards its poor
One would have thought that after the Turkman Gate massacre and also the SC judgment in the Olga Tellis case, Delhi authorities would have mended their ways. But many a demolition drive have been carried out in the national capital and surrounding areas in complete violation of the SC order since then.
For example, take the case of Delhi's Shakur Basti where residents including infants, the ailing and the elderly were thrown out of their homes in the biting cold of December 2015. Far from providing alternate accommodation to the low-income migrant worker families hailing mainly from Bihar and West Bengal, many of them Muslim, over 1,000 families were left to fend for themselves, shelter-less and completely at the mercy of the elements. Congress leader Ajay Maken had moved court against this demolition and in 2019 the Delhi High Court ruled, "The right to housing is a bundle of rights not limited to bare shelter over one's head. It includes the right to livelihood, right to health, right to education and right to food, including right to clean drinking water, sewerage and transport facilities." The court further said that once a shanty town for eligible for rehabilitation, its residents should not be seen as illegal encroachers.
But this was too little too late, for just a year after the Shakur Basti demolition another demolition took place in Kishan Nagar village in South Delhi's Mehrauli area in December 2016. Once again, the shanty town was inhabited by migrant workers from West Bengal and Assam, many of them Bengali speaking Muslims. Over 300 shanties were demolished leaving around 1,000 people homeless in the winter.
Then in July 2017, three dozen shanties near the posh Mahagun Modrene society in NOIDA were razed, purportedly to placate the wealthy residents who had just a week before the demolitions faced the ire of the shanty town's residents when a domestic worker Johrabi was held hostage by the affluent family for whom she worked. The shanty town residents had stormed the posh society demanding that Zohrabi be released on July 12, 2017 after she had been missing for over 24 hours. But the matter did not end with her release. The rich residents retaliated by protesting the law-and-order problems created by the shanty town residents and a week later the shanties were demolished, leaving residents shelterless in the middle of the monsoon.
Then on October 28, 2017 in a spectacular display of force and violence, the Delhi Development Authority (DDA ) started a demolition drive in Delhi's Kathputli Nagar, destroying properties of nearly 4,000 who had been living there for nearly 40 years. The neighbourhood was home to artists like qawwali singers and street performers such as puppeteers (from whom the area got its name). What's worse, they brutally beat up students and activists protesting the demolition. Activist Annie Raja who is a senior citizen was beaten with steel rods and kicked and punched in the abdomen.
Sometimes other concerns pertaining to environment, pollution, garbage disposal etc. have been used to get court orders in favour of demolitions. Take for instance the case of the nearly 48,000 shanties that had come up alongside 140 kilometers of railway tracks, that the Delhi government has been eager to clear.
In fact, a litigation that goes back to 1985 is what triggered an order dated August 31, 2020 by the Supreme Court permitting the demolition. The original 1985 petition was filed by advocate MC Mehta in connection with air pollution. Over the years different related petitions pertaining to vehicular pollution, garbage disposal etc. were also tagged with this petition. On August 31, the SC ordered, "The encroachments which are there in the safety zones should be removed within a period of three months and no interference, political or otherwise, should be there and no Court shall grant any stay with respect to removal of the encroachments in the area in question." Once againt it was Congress leader Ajay Maken who moved court, and the demolition was subsequently stayed in September 2020, when the Centre informed the court in September that they would not take any coercive action against the residents until a decision was made by the Ministry of Railways, Ministry of Housing and Urban Development and the Delhi government about the rehabilitation of residents. The Centre reiterated its stand in November 2020. But the fact that a demolition drive was considered in the first place amidst a raging Covid-19 pandemic is perhaps the greatest and most shocking indicator of administrative apathy.
Related:
Jahangirpuri Demolition: SC to take "serious view of demolitions after Mayor was informed of order"
Madhya Pradesh's Home Minister blames Muslims for Ram Navami day violence, justifies mass demolitions
Lives in the Rubble at Kathputli Colony
NOIDA Shanties where Zohrabi Lived Pulled Down, Amidst Heavy Rain