An open letter to Pranab Mukherjee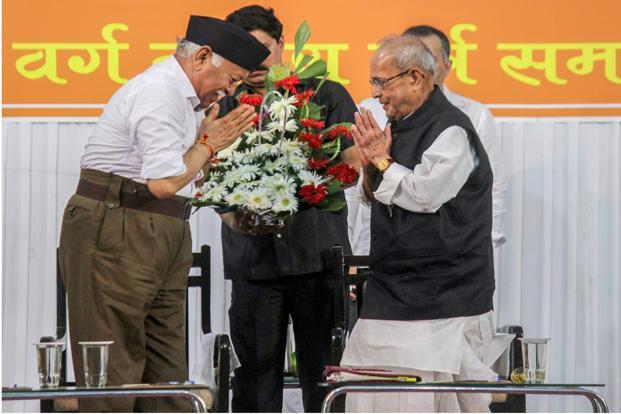 Image Courtesy: PTI
Respected Sir,
You have been a leader of the Indian National Congress, theoretically committed to democratic-secular India for more than four decades and also occupied the office of the President of India, the highest constitutional office of the country.
Sir, yesterday (June 7, 2018) while addressing a select gathering of RSS cadres at its headquarters, Resham Bagh, Nagpur, which included its top brass, Mohan Bhagwat, you remembered the founder of RSS, KB Hedgewar and wrote the following words in the visitor's book in his praise, "Today I came here to pay my respect and homage to a great son of Mother India".
Sir, there could not be a more blatant lie than this as your 'great son of Mother India' founded RSS in 1925 to oppose the united freedom struggle for an inclusive India. He did not join the freedom struggle because it was being fought for an all-inclusive India and not a Hindu state. He declared minorities, specially Muslims, the enemy of India and not the British rulers. He was a diehard casteist. He was inimical towards the Tricolour which had become a National Flag for resistance to the British from 1930 onward. His Hindutva icon VD Savarkar-led Hindu Mahasabha ran coalition governments with the Muslim League in 1942 in Bengal, Sind and NWFP when Congress was banned, the country had become a jail and hundreds of patriotic Indians were being ruthlessly massacred for daring to carry the Tricolour or unfurl it at house tops. Hedgewar believed in Hindu nationalism as opposed to Indian nationalism.
Sir, your character certificate to Hedgewar as a 'great son of mother India' is not only an insult of the great anti-colonial freedom struggle but also belittling of the great sacrifices of Bhagat Singh, Ashfaqullah Khan, Chander Shekhar Azad, Jatin Das, Potti Sreeramulu and thousands of other revolutionaries who died for the freedom of India. It was a sad day for the Indian Republic that Hedgewar was idolized by a person who enjoyed all the fruits of the Indian constitutional polity and was part of Congress which led the freedom struggle.
Sir, I am reproducing facts from the RSS archives which conclusively prove that you committed an act of sacrilege towards India's glorious freedom struggle by declaring Hedgewar as a 'great son of mother India'. You, kindly, check the truthfulness of these RSS documents. If I am proved wrong, please, take any action you feel fit.
Hedgewar hated the Tricolour
You would recollect that the Tricolour symbolised a united and composite Indian nationalism. However, it remained an object of hatred for the RSS during the freedom struggle. When the Congress passed a resolution demanding complete independence or Sampurna Swatantrya and called upon all Indians to celebrate 26 January 1930 as Independence Day (and every January 26 in future) by saluting the Tricolour as National Flag, Hedgewar instead instructed the RSS cadres to bow before its own flag, i.e. Bhagwa Dhawaj or saffron flag. The circular carrying this instruction asked all heads of the shakhas to take a meeting of their respective swayamsevaks at 6 pm on Sunday, 26 January 1930, at the respective sanghasthans (places where shakhas are held) and offer,
"salutation to the National Flag i.e. the Bhagwa Dhawaj. In the form of speech everybody should be explained in detail the correct meaning of independence and the reason why this ideal alone should be kept before everyone ."[i]
It was this legacy of hatred for the Tricolour that the RSS English organ, Organizer, demeaning the choice of the National Flag on the eve of Independence (14 August 1947) wrote:
"The people who have come to power by the kick of fate may give in our hands the Tricolour but it will never be respected and owned by Hindus. The word three is in itself an evil, and a flag having three colours will certainly produce a very bad psychological effect and is injurious to a country."
Hedgewar founded the RSS as he was opposed to Hindu-Muslim unity
Sir, I hope you still believe that for the good of India there should be unity between Hindus and Muslims but your 'great son of Mother India' hated it. RSS documents make it clear that Hedgewar was disillusioned with the Congress for the specific reason that it stood for unity between Hindus and Muslims. In one of the official biographies of Hedgewar published by RSS it is made clear why Hedgewar parted with the Congress led freedom struggle:
"It is clear that Gandhiji worked constantly with one eye on Hindu– Muslim unity…But Doctorji sensed danger in that move. In fact, he did not even relish the new-fangled slogan of 'Hindu– Muslim Unity'."[ii]

Hedgewar was never able to hide the fact that he distanced himself from the Congress because it believed in Hindu–Muslim unity. While returning from Central Province after the Hindu Mahasabha session (presided over by Savarkar) in Akola, Maharashtra in 1937, when he was asked why he left the Congress Hedgewar's answer was, "because Congress believes in Hindu–Muslim unity".[iii]
CP Bhishikar, official biographer of Hedgewar, while highlighting the factors which led him to part company with the Congress wrote:
"As a result of the Non-Cooperation Movement of Mahatma Gandhi the enthusiasm in the country was cooling down and the evils in social life which that movement generated were menacingly raising their head. As the tide of national struggle came to ebb mutual ill-will and jealousies came on the surface. Personal quarrels raged all round. Conflicts between various communities had started. Brahmin vs. non-Brahmin conflict was nakedly on view. No organization was integrated or united. The yavana-snakes [i.e. Muslims] reared on the milk of Non-Cooperation were provoking riots in the nation with their poisonous hissing."[iv]
Thus according to RSS Muslims were snakes which are most of the times, if sighted, are killed.

Hedgewar acted as agent provocateur instigating communal riots
Sir, your favourite Hedgewar behaved as a bully in this game of communal mobilization and believed in aggravating communal conflict. One biography of his records that at times when band (music) troupes hesitated to play music before a mosque, Hedgewar "himself would take over the drums and rouse the dormant manliness of the Hindus".[v]
It is important to recall that by 1926, the playing of music outside of mosques was the main reason behind a spate of communal riots. How Hedgewar personally led Hindus in this kind of aggressive communalisation is corroborated by Annaji Vaid, a steel mill owner of Nagpur who was not only a close confident of Hedgewar but one of the first RSS members:
"In those days [1926] Hindu–Muslim riots had begun to occur at many places. But we decided that this [ban on playing music in front of mosques] unreasonable stubbornness on the part of Muslims was an attack on the just demands of Hindus so while processions passing through each mosque must play musical instruments. Once on a Friday musicians while passing in front of the gate of a mosque stopped playing music. Then Doctorji himself snatched the drum, hanged it on his neck and played it. Only then the playing of music could start outside the mosque."[vi]

Hedgewar was a diehard casteist
Sir, you talked of so many things at the RSS headquarters but were mum on the scourge of casteism which is one of the fundamental beliefs of RSS. You kept quiet, perhaps, for the reason that you did not want to embarrass your casteist patrons. You kept mum on this issue despite the fact that in last four years of RSS/BJP rule attacks on Sudras have increased manifold. However, the contemporary RSS literature shows that Hedgewar believed in casteism and did not mind practicing its off-shoot, the degenerate and inhuman practice of untouchability, in order not to antagonize high caste sympathizers. In Nasik Hedgewar went to the house of a Brahmin known as Dr. Gaidhani along with Krishna Rao Wadekar and Bhaskar Rao Ninave. When the time for meals came, Ninave who happened to be from a low caste asked Hedgewar whether he should sit separately for meals, as was commonly practised. When Wadekar suggested that there was no need for it, as Gaidhani had no way to know Ninave's caste, Hedgewar openly disagreed with the suggestion that Ninave should eat sitting beside other Brahmins. Hedgewar's logic was that it would cause immense pain to Gaidhani. He went on to add,
"and what benefit will we get out of it? On the contrary, if he sits separately for the meals that [action of his] will leave a far better impression on Gaidhaniji. Our swayamsevak may feel a bit hurt but in the view of our work this much pain should be tolerated. First we should win him with our love then these differences will disappear."[vii]
It is a well-known fact that Hedgewar discouraged any attempt for community lunches (sah-bhoj) inclusive of all castes of Hindus which were being organized by a section of reformist Hindus in order to abolish the practice of untouchability.[viii]
Hedgewar shamelessly betrayed the freedom struggle
Sir, your favourite son of Mother India remained a silent spectator to British rule. Hedgewar went to jail twice individually on the call of Congress, otherwise the RSS scrupulously avoided any political activity which might be construed as being against the British authorities. According to one RSS publication:
"After establishing [the] Sangh, Doctor Saheb in his speeches used to talk only of Hindu organization. Direct comment on the government used to be almost nil."[ix]
Hedgewar offered an interesting alibi for keeping silent against the British masters. When people asked him,
"why there were no speeches against the British rule in the RSS, Doctorji replied that 'Only by having the goal of forcing the British out the British are not going to leave. The British have entered India due to unorganized nature of the nation, that has to be removed, building self-relying and disciplined society is the goal of Sangh'."[x]
Hedgewar took measures to check the spontaneous joining of RSS cadres in the Salt Satyagraha led by Gandhi. He made it clear to the RSS cadres,
"Going to jail is today considered a sign of true patriotism… There can be no salvation for the country until this type of fleeting emotion gives place to positive and lasting feelings of devotion and sustained efforts."[xi]
Sir, despite all such anti-national and anti-humanity acts/beliefs of Hedgewar you have declared him as "great son of Mother India". If he was so then who was Gandhiji who opposed the RSS and was killed by the Hindutva assassins who, like the RSS, called themselves Hindu nationalists. The fact is that either Gandhiji or your newly found favourite Hedgewar can be called a "great son of Mother India". Please withdraw your character certificate to this Hindutva zealot who stood against everything which democratic-secular India dreamt and fought for.
Sir, I am sorry to write that you have denigrated Mother India and it depends on you how to restore its dignity.
With best wishes,
Shamsul Islam
June 8, 2018
(notoinjustice@gmail.com)
---