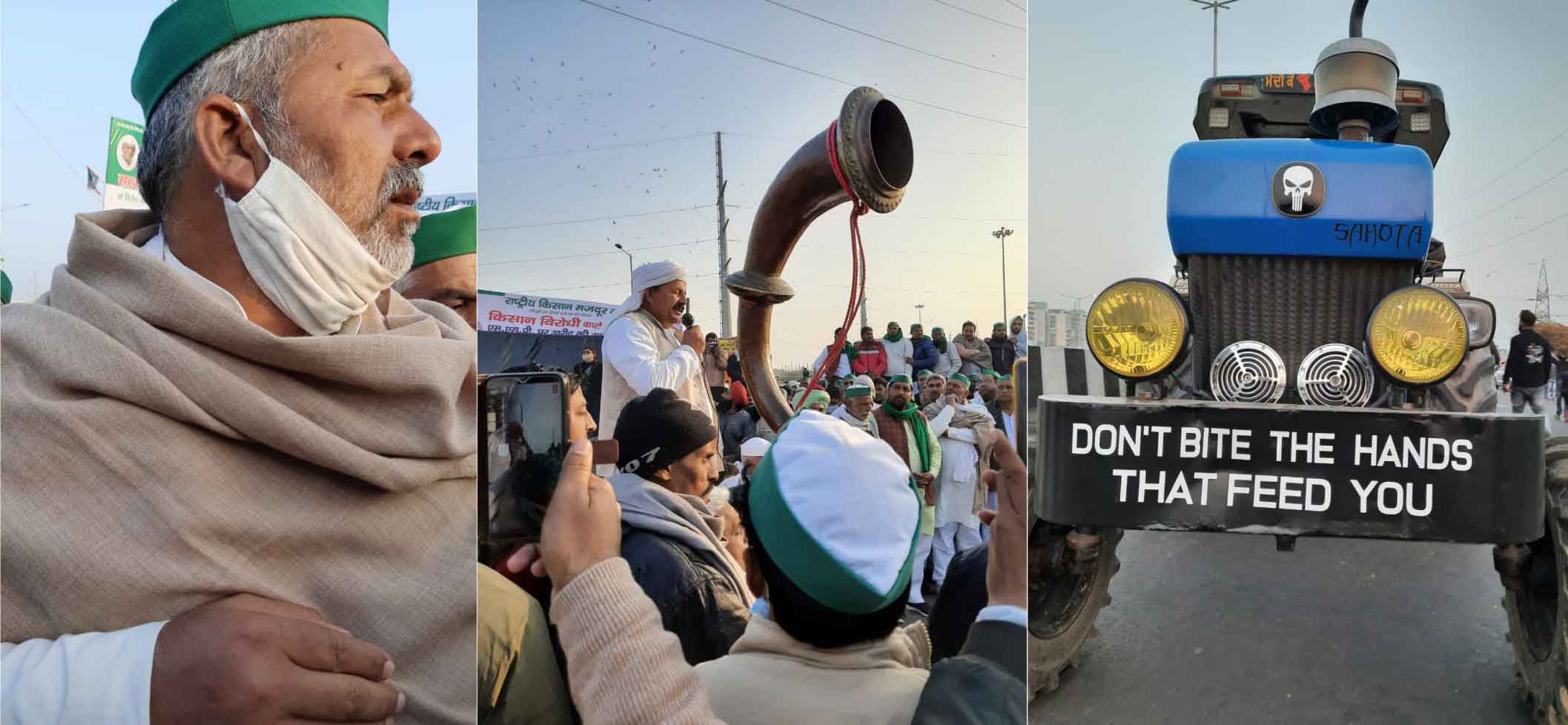 Image: Karuna John

While the farmer's protest at Delhi-Haryana Singhu border is now one of the biggest protest gatherings seen in recent time, another front is gaining strength at UP Gate, on the Delhi-Meerut highway. Hundreds of farmers came in for a khap panchayat on Thursday December 17.
"The farmers, and leaders of the village councils from Western Uttar Pradesh are ready to come in massive numbers here if the government does not listen to us", Bharatiya Kisan Union (BKU) leader Rakesh Tikait tells SabrangIndia.
Scores of Khap Panchayat leaders from Western Uttar Pradesh have made the commitment to bring thousands more to join the protest at the Delhi-Ghaziabad border, in solidarity with those who are already sitting in protest on the highway there. Like the Singhu border on the other end of town, here too, there are multiple community kitchens, medical camps, a laundry service for the hundreds of farmers who have come from Uttar Pradesh, Haryana, Punjab, and Uttarakhand. The side, and the service lane of the massive flyover leading from Meerut to Delhi is closed off, and is now home to tractor trolleys, and tents where the farmers are camping braving the frigid winter winds. Local police from both states guard their respective ends of the protest site and riot control forces patrols in between. The community langars feed everyone with hot food, fresh fruits and endless cups of tea. There is a sense of peace and deep conversations taking place here, for now.
December 17 was also the day the Supreme Court recognised farmers' fundamental right to protest peacefully. On the same day Narendra Singh Tomar, Minister of Agriculture and Farmer Welfare, Rural Development and Panchayat Raj, and Amit Shah, Union Home Minister, Government of India sent out yet another message to farmers that it was only Prime Minister Narendra Modi who was thinking about the farmers interests and was working to "fulfill the goal of doubling" farmers' income. Shah added that the farmers were being "misled" by people. He was amplifying the 'open letter' written by Agriculture Minister Tomar who in turn repeated all that he had said to the farmer leaders in the last meeting they had.
मैं किसान भाइयों को विश्वास दिलाता हूँ कि देश में अगर कोई आपके हितों के बारे में सोचता है और आपकी आय को दोगुना करने के लक्ष्य को पूरा कर सकता है तो वो सिर्फ और सिर्फ @narendramodi जी हैं।

60 साल तक आपके अधिकारों को लूटने वाले लोग आपको सिर्फ गुमराह कर रहें।#ModiWithFarmers https://t.co/sXKM597Mzy

— Amit Shah (@AmitShah) December 17, 2020
However, the farmers are not buying that argument, they say they know the implications of the farm laws, and are firm that they are not even interested in talking about any amendments to them. They want the laws repealed!
Excerpts from the conversation at the protest site, with Bharatiya Kisan Union (BKU) leader Rakesh Tikait:
It has been over 22 days now, and nothing has moved. What is your comment on the government's attitude?
This will go on for long. It is upto the government to think. If they [government] feel any shame, good. If they do not feel shame, let it continue for long. The movement is not going anywhere, it will go on for long.
What do the farmers now want the government to talk about?
No farmer wants any amendment in the bills, apart from that [if] there are other issues, we are ready to talk about those.
You had mentioned in the past about a direct market, a farmer to customer concept?
There should be, there are some people who are doing that, but it is not really possible. We need someone in the middle, a 'bichola', but if a company comes then the farmer loses. They [the company] will pick up produce at any price they decide, on [their] conditions, then they will sell the produce at high rates.

But who should be that middle man, the bridge between the farmer and the market?
I do not know who that will be. No farmer can sell directly, there will have to be a middle man. It is not as if one farmer has produced tomatoes, another has produced grain, and they go around carrying their harvest, and selling it at different places. The market has to run. Even the government is saying we will go to the private mandis. Even private mandis have the system. We are saying that it cannot sell below Minimum Support Price (MSP). And even on other things the government has to have control over.
The government just gave subsidies to sugarcane farmers…
They have given nothing. Just give us the payment due. The Prime Minister's pilot project is the Digital India campaign. Bhai add us to it. We will also be happy, we also want to be joined to it.
But the government has begun meeting groups that say these laws are good?
They can just leave, just uproot their tents from here and leave. Those groups should also tell the formula to the farmers… how is their crop growing well and is being sold at expensive rates? If they can tell us where their farms are? Who are these people? We will go there and get information from them? Who are these people?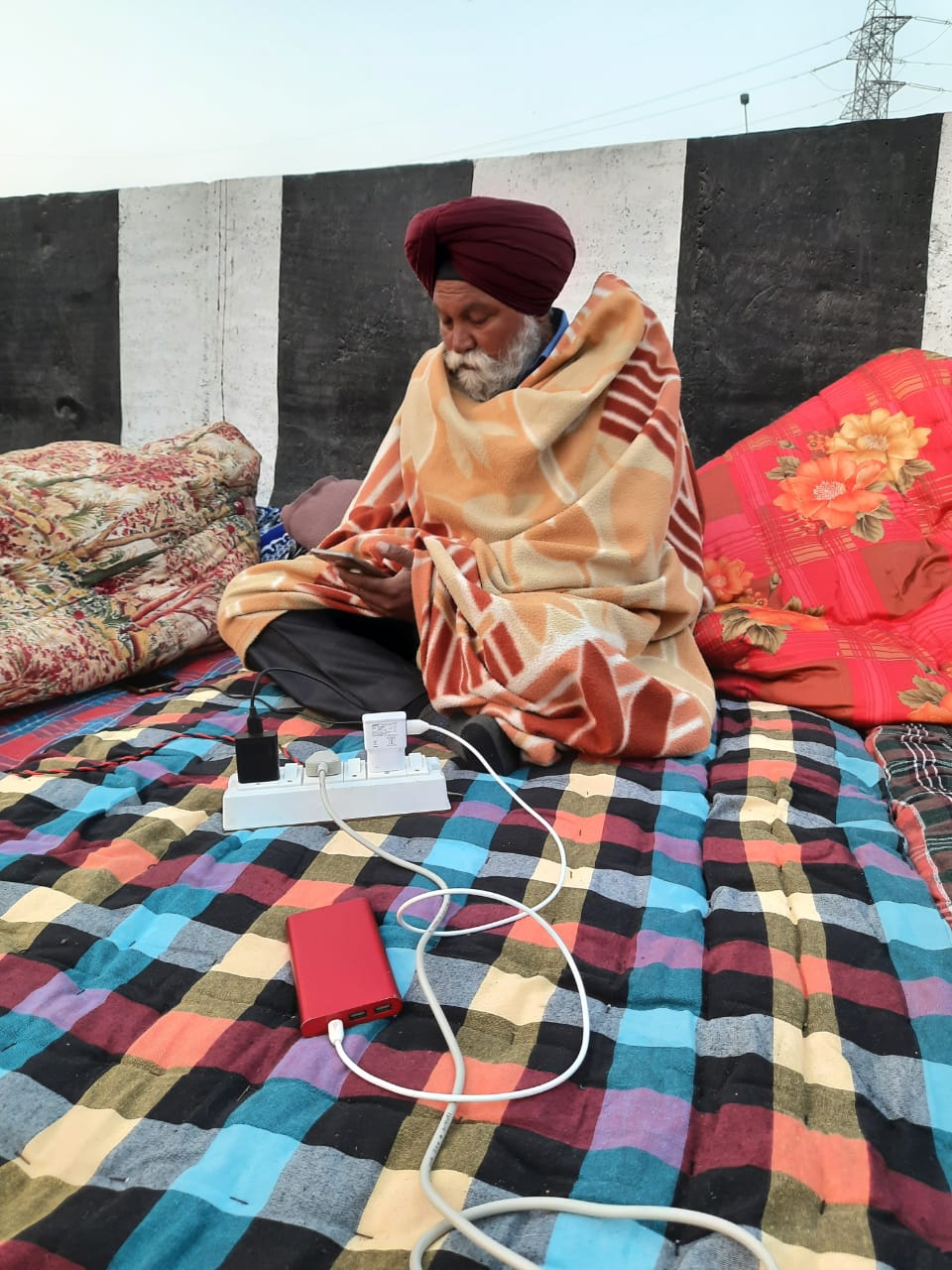 Image: Karuna John
Will the protests intensify on this Delhi-Uttar Pradesh border, what is your strategy of crowd control on this massive Delhi-Meerut expressway?
There is a firm control at this UP border, there is less crowd today. Many have not brought their tractors. Many were stopped in various parts of Uttar Pradesh. If the government will give us trouble totay, more crowds will come with tractors. The possibility then lies with the police administration. We are of course keeping an eye so that the 'wrong' kind of people do not join these crowds.
How will this protest be planned in comparison to the one at Singhu border?
All the protests are one. They are all connected. The khap leaders have come in solidarity today. They have told us to stay on. More people will come and join [from western UP] as needed. We want all the protest sites to maintain peace. No one should commit suicide, we will fight this is a fight. We will stay alive and fight this fight.
Related:
Engage in talks instead of implementing the three farm laws: SC to GoI
Union government announces sugarcane subsidy, farmers remain unimpressed
Karnataka's peasant organisations to go on strike till December 31
Gurudwara priest sacrifices life for farmers' struggle
Talking down to farmers is the worst way to engage with them
SC advice to government seen as moral victory for farmers
Stop defaming peasant movement: Farmers reject latest gov't proposal