A state BJP MLC had admitted in a Cobrapost Sting in 2015 that 60 per cent of the constables were their students and karyakartas from RSS. Recently, three police staffers admitted to doing nothing when a Muslim man was killed on Wednesday in Udupi on the suspicion of illegally transporting cattle. A timeline from 2010 details all the instances where the state police was implicitly and explicitly in cahoots with the local BJP, RSS and other extremist groups.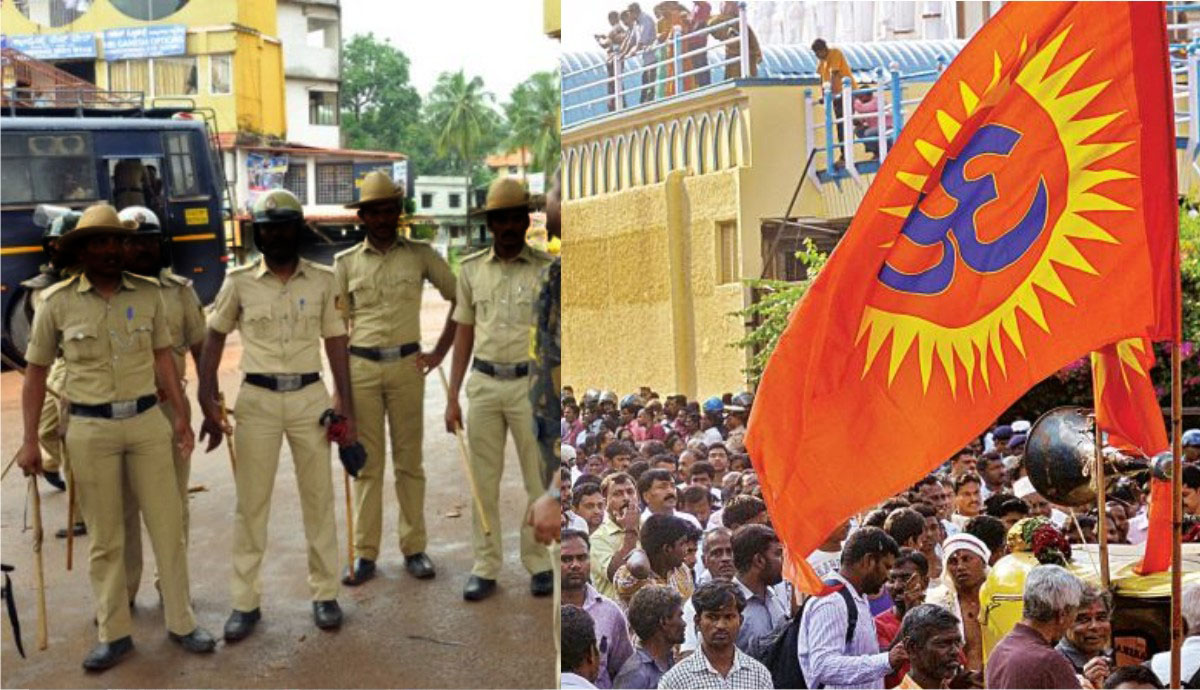 Representation Image
Mangalore: Three police staffers recently admitted that they did nothing when Udupi resident 62-year-old Hussainabba was being allegedly lynched by Bajrang Dal activists on the suspicion of illegally transporting cattle. Other reports suggest that he died in the police car and was transported back to the scene of the incident where he was found on Wednesday.
The trend of lynching minorities on the slightest of suspicions have gained steam in the years since the last general election. Although, it is just the tip of the iceberg. The untethered attacks have been a long time coming as RSS spread its toxic tentacles deep into the law enforcement ranks in Coastal Karnataka to carry out its own vicious agenda.
A local BJP MLC had admitted in the course of Cobrapost's 'Operation Juliet' in 2015 that, "We have tried to send some of our boys in the police. When I talk to students, I tell them to join the police. So when we need help, there are a lot of karyakartas from RSS. 60 per cent of the young constables are our students."
Below is a timeline beginning from 2010 that lists instances exposing the nexus between Coastal Karnataka policemen and Sanghis:
August 7, 2010. Coorg.
The police are now taking up a one-year-old case of atrocities committed on a Dalit youth by members of Bajrang Dal. This incident came to light only recently. On July 5, 2009, a Dalit youth, Sridhar, 27, of Peraje village (Coorg District) was abducted by some members of the Bajrang Dal and taken to Bantwal town (D.K. District.) They accused him of having abducted Anita, 22, of Bantwal, in June that year. Sridhar was paraded naked in public. Three months later ,the police discovered that Anita was one of the 20 women victims of serial killer Cyanide Mohan. Sridhar's sister Kaveri too was one of the victims. When Dalit activists went to the Bantwal PS to register a case against the Bajrang Dal men, the police refused and sent them to Mercara PS. The Mercara police too did not register a case.
When Subramanyeshwar Rao, the SP of D.K. district, was made aware of this during a Dalit grievances meet recently, he directed his subordinates to register a case against the Bajrang Dal members.
(Published in The Hindu)
---
December 11, 2011. Mangalore.
Deputy Commissioner of Dakshina Kannada district and the Mangalore City Police Commissioner attended a well-lit sports meet held at the Shri Rama Vidya Kendra at Kalladka (Bantwal Taluk.) The head of the school is Mr. Kalladka Prabhaker Bhat who is also the 'Dakshin Madhya Kshetriya Sampark Pramukh' of RSS, the mother organization of Sangh Parivar.
The above-named public servants not only chose to wear the saffron shawls offered to them but also sat on the dais with other invitees sporting similar shawls. Persons holding public posts are expected to follow certain rules and regulations even in their private lives.
Wearing saffron shawls, which are the official symbols of Hindutva organizations, sent a wrong message to the public.
(Published in Karavali Ale)
---
June 16, 2011. Mangalore.
Mohammed Kabir and several other innocents had been picked up by the police and tortured at the time of the 2006 Ullal communal riots. The police had further booked false cases against them. Kabir had filed an appeal in the court and requested the court for relief. Angered by this, the policemen had committed more atrocities on Kabir and others and booked some more cases against them. The city additional civil judge and chief judicial magistrate has issued summons in two cases to Jayanth Shetty, former Circle Inspector of Ullal and sub-inspector Shivaprakash.
(Published in Karavali Ale)
---
August 27, 2011. Mangalore.
Mangalore police asked various Christian religious groups not to conduct any more prayer meetings at halls and homes. These instructions had been conveyed over the telephone to several pastors. Also, many were called separately to various police stations and given these verbal instructions. They had been told that in future, they would have to obtain written permission from the Deputy Commissioner of the district before conducting any such prayer meetings in any prayer hall, residence, community hall or hotel, etc. When they asked the reason for such an illegal and unconstitutional order, the police told them that they were under "pressure."
When the office bearers of the Karnataka Mission Network met the Police Commissioner to talk about this issue, he assured them that they were free to continue with their usual practice. This was disclosed by the president of Karnataka Mission Network during a press conference held on August 27, 2011
(Published in Varatha Bharati. A reply to an RTI query stated that there are no such written instructions and no requirements of obtaining prior permission for prayers – compiler)
---
October 17, 2011. Mangalore.
"The district police resumed their raids on meat shops and the arrests and harassment of innocent people on the basis of false complaints by Hindutva groups," said Mr. Ali Hasan, president of the D.K.District Meat Merchants Association. Quoting an incident, he said that on October 8, the Uppinangady police conducted an illegal raid on a shop having necessary permits and seized the meat stocks and arrested three shop assistants Hanif, Hamza and Toushik. The owner of the shop, Mr Muhammed Salim was not present at the time. Sometime later, Mr. Salim arrived at the shop and he provided the necessary permit to the Uppinangady SI J.T.Dasiri. But the latter reportedly told Salim that since the shop came under his jurisdictional area, no license could be issued without his permission. Salim was arrested.
Mr. Ali Hasan complained that the merchants are being prevented from earning their livelihood. He called the actions of the police unconstitutional and termed it as clear violation of human rights. He demanded action against the guilty policemen and protection for all licensed meat sellers of the district with immediate effect.
(Published in Varatha Bharati.)
---
October 25, 2011. Mangalore
The leaders of the Karnataka Komu Souharda Vedike, D.K., expressed their strong indignation at the police department's refusal to grant permission for the public protest of the 'Jana Chetana Yatra' by LK Advani. At a press conference here, they alleged that when they applied for necessary permissions for October 28, they were told to pre-pone it to 24th or 25th. It was impossible to organize the protest on these dates and the Vedike had no choice but to reject it. The Vedike condemned the attitude of the police and said that the district has turned into a "Saffron Republic."
(Published in Karavali Ale)
---
October 29, 2011. Udupi.
The Udupi district unit of the Karnataka Komu Souharda Vedike staged a demonstration in front of the Deputy Commissioner's office and submitted a memorandum to the Governor requesting him to direct the district administration to take all necessary steps to prevent any violence during the forthcoming 'Jana Chetana Yatra' of Advani.
(Published in Karavali Ale.)
---
May, 07, 2012. Mangalore.
The SHRC conducted an inquiry following a complaint against the Dakshina Kannada Deputy Commissioner and the Mangalore City Police Commissioner for wearing saffron shawls offered to them during a function held at the Puttur Sri Rama Vidya Kendra of Kalladka Prabhaker Bhat.
The second complaint was against a banner in praise of Pragya Singh Thakur, one of the main accused in several cases of saffron terrorism. The banner was put up at Ullal on the outskirts of the city. The SHRC has asked the concerned parties to appear before the Regional Commissioner at Mysore. Accordingly the Mangalore Police Commissioner Mr. Seemant Kumar Singh, Inspector Manjunath Shetty of Ullal police station and the complainant Suresh Bhat Bakrabail made personal appearances and submitted written statements and records. Mr. Sunder Bhat, Asst. Commissioner Puttur Division, appeared on behalf of the Deputy Commissioner.
(Published in Karavali Ale)
---
May 13, 2012. Mangalore.
During the monthly grievance meeting between the police and Dalit leaders held on May 13, it was alleged that the inspectors at several police stations were refusing to register cases against saffron activists engaging in moral policing. Guruvappa, a Dalit leader of Kadaba complained that "Rukmayya Gowda, ASI of Kadaba station is threatening Dalits and refusing to register any complaints. This is encouraging the culprits to continue their unlawful activities. In the April 26 incident, (see: April 26, 2012 and May 02, 2012. Kadaba,) a Dalit girl was threatened and coerced by activists of Bajrang Dal to give a false complaint against a Muslim youth. When the girl's family went to the Kadaba station to lodge a complaint against the Bajrang Dal men, the ASI threatened the family."
(Published in The Hindu and Karavali Ale.)
---
May 26, 2012. Mangalore.
If visitors to the D.K. district police website (www.dkpolice.org) were to infer that RSS is a subsidiary wing of the police, it would not be surprising at all. The official website of the police was carrying a collage of the RSS for more than a month. It showed a picture of the marching RSS cadre and some of its other social service activities. But the very next moment after this newspaper sought clarifications from the police, the advertisement was quietly withdrawn. This news was first seen in 'Bangalore Mirror' on the May 26.
http://epaper.timesofindia.com/Default/Scripting/ArticleWin.asp?From=Archive&Source=Page&Skin=MIRRORNEW&BaseHref=BGMIR/2012/05/26&PageLabel=1&EntityId=Ar00100&ViewMode=HTML)
(Published in Varatha Bharati.)
---
October 5, 2015
Operation Juliet: Busting the Bogey of Love Jihad
A Cobrapost and Gulail investigation revealed how the BJP and right-wing organizations like the VHP, RSS and their fringe groups use violence, intimidation, emotional blackmail, duplicity and drugs to split up Hindu–Muslim married couples. Our team visited Muzaffarnagar and Meerut in Uttar Pradesh, Mangalore in Karnataka and Kasaragod and Ernakulum in Kerala and Delhi to find the truth behind Love Jihad. Infiltrating the ranks of these groups, we discovered a sinister twist in this Love Jihad story. It was being carried out with sanctions from the BJP, VHP and RSS.
Across Uttar Pradesh, Karnataka and Kerala, the narrative around what the BJP, RSS and VHP define as Love Jihad is eerily similar. To counter "Love Jihad," the BJP, RSS and VHP conduct what they call "rescue operations." These operations often involve forcibly separating the couple, using violence on both of them and slapping fabricated cases of kidnapping and rape on the Muslim husbands. These organisations have formed teams comprising of lower level workers who keep an eye on cases of Hindu girls eloping with Muslim boys. Some of them also use right-wing leaning lawyers as informants. If an application is filed with the marriage registrar's office under the Special Marriage Act, these lawyers tip these teams.
In the course of this one-year long investigation, codenamed Operation Juliet, the Gulail team met leaders and workers of the BJP, Rashtriya Swayamsevak Sangh (RSS) and Vishwa Hindu Parishad (VHP) such as BJP MP from Muzaffarnagar and Minister of State for Agriculture Sanjeev Kumar Balyan, BJP MLA from Thana Bhawan in Uttar Pradesh, Suresh Rana BJP MP from Kairana in UP, Hukum Singh BJP MLA from Sardhana, Sangeet Som BJP's district level leader in Muzaffarnagar Sanjay Agarwal, Umesh Mallik, who contested the Assembly election from Budhana on a BJP ticket and lost, RSS leader Omkar Singh in Muzaffarnagar, Lalit Maheshwari VHP's Muzaffarnagar unit head, VHP worker Hari Shiv Prasad, Shiv Kumar Sharma, the founder of Krishna Sena, a religious organization, Shrikar Prabhu Karnataka BJP's executive member who has since been expelled from the party, BJP MLC from Mangalore Captain Ganesh Karnik, Jagdish Shenava advocate and VHP's Mangalore district president and the chief of Hindu Unity Forum, Ravish Tantri.
Their interviews with Shazia Nigar brought out the following facts:
They forcibly rescue girls who are victims of "Love Jihad."
They misuse public support to pressure the police and local administration into nullifying such marriages.
They file fake rape and kidnapping cases against Muslim youths who elope with or marry Hindu women.
They use fake documents to show girls as minors to implicate Muslim boys.
If a Hindu woman is not willing to give a statement against her Muslim lover or husband, or is not willing to forsake him, they use emotional blackmail and physical force to make her fall in line.
They even administer medicinal drugs on "Love Jihad" victims to induce temporary amnesia to rescue them from inter-religious marriages.
Interestingly, not a single woman, they claimed to have rescued, ever sought their help saying she was a victim of "Love Jihad."
They distribute inflammatory pamphlets and books to further their cause.
They run counselling centres and Hindu helplines to brainwash Hindu woman who marry outside their community into giving up on their love life and settle for the man chosen by the Hindutva Brigade.
These counselling sessions consist of a poor depiction of the man she is in love with, denigration of his religion, calls to her family and community honour, instilling a sense of insecurity in the woman with regards to her future and threatening physical harm to both of them.
The Reality in Coastal Districts and Kerala
Jagdish Shenava, a lawyer and VHP's Mangalore district working president, also recounted his experience of being involved in a rescue operation on February 29, 2014. He confessed to slapping false charges on Muslim men and admitted to using mobs to build pressure on the police and disrupt law and order.
He admitted to his involvement in several cases of "Love Jihad." Recounting one particular case, he confessed that he got a Muslim man arrested on charges of kidnapping and talked the woman out of her decision to be with a Muslim man after "counselling" her. Jagdish Shenava said, "If they don't understand, we use force."
The same day our correspondent met BJP MLC Captain Ganesh Karnik in the party's headquarters in Mangalore, who claimed to have infiltrated the police force with RSS workers and 60 per cent of constables being their students. This infiltration into the police force comes in handy when they need to take the law in their hands.
In Kerala, the Hindu Helpline is administering drugs to girls who have been "rescued." These drugs cause temporary amnesia and are used to control the girl if she is "being too aggressive," said Cijith of the Hindu Helpline in Ernakulam. "When she is adamant on Islam, we will send her to a religious counselling centre so that she can have a debate with our experts on the Quran. Even with that if she is not convinced, we send her to a medical hospital where she will be kept in a cell, she will be under some medication if she is aggressive. (If she doesn't relent even then,) we will send her somewhere [else] where she can be kept for some days," he said. Cijith believed that the work of the BJP, RSS and VHP has shown positive results. They also went on to propagate the stereotype of a Muslim as a terrorist.
Ravish Tantri, chief of Hindu Unity Forum in Kerala, added fuel to the fire. He said, "When the girl goes from the conversion centre to the court, we warn her that if she does not give a statement on her parents side and does not marry the guy suggested by us, then the moment she and her husband step out of the court, they will be killed by our people." He added that the Congress and the Marxists also support them at times.
http://www.cobrapost.com/index.php/news-detail?nid=9150&cid=23
Cobrapost -Gulail Investigation Date : 05/10/2015
www.cobrapost.com; www.gulail.com
---
December 20, 2017. Subrahmanya.
An actor hailing from Bellare in Sullia was reportedly found with his co-star, a woman from Mysuru near the Subrahmanya temple premises. The co-star was later found wandering alone. Upon receiving a complaint from people, the Subrahmanya police brought her to the station and questioned her. It was found that she had left home on December 18 without informing anybody. She had similarly gone missing in August for which a complaint had been filed. On December 21, the police brought the actor to the station and allegedly misbehaved with him and assaulted him. The actress' video narrating this was circulated on social media. The Dakshina Kannada Superintendent of Police took suo motu cognizance and initiated an inquiry against three policemen from the Subrahmanya station. The victims have not filed any complaint so far.
(Published in The Hindu, January 1, 2018. Anusha, the actress is from Chamarajnagar district and the actor is Parvez, a Muslim from Bellare, published in Prajavani, January 1, 2018.)
---
April 25, 2018. Udupi.
The Udupi Superintendent of Police has suspended a policeman Raghavendra for allegedly insulting Kishor Kumar Shetty on social media. Kishor had posted a message favouring Congress Party. Raghavendra had reacted to this by posting derogatory comments against Kishor Kumar Shetty.
(Published in Varatha Bharati.)
---
May 31, 2018. Udupi
Sub-inspector of Hiriyadka police DN Kumar was suspended on Thursday May 31, a day after Hussainabba was found dead at Perdoor. SP Laxman Nimbargi confirmed the suspension of DN Kumar to Daijiworld. He has been suspended not only for dereliction of duty, but also for not taking appropriate action in the case. Sources said that three more police personnel; assistant sub-inspector, head constable Rajesh and police jeep driver Gopal are also likely to be suspended soon in connection to the case. On Thursday, IGP Arun Chakravarthy along with other police officers, visited the crime spot and conducted investigations. It's said that former SI of Hiriyadka police station Mahesh Prasad, who is currently serving in Puttur, will be heading the investigation into the case.
(Published in Daijiworld Media Network – Udupi)
These groups have unleashed violence on minorities and women for years while the corroded law enforcement ignores their crimes. The string of violence is poised to continue if criminals are not brought to justice.