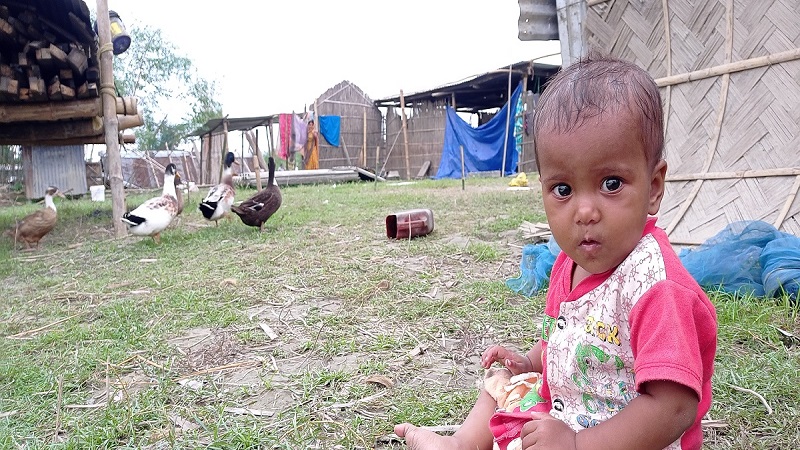 The Assam eviction tragedy keeps on growing. Though no new evictions have been reported after the police firing on September 23, CJP's on-ground team has learnt that at least three infants from these families have died. One of them was just 5 days old!
CJP's Assam state team in-charge Nanda Ghosh says, "The children have been identified as 5-day-old Rajib Ahmed, 2-month-old Rohim Ahmed and Akhi Aktara who was just about a year old." The cause of death of the children remains unknown.
"The children were living in makeshift shanties, huts and tents, raised by the evicted families by stringing together bamboo sticks, some old sarees, sheets of tarpaulin and hay with some rope. These were built alongside the river and barely provided any protection from the elements," says Ghosh. "Infants and toddlers are always most vulnerable to disease, though it is not known exactly which disease afflicted them," he adds.
The families had been evicted as part of Assam Chief Minister Himanta Biswa Sarma's ambitious drive to evict the so-called "outsiders" and give the land to "indigenous people" for agriculture. As these people were seen as "outsiders", they were deemed ineligible for any compensation.
The evictions had been taking place in different villages such as Gorukhuti, Phuhurtuli and other parts of Dhalpur that falls in the Sipajhar Circle of Darrang District. This is a char area or riverine region where entire villages are washed away whenever there is a flood. In fact, an estimated 7 percent of Assam's land has been washed away since independence. Depending on how the course of the river changes, villagers relocate to landmasses where they can build new settlements.
In fact, in case of the Dhalpur area, many of the settlements where forcible evictions took place were inhabited by such flood-affected people, who were conveniently labelled as illegal migrants by the regime that seems to be determined to cash in on the paranoia surrounding an alleged influx of Bangladeshis. Today this paranoia took the lives of three babies. Wonder how that would weigh on the conscience of the state's people and their leaders…
*Feature image by CJP Team: A child playing outside as evicted families struggle to put together makeshift huts as a feeble shelter from the elements. NOTE: This is not one of the children who died.
Related:
Assam police firing: CJP aids families of victims move HC
Assam Police Firing: 12-year-old shot dead while returning home from Aadhaar centre!
Photo Feature: Evicted villagers struggle to rebuild lives in Dhalpur
Finally, FIRs filed in Dhalpur firing death cases