She was badly beaten up and had fainted due to hypotension and dehydration last night. She has been admitted to a civil hospital in Lucknow and spoke to us about her next step.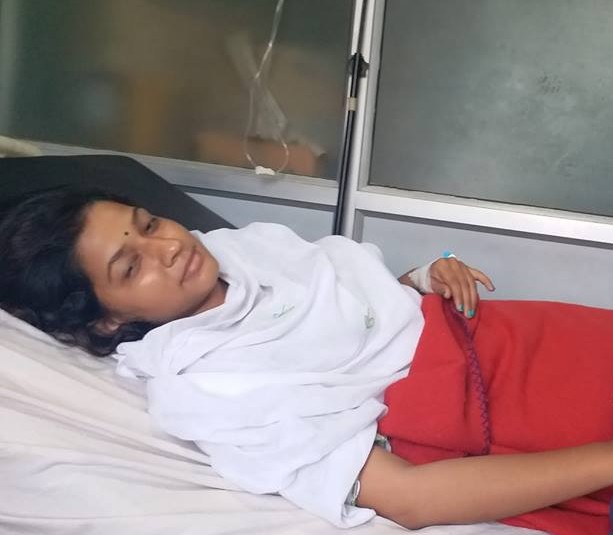 Sabrang India had published the first report about Pooja Shukla being arrested three days after she went on the hunger strike. She was badly beaten up and had fainted due to hypotension and dehydration last night. She has been admitted to a civil hospital in Lucknow and spoke to us about her next step.

"My hunger strike will continue. They beat me, began the lathi charge on us and tore my clothes. I don't know why they're doing this. I have been detained and I haven't seen any FIR lodged against me. I don't know on what grounds are they detaining me. A lawyer from the Samajwadi party will represent me. The university doesn't support me. The students do," she said.

Shukla is a student leader of Lucknow University and had gone on a hunger strike when the VC of the university withheld her entrance exam results, barring her from taking admission in a master's course.

According to Sadaf Jafar, a teacher and support of the strike, Pooja and others are being held on false grounds. "Four girls including Pooja and 13 boys were detained. They were released after signing personal bonds, Pooja did not sign them and said that her protest will continue. She was badly beaten and fainted. She was then shifted to the hospital. The police is pressuring her to break her fast, stop the strike and take back her demands. There are chances that she will be allowed to leave. We think the Sections 151, 147 and 148 have been levelled against her but we are not sure. None of us have the FIR," she said.

She added that the attack on the VC seems doctored. "We were peacefully protesting when a few men arrived and starting hitting. Some of them are known ex-students from the ABVP. They must've hit him due to personal enmity. They smashed a car window. What is Pooja's fault here? The attack also took place where CCTVs are prominent. The whole attack seems doctored. The VC had warned Pooja that he carries two guns and can shoot her anytime he wants. There was no security for her at nights and the VC had the Chhatrasangh room locked and the only toilet in the area was also locked," she said.

She was suspicious of the police taking them a police station 25 kms away from the place of the incident. "The nearest police station is Hasratganj. We were taken to Gosaiganj police station which is in a deserted area 25 kms away. It was done to discourage civil society protestors who could not come that far. Our phones had dropped or broken in the skirmish and Pooja lost her phone too. Our batteries had died after the long commute. It was only after the Samajwadi Party people cornered the police station that they were ready to listen," she said.

When Pooja fainted, they tried calling an ambulance. "We tried many police officers' numbers, called an ambulance but were not able to reach. There was no govt or administration machinery that was co-operating with us," she said.

They will move to High Court if the situation doesn't get better. "We will file an RTI first to get her results. We will take help from the courts. We may also file a PIL. Her hunger strike will continue," she said.

Pooja Shukla arrested outside the University on Wednesday. She had demanded the results of her entrance exams along with 25 others and said they were forcibly being withheld by the Vice Chancellor. She had shown black flags to UP CM Yogi Adityanath in 2017 and was imprisoned for about a month following the incident.