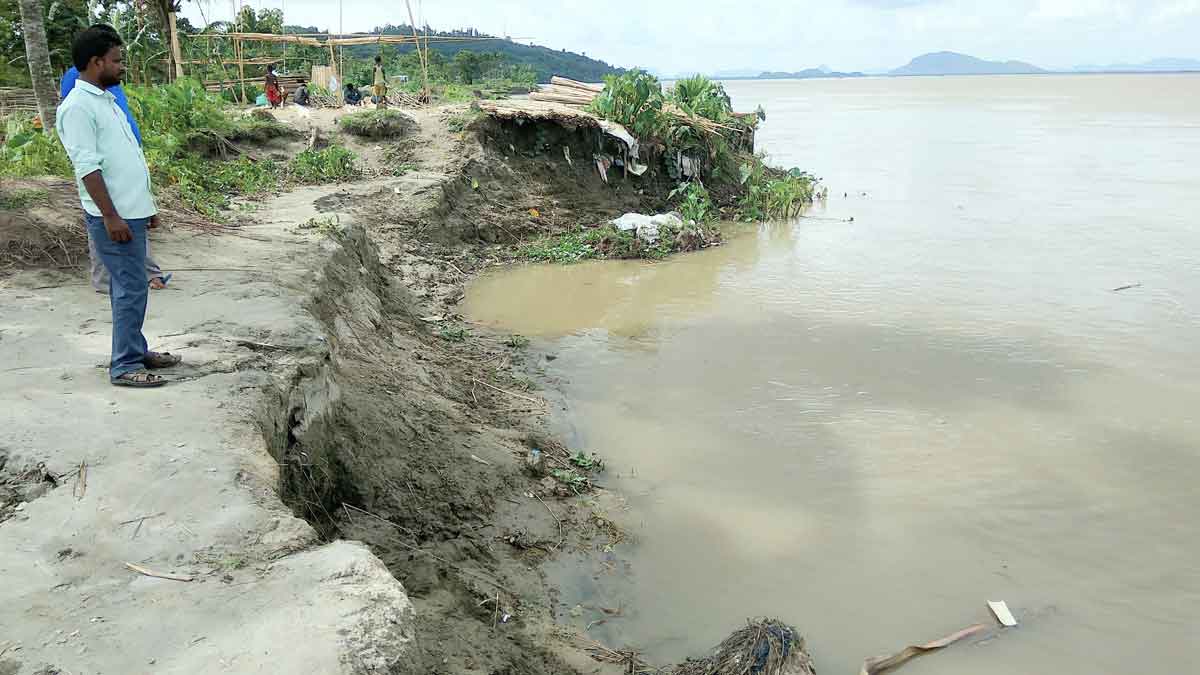 Image courtesy: Aishik Chanda / New Indian Express

Since independence, various rivers have washed away over 72 lakh bhigas of land in Assam. This comes to 35.25 per cent of all agricultural land in the state. 1 bigha is equal to 0.133 hectares. This is as per data shared by Water Resources Minister, Keshab Mahanta on December 30, 2020.
Mahanta, who was responding to a question raised by Asom Gana Parishad's Ramendra Narayan Kalita said, "So far, various rivers of the state have washed away 72,58,710 bighas of land in Assam."
It is noteworthy, that the total area of land washed away by various rivers is not only more than one third area of total agricultural area of Assam, it much more than the total area of 10 smaller districts of the state!
As per, Directorate of Economic and Statistics, Government of Assam, net cropped area (area under agriculture) in Assam is 27.53 lakh hectares which is equal to 2,05,78,399 bighas. It is only 35 percent of the total geographical area of the Assam.
At the same time, it is stated that gross cropped area of Assam is 38.39 lakh hectare, where 11.43 lakh hectares of area has been shown more than once as it is covered by multi cropped area. Thus, net cropped area in Assam is 27.53 lakh hectares which is equal to 2,05,78,399 bigha. Out of it, 72,54,710 bigha of land has been eroded by various rivers of Assam. It is total 35.25 percent of the total agricultural and homestead land of the state.
Erosion, migration and citizenship
Now, the land issue is at the center of the entire geo-political situation of Assam since early part of 20th century. The issue of large-scale migration from Bangladesh, and the alleged grabbing of land from indigenous people by so called Bangladeshis is also closely connected with land issue.
Truth is, 51 percent of the total land of Assam is covered by Forest area, 15 percent is under water. Thus, only 35 percent of the total geographical area is only open for either agricultural use or for homestead use as per Directorate of Economic and Statistics, Government of Assam. Taking this into account, the Water Resources Minister's submission before the state legislature is an eye opener for various stakeholders of the state.
Who are the worst affected people?
It is a vital issue, who are the people affected by the large-scale erosion? It is Muslims, especially the East Bengal origin Muslims, who were settled in Assam due to British policy of:
a) grow more food,
b) grow cash crops,
c) gather more land revenue.
They were settled in riverside areas of Assam in between 1901 to 1946 and earlier, and are the worst affected of this endless erosion.
During the British period, Muslims were invited to Assam, giving them certain incentives like issuing free family tickets of trains, so that, they come to Assam and settled here. They were also allotted certain plots of vacant land, where they were relieved from paying all sorts of land tax for certain period. But, due to line-system, as enacted by British, these Muslims were not allowed to come out of an imaginary line. These imaginary lines were carved only to prevent them, so that they cannot come out of riverine area.
Almost, all the land of these Muslim people had, has been washed away by repeated flood and erosion of land in the state since 1967. It has compelled them to come out of river area to plains to live and earn a livelihood. It has added to the long running issue of land grabbing and Bangladeshi intrusion.
After Muslims, huge number of Bengali Hindu people, who had also migrated since early part of 20th century, and even after partition of India in 1947, had to change their habitation as they failed to co-exist with the river. Large chunk of tribals from various upper Assam districts too are affected by this erosion and even a section of Scheduled Caste people, especially the fishing community of non-Muslims are affected due to this large-scale erosion.
The communal agenda
When Muslims were uprooted from their land due to erosion, they were tagged as land grabbers and Bangladeshi infiltrators. In the case of non-Muslims, who were forced to migrate due to land erosion, they became tools for communal propaganda.
Ignoring and in real sense, hiding the ground reality, right-wing groups are propagating that Muslims in riverine areas targeted Hindus in these areas, and due to severe atrocities of Muslims, the Hindu people had to flee from those areas!
Thus, the submission with respect to land erosion sheds light on a hate agenda that needs to be dealt with immediately.
Related: