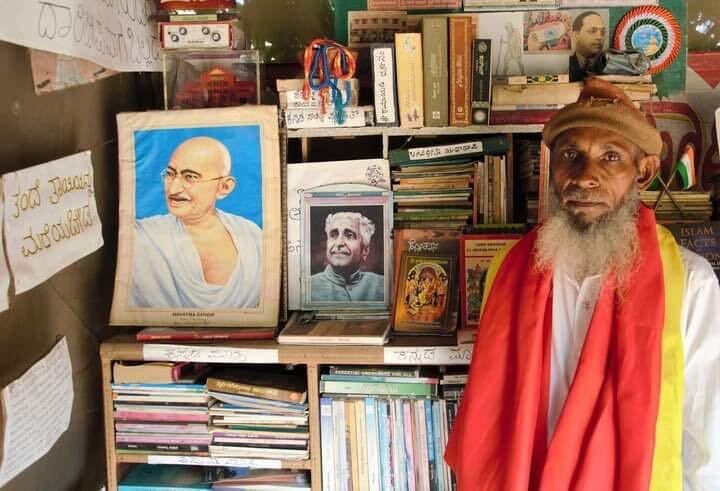 Library owner and daily wage worker Syed Isaaq still fumes on remembering the April 9, 2021 morning when miscreants burnt down his library Rajiv Nagar in Mysuru city of Karnataka. "God will never forgive them for doing this. They burnt down my India," a livid Isaaq tells SabrangIndia during a telephone interview.
The news of his tragedy and ensuing news interviews have kept the memory of the 4 A.M phone call fresh in his mind when a person living next to the library told Isaaq about the flames. By the time, he reached the spot, the fire had consumed the whole structure, including 11,000 books the 62-year-old had collected in his lifetime.
"Nothing is bigger than books. I'd rather, they burnt me. My library was partially broken thrice in the past. Now, they have destroyed everything. But I am not going to stay silent. I have filed a complaint with the Udayagiri police and I'll build back my library all over again," he says.
Built in 2011, with the help of his wife Shaheen Taj, the local establishment housed various books in Kannada language (as well as English and Urdu), newspapers and many copies of the Bhagvad Geeta, the Holy Quran and the Bible. He accepted any and all donations that came his way because he wished for a secular library where "all dharma are treated equally."
In 2017, the Public Libraries department awarded the 'Library Service' award on Librarians Day, the birth anniversary of the father of India's library movement S. R. Ranganathan. At the time, people recommended shifting the library to a more prominent area, but he refused.
Isaaq built the public library with the intention of allowing neighbouring children access to books especially in Kannada. Having worked as a child labourer, Isaaq only managed to study till the first standard. However, he used to hear seventh and ninth standard children reading in the house where he used to work and learnt to read on his own. During the time, he also learnt about renowned actor and leader of the Gokak agitation Dr. Rajkumar and that inspired an interest in the local language.
"I cannot distance myself from Kannada. It is as if the language has entered my body. But some people didn't like the fact that I was encouraging children to learn Kannada. So, they burnt down my library," alleges Isaaq.
Around the 1980s, Karnataka was debating whether Kannada should be kept in the first language category of its three-language formula for school education. Many working-class members and local communities, who struggled to speak Hindi and English supported the move. However, other groups wanted their children to learn English or Sanskrit (previously in the first language category).
According to academician Muzaffar Assadi, this linguistic battle still continues, allegedly affecting people like Isaaq in the meantime. However, both Assadi and Isaaq wait for police officials to confirm the intent of the miscreants.
Meanwhile, Assadi has started an initiative to collect at least 11,000 books – the same number the librarian lost – to restore the library.
"The books that were burnt in the fire are gone forever. However, I still want people to donate at least one book to take a stand against this act of cowardice. The fire was an attack on the liberal space of studies. By donating books, we can show our intention to retain such spaces," he tells SabrangIndia. His call for books received huge response from Canada, the United Kingdom, Dubai and Indian cities like Bombay, Gurgaon, Bengaluru.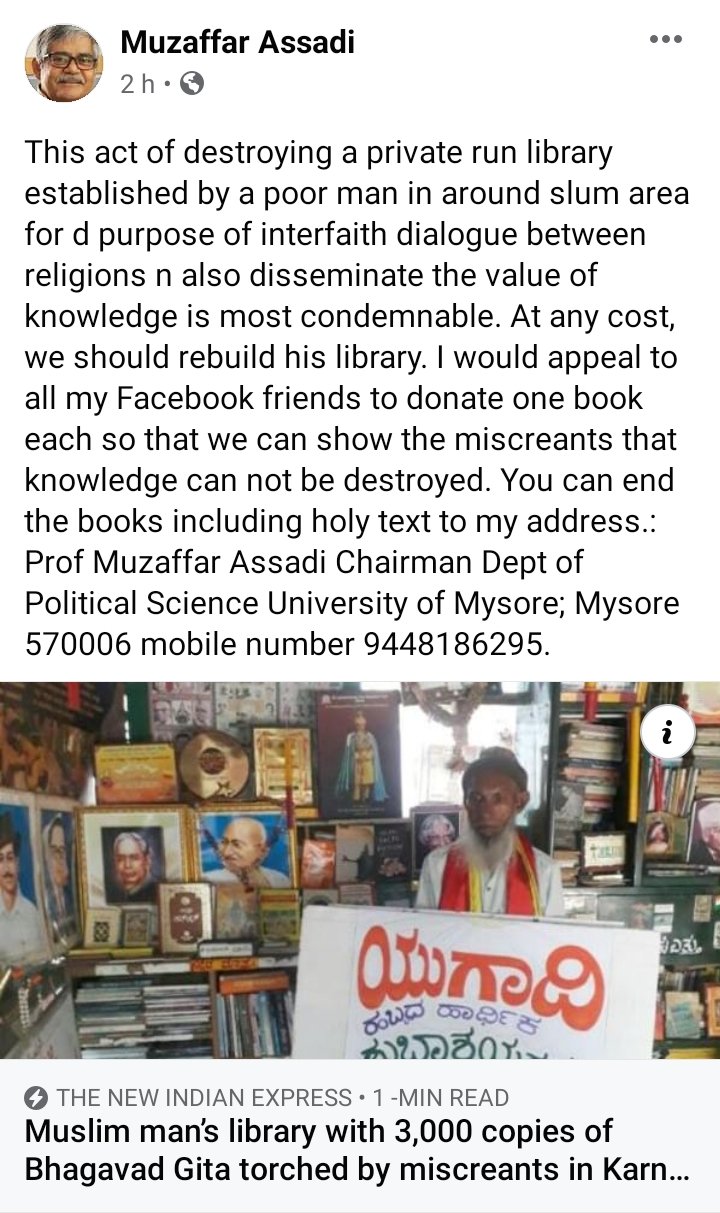 Similarly, Infosys Technology Lead Fathaheen Misbah started an online fundraiser that managed to collect Rs. 20 lakh to help Isaaq restore his library. Having learnt that Isaaq was working on corporate land, Misbah also spoke with the city's Urban Development authorities to consider handing over the land to the daily wage worker.
Books will also come flooding in from online bookstore MyLang Books (books worth Rs 10,000) while various publications have promised to donate 5,000 books to the local library.
However, regarding the donations Isaaq has firmly but kindly asked all donations to be stopped.
"I do not want the money. I can live my life on Rs. 20 a day now. Please stop sending the money to my account. I also do not have space for so many books at my house. I only want to build a public library by the name 'Kannada Sarvajanik Granthalay.' I do not want my own name mentioned anywhere there," he says.
Isaaq says that he only worries about the future library because he wants the library to remain a secular space for all. Despite Taj's and his children's efforts to maintain the library, he wants the building to remain a public in the same locality where he built it because "there needs to be a library in this area."
Nonetheless, Assadi has offered his office as a storage room to keep all the books until his library is rebuilt. Similarly, online digital artists who heard about Isaaq's plight refrained from sending books but contributed their art to show solidarity with the family.
Syed Isaaq was a stranger till his library was burnt. I wanted to send my books, but friends discouraged me due to space crunch. Y'day a cartoon lover, Gaurab placed order for four of my books on Amazon, for Syed Isaaq! The least I can do is, pay Syed bhai a caricature tribute. pic.twitter.com/6oYYJfkMIT

— Satish Acharya (@satishacharya) April 14, 2021
When asked how Isaaq will rebuild his library, he says he will do it all over again like he had done the first time. Above all, he wanted to regulate the library and keep it from being "tainted."
"I want all kinds of books to be available in the library regardless of religion. Just like a secular India. In fact, that library will be my India," he says.
Related:
Har Shaks, Khuda Baksh: Campaign to protect iconic library gathers steam
Pay five-months salary or we stop work: JNU sanitation workers
AISA and other student organisations demand reopening of Jamia Campus!