Saturday, October 20, the day after Pooja saw tragedy strike the Kharupetia town in Darrang district of Assam. Retired school teacher and advocate NirodBaran Das, fearful anf insecure of being arrested, wrested of his citizenship, declared a non-Indian took his own life after hanging himself from a fan in his home. The NRC had declared him a 'Foreigner" despite his having been born and brought up in the town where he taught, besides him being in possession of all Legacy Documents. He leaves behind a distraught and abandoned family. This is reportedly the 29th such case of NRC driven suicides in Assam.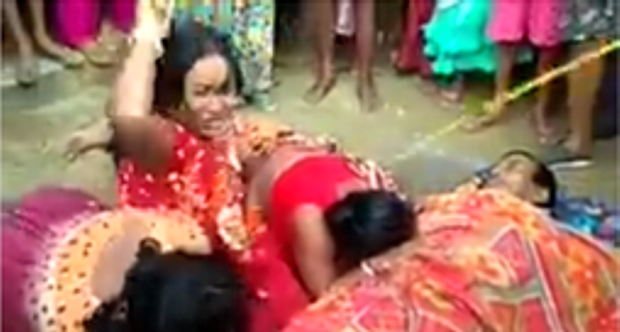 Three documents were found on his person after NirodBaran Das, an intellectual and pillar of the local community was found dead. One was the NRC notification declaring him a foreigner (sic), second was a note stating that none in his family was responsible for the decision to take his own life, and third was a communication to his wife to re-pay four five persons small loans that he had taken. The NRC process has so far claimed over two dozensuch lives in the past four months alone!

This Video taken by Zamser Ali for Sabrangindia narrates the Ordeal:

It is the umpteenth Suicide Case in Assam, all because of the so-called Foreigners Tribunal. Last time it was labourers and the working class. This time the Suicide Victim is none less than a retired teacher and a practicing Advocate NirodBaran Das from Kharupetia town that falls under the Darrang district. Surprisingly Das was not iintimated of any proceeding against him before he was summararily declared ' a foreigner. ' Tradically, the name of NirodBaran Das is available in the NRC 1951.

In the video, a close associate and student describes how NirodBaran Das was born and brought up in Kharupetia, details the school where he studied, passed his matriculation examination and where he returned to teach. The speaker says this suicide is a huge loss to the local community and explains how the victim was deeply worried about his pension, about being thrown out of the country. He went repeatedly to the police station to check if there was any case against him and foind none.

Locals protested about the last rites demanding that the SP register and FIR saying this was 'an NRC related death.' Finally the SP has agreed to register an FIR and moreover has promised compensation to the family within a month

Earlier Cases of NRC Related Suicides:

Two people have allegedly committed suicide in Assam due to the exclusion of names of their family members from the final draft of National Register of Citizens (NRC). While 70 year old Deben Barman was found hanging from a tree in Dhubri district on August 7, 44 year old Rajesh Singh was also found hanging in his home in Udalgiri district the following day.

Before that, BinoyChanda, the only earning member of his family, became the enth suicide victim in Assam since the BJP came to power in May 2016 due to the 'D' Voter issue. The poor youth of Dimlapar village under the Tamulpur Police Station in the Baksa district committed suicide late at night on Sunday, September 9, due to fears that his mother, Santi Rani Chanda, was going to be declared a 'Foreigner' by a Foreigners' Tribunal (FT).