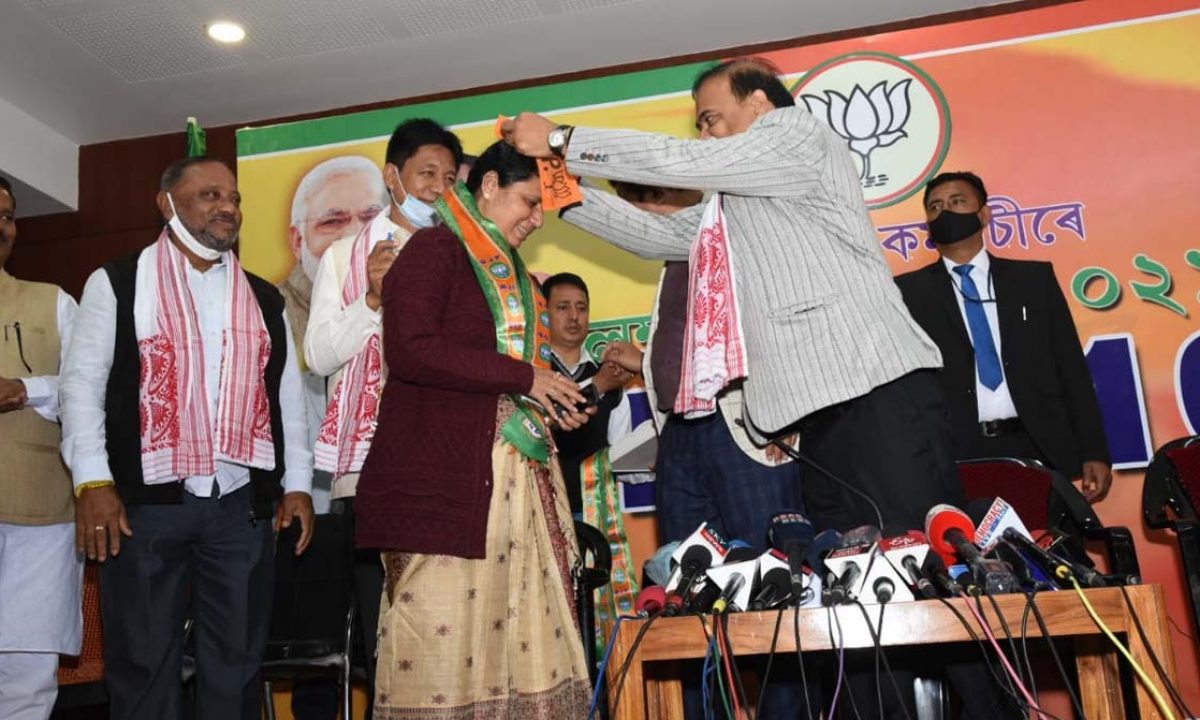 On Wednesday, the Assam BJP formally inducted two expelled Congress leaders into its fold. Ajanta Neog and Rajdeep Goala, were both Congress Members of Legislative Assembly (MLA) before being sacked earlier this year.
Neog is a four-time MLA from Goalghat and widow of slain Congress leader Nagen Neog who was killed by ULFA extremists in 1996. She enjoys tremendous clout in Upper Assam. She was also a close confidante of former Assam Chief Minister Tarun Gogoi. Neog was expelled on Friday for alleged "anti-party" activities. This is because Neog had met with Assam CM Sarbananda Sonowal and senior cabinet minister as well as North East Democratic Alliance (NEDA) convenor Himanta Biswa Sarma on December 18.
Goala is a two-time MLA from Lakhipur and son of Congress leader Dinesh Prasad Goala who holds tremendous sway in Barak Valley. He had been expelled by the Congress in October for six years.
On Saturday, both Neog and Goala met Amit Shah in Guwahati when he formally launched the BJP's poll campaign in the state. On December 30, both of them along with Bodoland People's Front (BPF) MLA Bolendra Mushahary were inducted in the BJP in presence of Himanta Biswa Sarma and Assam BKP president Ranjit Kumar Das.
Interestingly, now that Congress has expelled Neog, its tally in the state assembly is down to 20, which is one short of what is required to be considered the main Opposition party. There is more turmoil in the Assam Congress.
On Monday, The Telegraph reported that party members petitioned the central leadership to install a new party leader in the state. In a letter written reportedly in August, six Congress leaders, including three sitting MPs: Pradyut Bordoloi, Ranee Narah, Abdul Khaleque, as well as Congress legislature party leader Debabrata Saikia and AICC secretaries: Bhupen Kumar Borah and Rana Goswami, wrote to Congress president Sonia Gandhi demanding the Assam Pradesh Congress Committee chief Ripun Bora be replaced.
As per The Telegraph, Bora's ouster is reportedly being sought due to his alleged unwillingness to hold detailed discussions with the wider team before stitching together a hasty alliance with Badruddin Ajmal's All India United Democratic Front (AIDUF). He is also an accused in the murder of tea-tribe leader Daniel Topno. Though Bora was acquitted by a lower court, the CBI is contesting his acquittal.
The 126 member Assam state assembly is all set to go to polls in March-April 2021. At present the BJP has 60 MLAs, while its ally the Asom Gana Parishad (AGP) has 14.
Related:
Assam BJP meet to lay roadmap for its mission '100-plus' ahead of Assembly Polls 2021