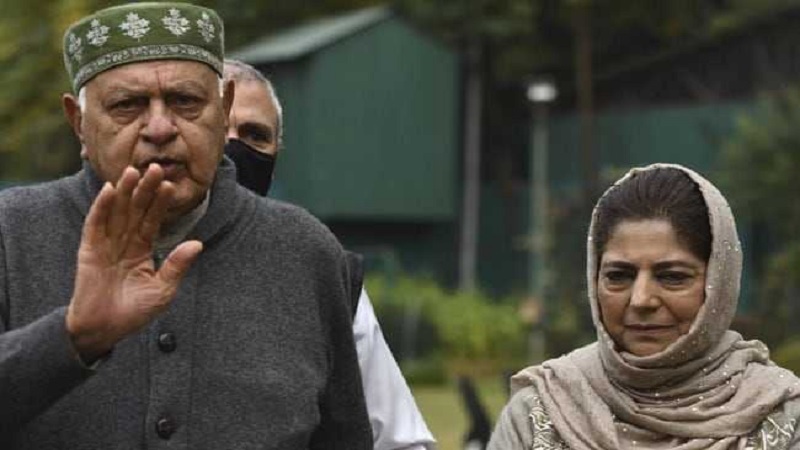 Image Courtesy:news.newstree.co.in
The Supreme Court has rejected a petition seeking action against former Jammu and Kashmir Chief Minister Farooq Abdullah over his views about the abrogation of Article 370 of the Constitution and withdrawal of special status of the valley, reported Bar & Bench.
The Bench comprising Justices Sanjay Kishan Kaul and Hemant Gupta opined that disagreeing with the views and policies of the Government does not attract the offence of sedition. NDTV quoted the Supreme court saying, "Expression of views which are dissent and different from government opinion cannot be termed as seditious."
The petitioners, Rajat Sharma and Dr. Neh Srivastava reportedly, failed to substantiate their claims and were fined Rs 50,000. According to a report in The Tribune last year, BJP spokesperson Sambit Patra had slammed Abdullah for his comments about Article 370 abrogation and termed it "seditious and anti-India." The Tribune had quoted him saying, "According to Abdullah, abrogation of Indian Parliament irked and disturbed China, that's why China is justified for aggression (against India). In a way by making the anti-national statement he is justifying the Chinese aggression. He is saying that with the help of China we will bring back Article 370. How can a sitting MP say this? If you have reservations against any decision of the Parliament you are free to express them but to say what Farooq Abdullah has said is absolutely seditious."
Alleging that Patra twisted National Conference leader Farooq Abdullah's statements, an NC Spokesperson told Hindustan Times, "Our President articulated the people's anger over the abrogation of Article 370 and 35-A by Parliament on August 5 last year as he has consistently done in recent months. He emphasised that no one in Jammu and Kashmir was willing to accept these changes…Sambit Patra has a habit of twisting words and using the bully pulpit of the BJP office to lie when it suits the political agenda of his party."
This ratio from the top court comes at a very crucial time when several members of civil society groups and former members of the judiciary have raised concerns over the misuse of sedition laws in the country.
In a panel discussion, organised by the Delhi High Court Women Lawyers Forum, Justice (retd.) Deepak Gupta of the Supreme Court opined that the "Right to dissent is a hallmark of democracy. Even if one party comes into power, it is not immune to criticism and right to dissent allows such criticism. Look at the conviction rate, it is so low. One's reputation is destroyed even if one is not convicted."
On February 26, the United Nations Commissioner for Human Rights Michelle Bachelet voiced concerns about the clampdown in Kashmir and misuse of sedition law by stating, "Charges of sedition against journalists and activists for reporting or commenting on the (farmers') protests, and attempts to curb freedom of expression on social media, are disturbing departures from essential human rights principles… We continue to monitor the situation in Indian-administered Kashmir, where restrictions on communications, and clampdowns on civil society activists, remain of concern. Despite recent restoration of 4G access for mobile phones, the communications blockade has seriously hampered civic participation, as well as business, livelihoods, education, and access to health-care and medical information."
In a similar spirit, recently a Delhi Sessions Judge granted bail to two held amid the farmers' protest under the offence of sedition. Judge Dharmender Rana held, "The law of sedition is a powerful tool in the hands of the state to maintain peace and order in the society. However, it cannot be invoked to quieten the disquiet under the pretence of muzzling the miscreants."
Related:
Right to dissent is a hallmark of democracy: Justice Deepak Gupta
Sedition cannot be invoked to quieten the disquiet under pretence of muzzling miscreants: Delhi Court
Farmers struggle highlights the importance of ensuring laws are based on meaningful consultations: UN High Commissioner