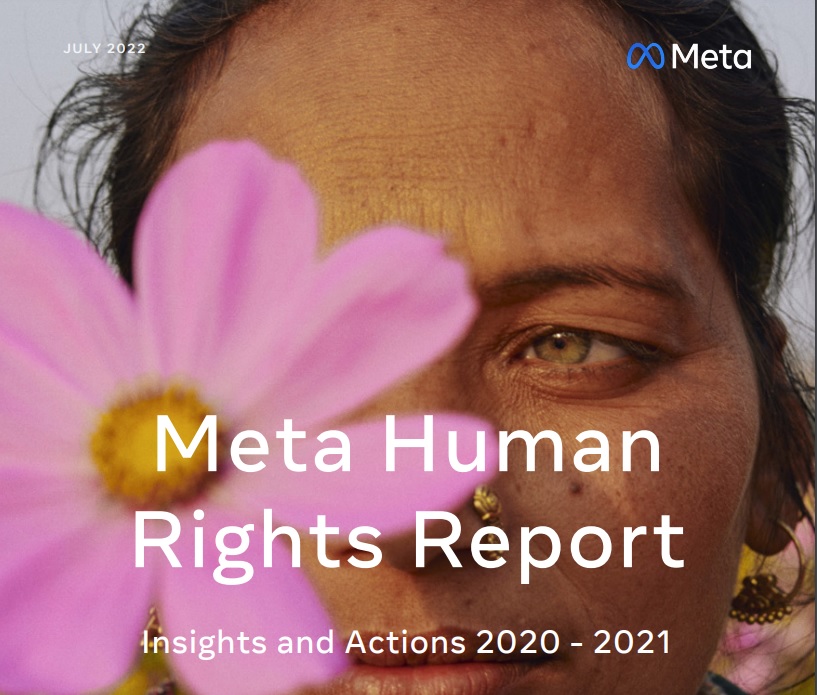 Facebook's parent company Meta has finally released an 83-page Human Rights Impact Assessment (HRIA) report. However, the report fails to hold the social media giant accountable for enabling the spread of hate speech; it also did not adequately address allegations of a bias towards India's ruling regime.
In its summary disclosure for India, the report does not offer any information about what the team from Foley Hoag, an independent law firm that interviewed over 40 civil society members, activists and journalists, actually found w.r.t to the above allegations. It merely says that HRIA "found Meta platforms had provided an invaluable space for civil society to organize and gain momentum, provided users with essential information and facts on voting, and also enabled important public health updates."
The report also says that it "also noted that Meta had committed to platform safety and integrity in India, and had devoted considerable energy in recent years to promoting respect for its users, and to protecting user safety." It listed these efforts as "implementing an industry-leading set of content rules, developed in close consultation with the human rights community; substantial investments in new resources to detect and mitigate hateful and discriminatory speech; new content moderation resources, and recruitment of expert global human rights personnel." The report then goes on to say that "in 2020—2022 Meta significantly increased its India-related content moderation workforce and language support."
Thus, the elephant in the room is completely ignored by the report that had exactly one job – to determine if Facebook enabled the spread of hate and violence, and if it was biased towards the regime in a bid to hold on to one of its largest markets.
The Real Facebook Oversight Board (RFOB), an organization that has been at the forefront of the campaign to have the report released (it was delayed by 2 years), has rubbished the report as "a masterclass in spin and obfuscation". It goes on to say that Meta's HRIA report "instead issues an inadequate "summary," whitewashing the religious violence fomented in India across their platforms." Calling the report "a work of fiction, denial and willful ignorance," RFOB says, "We demand Facebook release the full, complete and un-redacted India HRIA, in consultation with civil society organizations who participated in the HRIA process. And we call again for independent, external oversight and regulation of Facebook. Without it, a self-reporting, self-regulating Meta will continue to violate human rights with impunity and share only the details they like."
Readers would recall how the Wall Street Journal (WSJ) had in late 2020 reported on Facebook's unwillingness to take action against members of Bajrang Dal for abusing its platform to spread hate. The WSJ said Facebook had "financial and safety concerns" and that the social media giant's internal security team had allegedly issued a warning that action against the group could result in physical attacks against the company's personnel/facilities in India. According to the report, the tech giant also allegedly feared hurting its business prospects by infuriating India's ruling Hindutva nationalist politicians.
In June 2022, Sophie Zhang, the Facebook whistleblower, pointed a finger at the Indian government itself, accusing it of ignoring her findings. Zhang worked as a data analyst with Facebook between January 2018 and September 2020 when she was fired for demanding action against the multiple IT cells comprising individuals at the helm of multiple, often fake accounts and groups, that were used to spread hate, propaganda and fake news, often so intertwined that they became indistinguishable from one another. She found that such IT cells gave regimes an "unfair advantage" over voters who could be swayed using the platform, thus rendering any electoral process just a hollow shell, democracy itself, a mere spectre.
In an interview with BOOM Live in June, Zhang referred to discovering IT cells creating propaganda. According to Zhang she had been able to track down at least five such IT Cells when she worked for Facebook – two each allegedly affiliated to the Bharatiya Janata Party (BJP) and the Indian National Congress (INC), and one allegedly run by the Aam Aadmi Party (AAP). While she was eventually able to have four of these taken down, one belonging to a BJP MP proved to be virtually impossible to take down due to Facebook's lack of response.
"After a certain point, the coincidence started piling up. And so, if I had to personally guess, I would say that because this person was a member of parliament, they (Facebook) did not want to hurt the relationship with the Indian government. And they did not want to say no, because they would have looked absolutely terrible to refuse to take down this blatant violation of their terms of service. And so, they did the only thing that they could, which was, refused to answer," Zhang told BOOM.
Comparing the IT Cells and their deployment in the billion-dollar election enterprise, for the democratic process is treated as nothing but a business by politicians and powerbrokers, to an arms race, Zhang said that if the rules were enforced equally for all sides, then "no side would gain an advantage," and if all parties reached an agreement, "They might be able to agree to a unilateral disarmament."
The entire report may be read here (India content from page 57):
Related:
Is GoI unwilling to investigate Facebook's ecosystem of hate?
India's Ecosystem of Hate: Is Facebook both, a Beneficiary and an Offender?
Facebook yet to take action against Bajrang Dal due to safety concerns: WSJ
Did Facebook just play a great Indian matchmaker and unite the Right, Left, and Centre?
After algorithm glitches Facebook CEO now talks of "operational mistake"
Delhi Govt's Committee of Peace and Harmony to examine Facebook India's role in Delhi riots
What is the BJP's latest status update on Facebook?
Facebook protects hate speech by 'regime favourites' of ruling BJP?