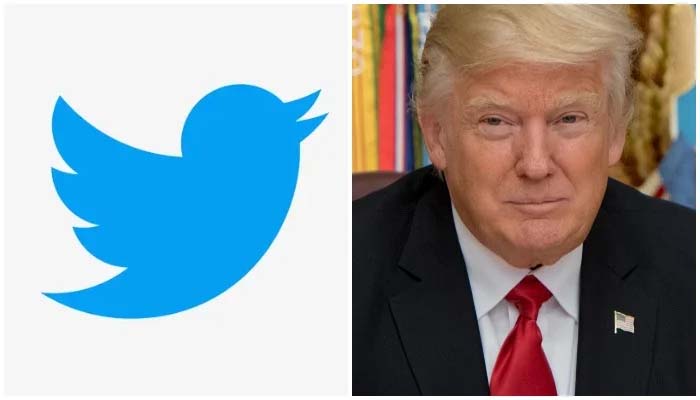 On Friday, Twitter suspended US President Donald Trump's account "due to the risk of further incitement of violence." The platform had been regularly flagging Trump's tweets for unverifiable information or possible fake news in the past. It had also blocked Trump's video address in wake of the Capitol riot on Wednesday.
After close review of recent Tweets from the @realDonaldTrump account and the context around them we have permanently suspended the account due to the risk of further incitement of violence.https://t.co/CBpE1I6j8Y

— Twitter Safety (@TwitterSafety) January 8, 2021
In a statement, the social media giant said, "After close review of recent Tweets from the @realDonaldTrump account and the context around them — specifically how they are being received and interpreted on and off Twitter — we have permanently suspended the account due to the risk of further incitement of violence." It added, "In the context of horrific events this week, we made it clear on Wednesday that additional violations of the Twitter Rules would potentially result in this very course of action."
Twitter found Trump's recent tweets to be in violation of its public interest framework and it policies against glorification of violence. It said, "Our public interest framework exists to enable the public to hear from elected officials and world leaders directly. It is built on a principle that the people have a right to hold power to account in the open. However, we made it clear going back years that these accounts are not above our rules entirely and cannot use Twitter to incite violence, among other things. We will continue to be transparent around our policies and their enforcement."
The move comes just a day after Facebook chief Mark Zuckerberg announced the suspension of Trump's account. Zuckerberg said, "The shocking events of the last 24 hours clearly demonstrate that President Donald Trump intends to use his remaining time in office to undermine the peaceful and lawful transition of power to his elected successor, Joe Biden."
Explaining Facebook's decision to remove some of Trump's posts, Zuckerberg said, "His decision to use his platform to condone rather than condemn the actions of his supporters at the Capitol building has rightly disturbed people in the US and around the world. We removed these statements yesterday because we judged that their effect — and likely their intent — would be to provoke further violence."
However, given how Trump has been misusing both social media platforms for years to spread hate and support a violent supremacist agenda, the account suspension appears to have come almost four years too late.
But Twitter appeared to justify the delay by claiming that the severity of Trump's hate speech had only now intensified to a problematic level. It highlighted two of his tweets from January 8 as the immediate cause for his account's suspension. The tweets said:
"The 75,000,000 great American Patriots who voted for me, AMERICA FIRST, and MAKE AMERICA GREAT AGAIN, will have a GIANT VOICE long into the future. They will not be disrespected or treated unfairly in any way, shape or form!!!"
Shortly thereafter, the President tweeted:
"To all of those who have asked, I will not be going to the Inauguration on January 20th."
Twitter found these two specific tweets to be particularly problematic and thus warranting a suspension of Trump's account. "President Trump's statement that he will not be attending the Inauguration is being received by a number of his supporters as further confirmation that the election was not legitimate," said Twitter adding, "The second Tweet may also serve as encouragement to those potentially considering violent acts that the Inauguration would be a 'safe' target, as he will not be attending."
Twitter further cited the following reasons:
The use of the words "American Patriots" to describe some of his supporters is also being interpreted as support for those committing violent acts at the US Capitol.

The mention of his supporters having a "GIANT VOICE long into the future" and that "They will not be disrespected or treated unfairly in any way, shape or form!!!" is being interpreted as further indication that President Trump does not plan to facilitate an "orderly transition" and instead that he plans to continue to support, empower, and shield those who believe he won the election.

Plans for future armed protests have already begun proliferating on and off-Twitter, including a proposed secondary attack on the US Capitol and state capitol buildings on January 17, 2021.
Meanwhile, Zuckerberg explained the timing of the Facebook and Instagram accounts suspension saying, "Over the last several years, we have allowed President Trump to use our platform consistent with our own rules, at times removing content or labeling his posts when they violate our policies. We did this because we believe that the public has a right to the broadest possible access to political speech, even controversial speech. But the current context is now fundamentally different, involving use of our platform to incite violent insurrection against a democratically elected government." He added, "We believe the risks of allowing the President to continue to use our service during this period are simply too great. Therefore, we are extending the block we have placed on his Facebook and Instagram accounts indefinitely and for at least the next two weeks until the peaceful transition of power is complete."
His entire statement may be read here:
Meanwhile, Google Play suspended an app called Parler from its playstore for its alleged failure to moderate content that incites violence. In a statement released Google said, "In order to protect user safety on Google Play, our longstanding policies require that apps displaying user-generated content have moderation policies and enforcement that removes egregious content like posts that incite violence. All developers agree to these terms and we have reminded Parler of this clear policy in recent months." It added, "We're aware of continued posting in the Parler app that seeks to incite ongoing violence in the US. We recognize that there can be reasonable debate about content policies and that it can be difficult for apps to immediately remove all violative content, but for us to distribute an app through Google Play, we do require that apps implement robust moderation for egregious content. In light of this ongoing and urgent public safety threat, we are suspending the app's listings from the Play Store until it addresses these issues."
Parler is a popular "free speech" app favoured by Conservatives and it was allegedly used to mobilse and support rioters at the Capitol.
Related:
Trump supporters attempt to take over US Capitol