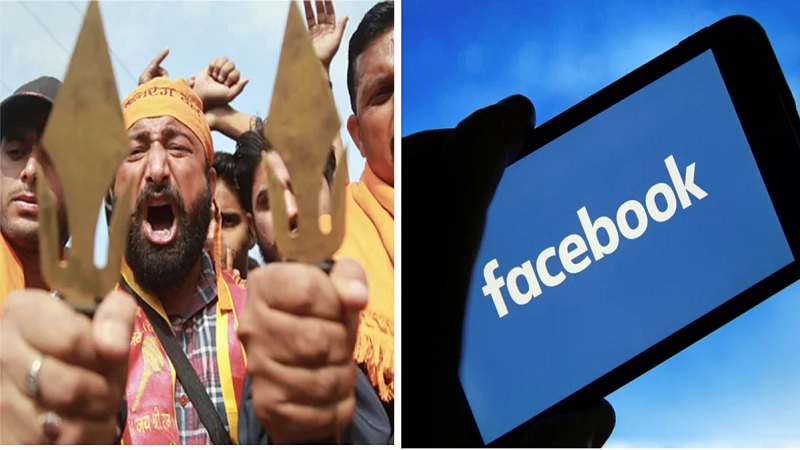 Image Courtesy:nationalheraldindia.com
Facebook is yet to take action against Hindu nationalist group 'Bajrang Dal' despite labelling it 'dangerous' during an internal assessment due to financial and safety considerations, said the Wall Street Journal (WSJ.)
The organisation's internal security team issued a warning that action against the group could result in physical attacks against the company's personnel/facilities in India. According to the report, the tech giant also feared hurting its business prospects by infuriating India's ruling Hindutva nationalist politicians.
Earlier, Facebook's safety team said that the group "supported violence against minorities across India." Yet the company's current conundrum indicates "conflicting concerns" faced when dealing with hate speech, especially in India.
The report also said the Bajrang Dal is considered a "militant religious organization" by the US' Central Intelligence Agency. Communities devoted to the group "celebrate images of people beaten or killed for their alleged offenses against Hinduism."
According to Facebook-owned analytics tool CrowdTangle, there were over "5.5 million interactions" in 2020 from a "handful of groups and pages devoted to Bajrang Dal."
It's no secret that Facebook has major interests in India, its largest user base, and as such has built five offices in New Delhi, Mumbai and others. It also has investments worth $5.7 billion in Reliance Jio, all the while, interacting with a government whose politicians have ties to Hindu nationalist groups.
The WSJ report quoted Facebook spokesman Andy Stone as saying, "We enforce our Dangerous Individuals and Organizations policy globally without regard to political position or party affiliation". He said the process of determining banned parties was "careful, rigorous and multidisciplinary" but conceded that the security team's warning deserved attention. Further, the WSJ quoting "people familiar with the matter", also claimed that the security team had issued warnings about "banishing two other right-wing Hindu nationalist groups active on the platform: Sanatan Sanstha and Sri Ram Sena."
Yet, a Bajrang Dal spokesperson told WSJ that the group's members do not participate in illegal activities and have no "conflicts with other religious groups."
The report mentioned a video on Facebook that received nearly 2,50,000 views showing Bajrang Dal taking responsibility for an "incursion" in June at a Pentecostal church "outside New Delhi" alleging it was built on top of a Hindu temple. Dozens of religious extremists were involved in the incursion and had "installed a Hindu idol in protest" the report said.
The video was posted by Jeet Vashisth, the 21 years old district President for Bajrang Dal.
"I and other Hindu brothers came here and forcefully re-established the temple," Vashisth said in the video. However, he denied assaulting any church officials. WSJ officials wrote that Facebook took down the video after reporters asked the firm about it.
Despite this, Facebook still hasn't taken a final call on whether Bajrang Dal could be deemed a 'dangerous organisation.'
An internal review listed the group as "blocked" within the company's project management system for most of 2020, allegedly meaning that "work had stopped" on the matter.
However, Stone claimed that the labelling of the review as 'blocked' didn't mean that the topic was off-limits, but that the actions in the task weren't being actively pursued.
Facebook's human-rights staff has internally designated India as a "Tier One" country – a category that includes Myanmar and Pakistan. This means that India is at the "highest risk of societal violence" and requires heightened efforts by the company to protect vulnerable populations, said the WSJ report.
In August, the WSJ reported on an alleged bias in Facebook's policies for the ruling regime and said former Facebook executive Ankhi Das lobbied in favour of a leader of the Bharatiya Janata Party (BJP) who made anti-Muslim comments.
The company had banned the politician mere days after the report and denied the egregious charge but admitted that it had to properly curb hate speech. Das stepped down from the company shortly after the incident.
Related:
Facebook takes down T. Raja Singh's account
Did Facebook just play a great Indian matchmaker and unite the Right, Left, and Centre?
After algorithm glitches Facebook CEO now talks of "operational mistake"
Delhi Govt's Committee of Peace and Harmony to examine Facebook India's role in Delhi riots
What is the BJP's latest status update on Facebook?
Facebook protects hate speech by 'regime favourites' of ruling BJP?