A fact-finding team from Civil liberties monitoring committee (CLMC) visited Miryalguda and the house of Permulla Balaswamy, father of the late Pranay Kumar, who was murdered in a case of honour killing on 14 September. The committee met the bereaved family and other local persons to know the truth of the murder. Miryalguda is a town in Nalgonda district of Telangana State with a population of 1,09,891 from different religions and castes. Pranay's father Balaswamy is an LIC employee while Premlatha, his wife, is a homemaker. They have two sons and Pranay Kumar was the eldest of the two.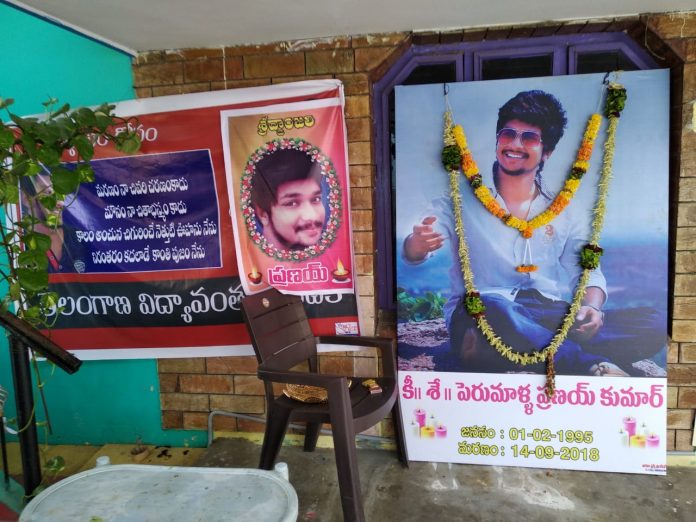 Banner and posters of Pranay on the walls of the house to demand Jusice (Photo: Nikhat fatima/TwoCircles.net)
Facts of the case:
On 14th of September, Friday, Pranay, 23, his wife Amrutha, 21 and Pranay's mother Premalatha had gone to a maternity hospital for a check-up as Amrutha is pregnant. As they were walking out of the hospital, an unknown assailant came up from behind and hacked Pranay to death striking two fatal blows on each side of his neck. Pranay died on the spot while Amrutha fell down unconscious.
The unknown assailant was caught on the camera but escaped from the spot.
Balaswamy told this committee, "I knew Maruthi Rao, Amrutha's father would do some mischief but I never imagined that he would kill my son. I was always apprehensive that he would harm me because I accepted their marriage and even arranged for a reception.But Maruthi Rao killed my son instead. From day one he did not accept my son as his son in law. "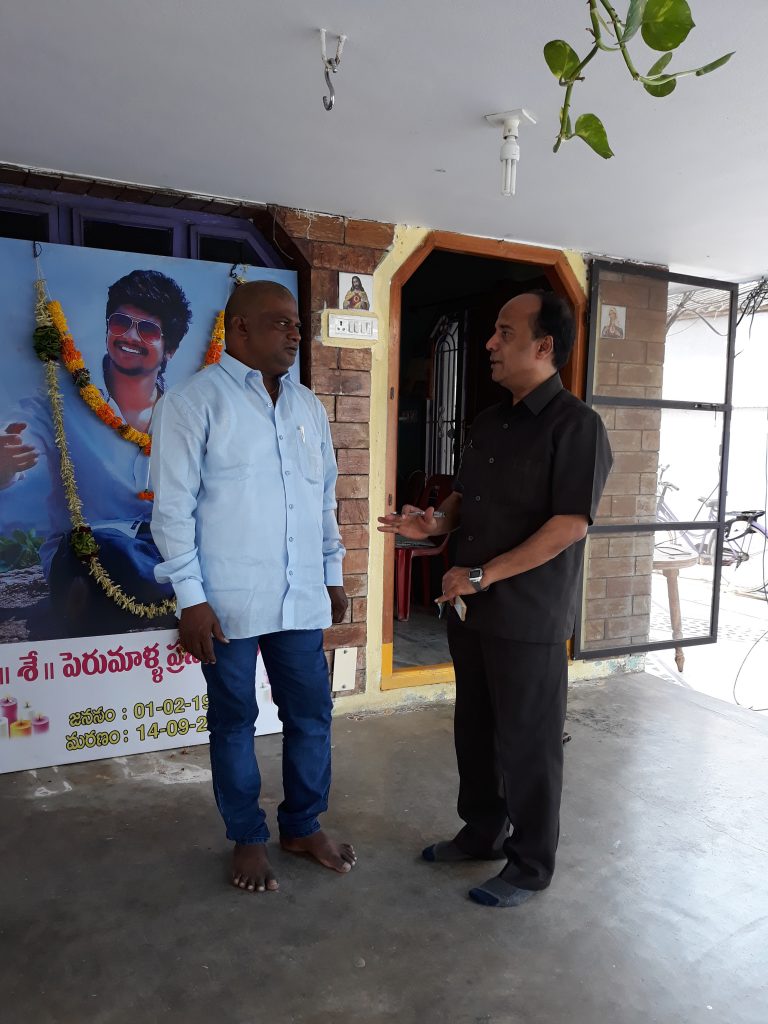 Balaswamy Pranay's father with CLMC member (Photo: Nikhat Fatima/ TwoCircles.net)
Initially, even Pranay's family were against this relationship because of the differences in the castes. Pranay was a Dalit Christian from the Mala caste while Amrutha Varshini belonged to the Vaishya (traders) community which is an upper caste.
But the couple were so much in love and nothing could stop them. Balaswamy told us that the children were 'good friends' right from their school days when they were studying at Kakathiya Concept School in Miryalaguda. Amrutha was Pranay's junior by two years. Later, when they were pursuing their higher studies in Hyderabad their love blossomed as there were no restrictions or prying eyes in the city like Miryalaguda town.
But in 2017 the families learnt of their relationship.
Amrutha's father, Maruthi Rao, a real estate developer and owner of several properties was against his only daughter's affair and kept her confined in the house for nearly six months.
Since Pranay's parents too disapproved, the couple eloped and got married at an Arya Samaj temple in Hyderabad in January 2018.
Pranay's parents relented and helped the couple settle by renting out a villa for them in Hyderabad and furnishing it. They even threw a reception for them when they learnt that Amrutha was expecting.
It was a grand affair and the videos and pictures that Amrutha posted on her Facebook page were like scenes from a fairy tale. The video and pictures were viral with thousands of likes and shares.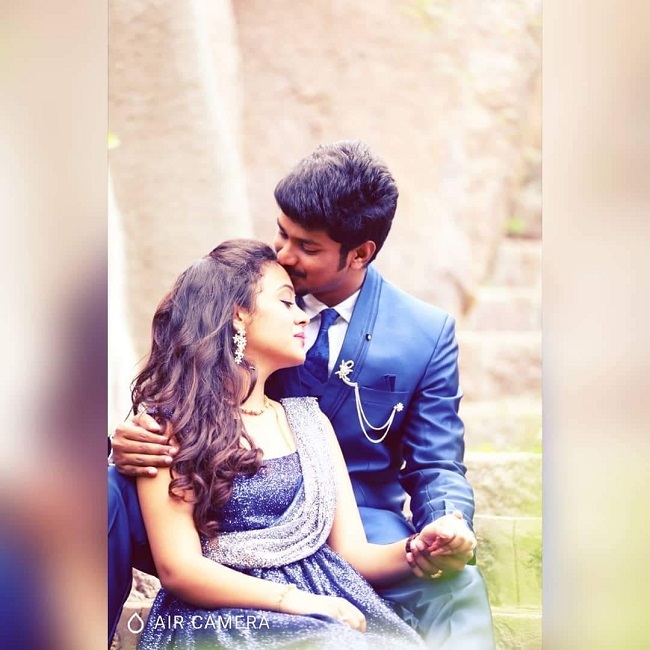 Pranay and Amrutha at their wedding reception (Courtsey: Social Media)
And perhaps Maruthi also saw these videos which enraged him further.
We were told that these videos and the thousands of likes infuriated Maruthi Rao that he actually wanted to post a video of Pranay being killed.
The plan for Murder:
Maruthi personally knew Mohammed Bari, who resided in Nalgonda which is around 60 kilometres from Miryalaguda. Bari and Maruthi Rao knew each other from the last few years. And Bari had a criminal past. When Maruti told him of the plan to bump off Pranay, Bari contacted his friends in crime and a deal was struck for Rs.1 crore as per the police.
The others arrested in the case are Subash Sharma, who was with Bari in a prison and is the person who hacked Pranay; Asghar Ali, who was one of the accused in the murder of Hiren Pandya, former Home Minister of Gujrat, Abdul Kareem, a transport operator and also a friend of Maruthi Rao, Sravan, a relative of Maruti and Shiva, Maruti's driver. And of course, Maruti Rao himself who is the main accused in the case.
It has come to light that Rs 16 lakh was paid in advance to the hired killers.
Before September 14, the hired contract killer Sharma who is from Bihar was brought to Miryalgudda and familiarised with the town.
Balaswamy, Pranay's father said, " It is a planned murder and the killer was such an expert he did his job swiftly and fled from the scene."
He also said that he has seen the FIR and the sections under which the 7 accused are booked under 302 (Murder), 34 (Acts done by several persons in furtherance of common intention), 120b (Party to a criminal conspiracy) read with 109 (Abetment) of the Indian Penal Code (IPC), and Section 3(2)(v) of the Scheduled Caste and Scheduled Tribe (Prevention of Atrocities) Act, 1989.
Amrutha's stand:
Amrutha, now very frail and tired due to the constant appearances on various channels and pestered by all the newspapers was suffering from a severe cough. She is now in the 6th month of pregnancy and is living with her in-laws. She does not ever want to go back to her father.
One can see the dark circles under her eyes and the sad forlorn look in her eyes as she sleeps in a room adorned with pictures of Pranay and herself. But she speaks with determination when she says she wants her father to be punished as she is sure that he is behind the murder of her husband.
And she has reason to believe so because when her father learnt of her pregnancy he had wanted her to abort the child. And right from the beginning, he was dead against their relationship.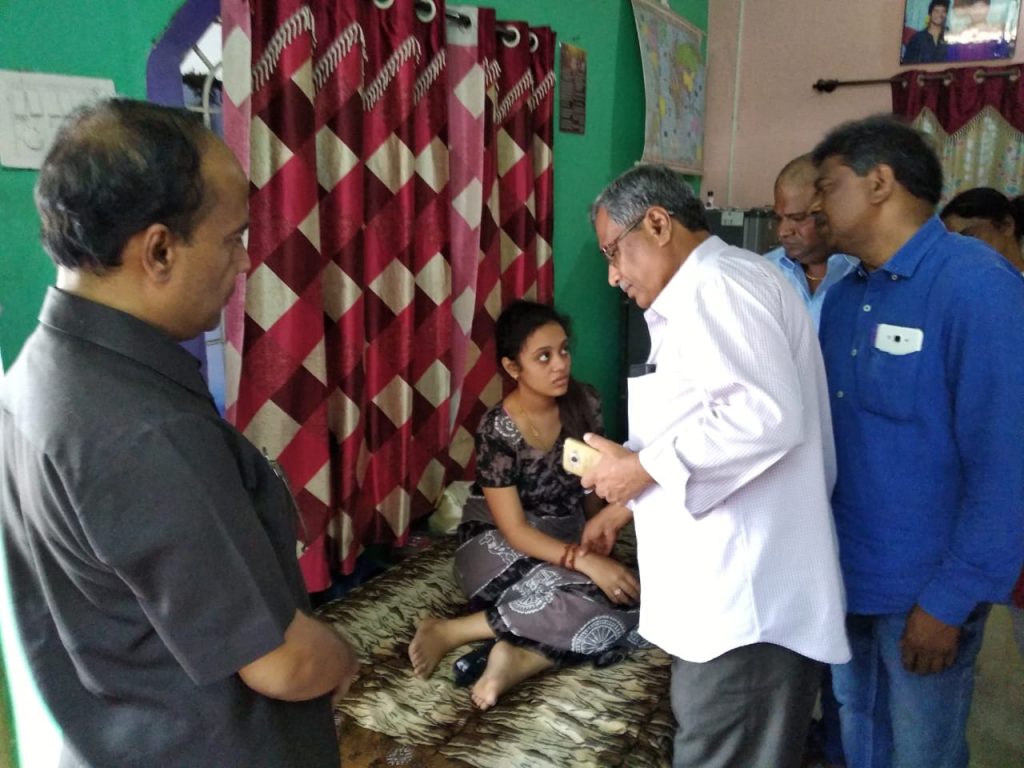 Amrutha (Photo: Nikhat fatim/TwoCircles.net)
Support for Pranay:
On the day of the funeral which was on Sunday and also before that there were hordes of people from different religions and castes visiting the family to show their solidarity. The youth groups were especially charged and vowed to fight alongside the family till justice is delivered.
Dalit groups and activists all came to offer condolences and demand for justice. There was chanting of slogans that said, 'Pranay amar rahe' and Long live Dalit unity and even Laal salaam. When the funeral procession was taken from the church there was a sea of people.
Support for Maruthi:
However, there was another group of people who felt the murder was justified.
The people from Vaishya community who took out a rally in Nalgonda District with banners that said, ' We support Maruti Rao'.
But, not all of the Vaishya community members support Maruti, said Pranay's father. He said there were many people from the Vaishya community who came to offer condolences and they condoled the action of other Vaishya who supported Maruti.
But we can see several groups and individuals hailing from upper castes being vocal about their support to Maruti. They have posed questions such as, "Will you accept/ be quiet if your daughter marries a man from low caste?"
"Does it not hurt the parents who bring up their daughters/ sons with so much of love to see them go against their wishes and marry a person of low caste?"
There have been some who felt aghast when Amrutha spoke on the TV accusing her father and saying that she wants him to be punished.
Statue for Pranay:
Pranay has become a martyr for the Dalit community and all others who believe in love. His untimely death for being a Dalit has caused outrage and at the same time made him a hero. The youth groups and also others and even Amrutha, his wife want a statue of Pranay erected in their town.
But as soon as the upper caste people got wind of this plan, they began protesting and even wrote to the government officials not to grant permission for a statue to be built.
Will justice be done?
Although there are visitors every day to meet the parents of Pranay and offer them support, Balaswamy says the accused may get a bail in a month or two and after that, the case may prolong for years together. Will we get justice?
Findings:
1. Upper caste hegemony reflects clearly in this case. It is a fact that in this era of the 21st Century caste is the base of Hindu society in India. It is also a fact that the mindset of upper caste people has not yet changed. The upper castes still believe in the caste system and being of upper caste is an honour for them. Dalits are untouchables and maintaining relations with a Dalit community is against their dignity.
2. The fact that even Pranay's family were well to do and owned a duplex and in a position to provide all comforts to Amrutha was not enough which again shows that caste was the only criteria for this murder.
3. Maruti Rao hatched the conspiracy to kill Pranay in a well-planned manner just to maintain his dignity and he is proud about this killing.
4. In this case, the upper caste Vaishya community have united and are supporting a criminal act by conducting rallies, press conference and through social media. Now it has become a trend in India to support the criminals, especially when the victims are Dalits and Muslims.
Demands:
· Civil Liberties monitoring committee demands that a special investigation team (SIT) be constituted for investigation and a special Fast-track court be formed for the case trail in Hyderabad city so that free and fair trial can be done.
· Respect the will and wish of Pranay's wife for building a statue of Pranay and starting a trust in the name of her husband.
· Grant ex gratia to the family of Balaswamy and Pranay's wife Amruthavarshini
· Provide a govt gob to Amrutha, Pranay's wife.
· CLMC also demands of a firm action to be taken against those who are supporting this killing in the name of honour.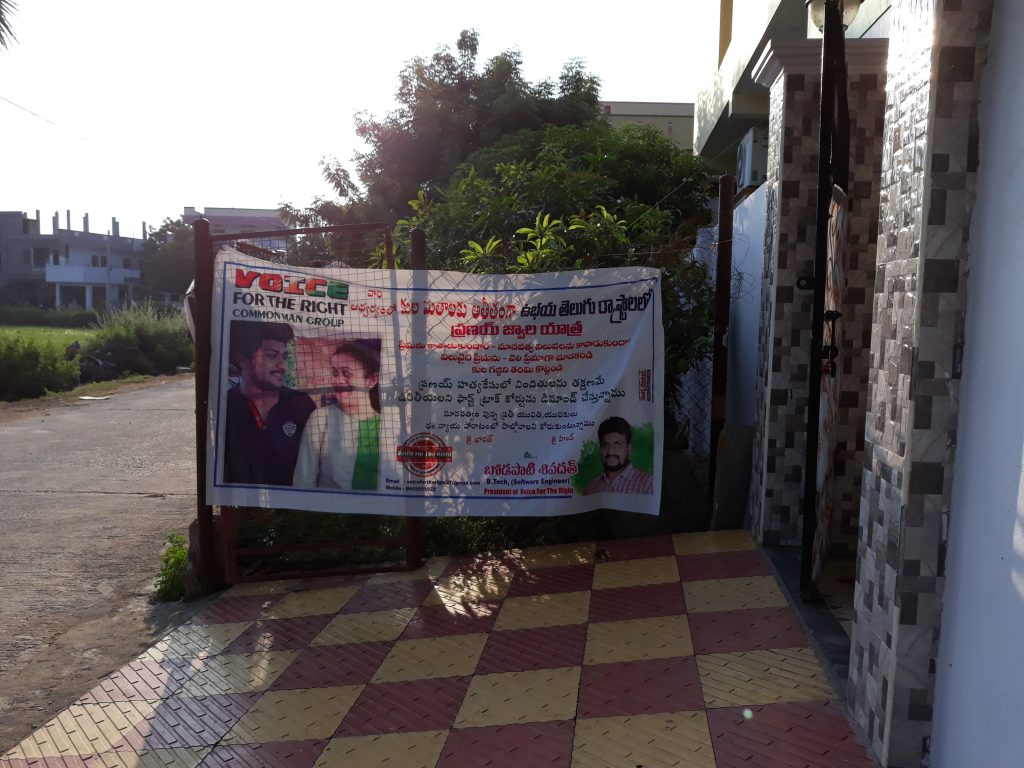 banners of pranay and amrutha at the gate of the house in Miryalaguda (Photo: Nikhat fatima/TwoCircles.net)
Courtesy: Two Circles