UPDATE:
March 25, 2016
Professor Tathagata Sengupta gives an explosive interview the day he was illegally detained on March 22, 2016.
In this interview he traces how the Acting Vice Chancellor Periasami, appointed after the students protests following Rohith Vemula's death was making considerable headway in discussions with students and faculty at the Hyderabad Central University (HCU). A meeting of the Academic Council had been scheduled for March 24, 2016 to raise the Research Scholarship amounts as per UGC norms, appoint a Anti-Discrimination Committee according to a UGC circular of 2009 that was re-issued following the institutional murder of Rohith Vemula on January 17, 2016.
Students have been meeting the acting Vice Chancellor and the situation was fast returning to normal, says professor Sengupta. In that circumstance the irregular return of suspended VC Appa Rao while an MHRD inquiry against him was still afoot appears clearly motivated and inspired by ulterior considerations. Apart from the discrimination faced by Dalit students and those belonging to the OBC sections, Professor Tathagata Sengupta also speaks about the acute marginalistion of a Muslim student by sections of the faculty. This is on account of the narrow caste boas of sections of the facility at HCU.
Professor Tathagata Sengupta had also written a letter on behalf of the SC/ST Teachers Forum and Concerned Faculty of the HCU to the Minister MHRD, Smriti Irani on February 26, 2016. This can be read here.
.
Dontha Prashanth, close colleague of Rohith Vemula who was one of the five students belonging to the Ambedkar Students Association (ASA) suspended by the authorities in 2015 also spoke to the gathering. In the video the ACP of the area is heard addressing the students who have assembled peacefully. Dontha Prashanth on behalf of the protesting students says, as can be heard from the video that since there is an FIR against the suspended Vice Chancellor Appa Rao under the SC/ST Atrocities Act, the police should arrest him and not "shield a culprit."
On January 19, 2-16 itself the Cyberabad Cell of the Hyderabad police registered an FIR on a complaint by the students. An FIR was registered under IPC Section 306 (abetment of suicide) and SC/ST (Prevention of Atrocities) Act. (Union minister of state) Bandaru Dattatreya, vice-chancellor Appa Rao Podile, MLC N. Ramachandra Rao and ABVP activists Susheel Kumar and Rama Krishna have been named in the FIR, the Gachibowli inspector J. Ramesh Kumar told the media.
UPDATE:
March 24, 2016:
Late on the evening of March 23, 2016, all students (and two faculty members, KY Ratnam and Tathaghata Sengupta) allegedly unlawfully detained by the Hyderabad police were remanded to judicial custody after being produced in court. A bail application has been moved on March 24, 2016 and is likely to be heard at 5 p.m.. Following the outrage and condemnation of the brutal police attack on the Hyderabad Central University, the mess was finally allowed to operate from the afternoon of Thursday, March 24, over 48 hours after it was shut down reportedly on suspended Vice Chancellor Appa Rao's orders. The Telangana government is under tremendous pressure following this unprecedented attack on students and the Assembly session from March 26, 2016 onwards is likely to be stormy. Police presence at the HCU that resembled a war zone has been considerably reduced today, March 24.
A public protest has been organised against the entry of Apparao Podile as Vice Chancellor, brutal police attack, militarisation of campus and arrest of 27 students and 2 faculty members.This will be followed by a public meeting with the lawyers, narratives of students who were brutally attacked by the police. On the afternoon of March 24, President of the Jawaharlal Nehru Students Union (JNUSU), Kanhaiya Kumar addressed a press conference in Hyderabad where a lone person shouting "Bharat Mata ki Hai" tried to hurl a shoe at him. Yesterday Kumar had tried to visit the HCU campus but had been prevented. he addressed a meeting at the gate.
Sabrangindia has accessed a list of students and faculty detained by the police on March 22, 2016 after a brutal lathi charge. Here is the list with details of what charges have been leveled against them. Dona Prashanth a close friend of Rohith Vemula and other students who were suspended along with him in 2015 have been again targeted by the university authorities and sections of the Telangana police. While the Central government's MHRD headed by Smriti Irani has reportedly denied any knowledge or sanction for the suspended VC Appa Rao's return to the campus, it remains to be seen what action the Modi government takes against him both for the irregular manner of his return –while an MHRD Inquiry was still afoot — and his inviting police on to the campus. This is quite apart from other actions that may be laid at the door of the university authorities: shutting down water and food supplies for students as also internet services that amounted to laying siege on the HCU with its protesting students.
A copy of the entire FIR filed against students and faculty of HCU can be read here.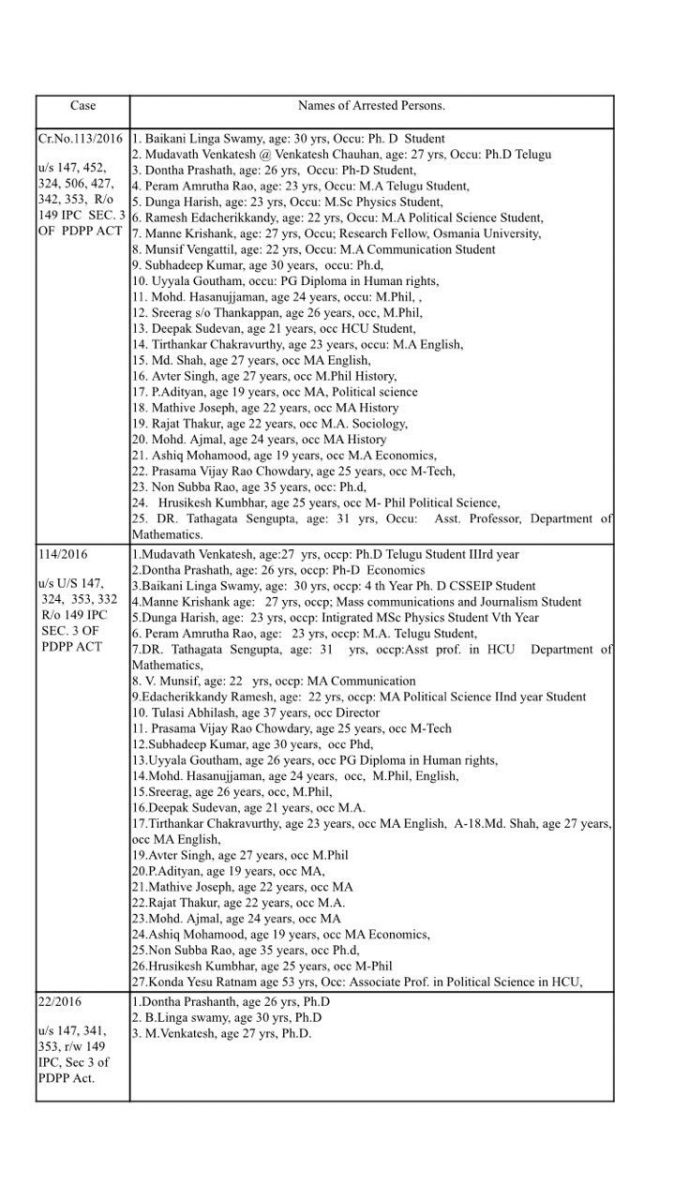 Yesterday, March 23 in the late evening Radhika Vemula, mother of Rohith Vemula who was not allowed to enter the HCU campus visited one of the students, Uday Bhanu who was badly injured in the police action.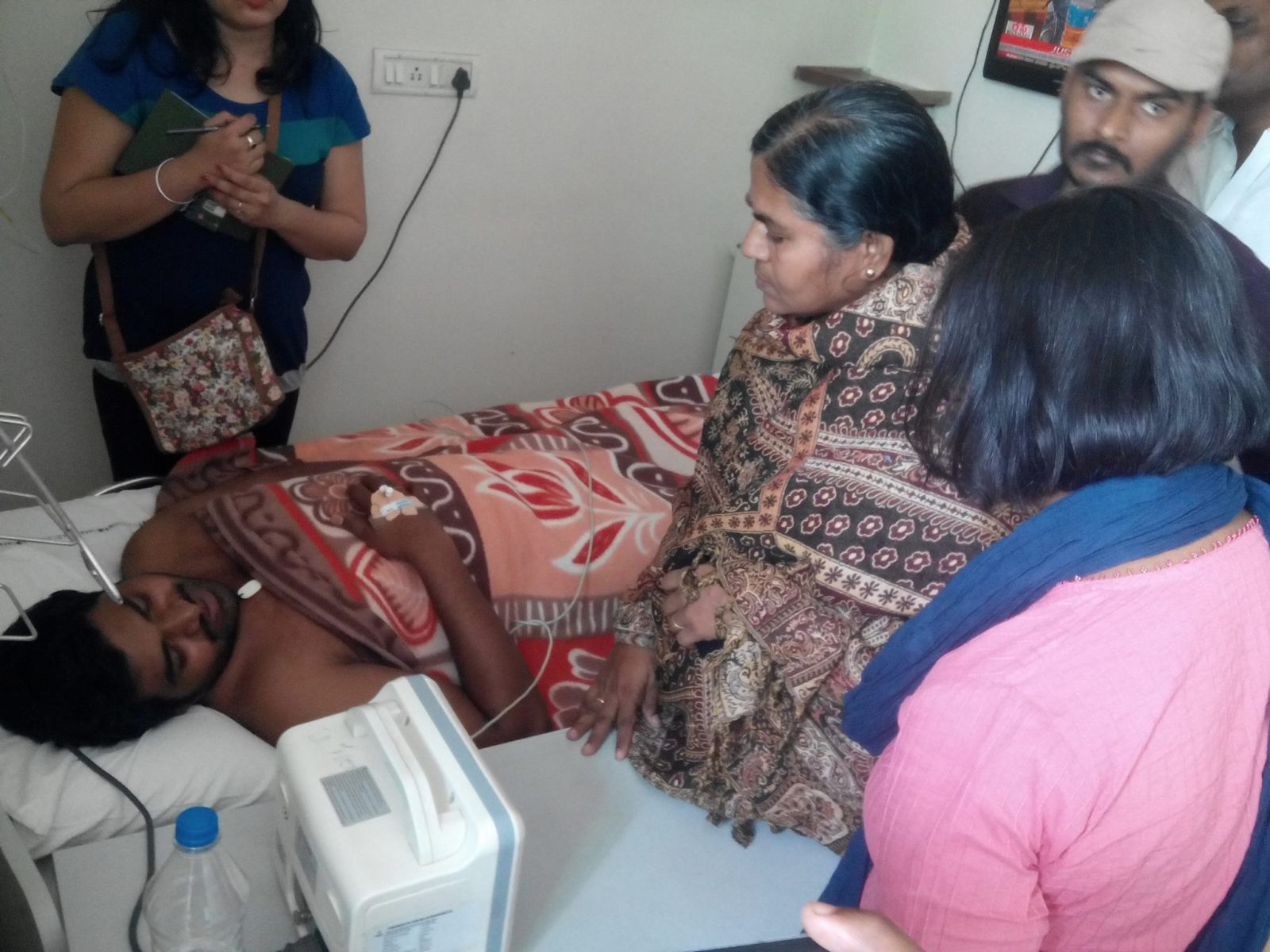 The most graphic video of the Police Lathi Charge at Hyderabad Central Universit, trying to disrupt a Students Protest against VC Appa Rao is available on You Tube. It was telecast on 10TV:
UPDATE:
Late night of March 22, 2016, Sabrangindia had brought its readers this report, HCU Erupts: Plan to attack Unsuspecting protesting Students
As a Follow Up we bring you this Chronology and Eye Witness Accounts
Dr, Karthik Bittu, Faculty fellow at Center for Cognitive Sciences:
"Update from the University of Hyderabad:
Between 21 and 34 students and 2 professors were picked up yesterday, March 22, around 5 pm, brutally beaten in a police van, and detained in unknown locations all night.
We have some information now that they were detained in Miyapur and Narsing police stations; the police blatantly lied to people who went to Miyapur police station that they were not holding any people there.
The CRPF and RAF have beaten hundreds of protesting students badly in campus, abused them as "anti-nationals". Students were crying and in pain. Women were beaten and grabbed by male police officers.
The phones of several students have been confiscated while they video recorded the brutality. Hostels were searched as police appeared to have a pre-determined list of students and faculty they were trying to pick up, which media have said was a list directly supplied by the VC.
A letter has emerged showing the eerie and detailed coordination between Appa Rao, and sections of faculty, non teaching staff, and ABVP students (This can be read here)
This VC has disrupted the peaceful academic semester with his unannounced and forceful return, and his only actions upon returning are to postpone the Academic Council meeting on account of Holi, suspend classes until the March 26, 2016 (why?), encourage the non-teaching staff to go on strike leading to halting of food supply in the messes.
Drinking water, water for sanitation, and internet are also completely shut down on campus.
Why is the VC intent on shutting down the University and disrupting campus harmony and the academic schedule – that too so close to student's exam time?"

How Events Unfolded at the Hyderabad Central University (HCU) on March 22, 2016
Date: 22-03-2016
Time: 08.40 am
Registrar Office of University of Hyderabad notifies as follows: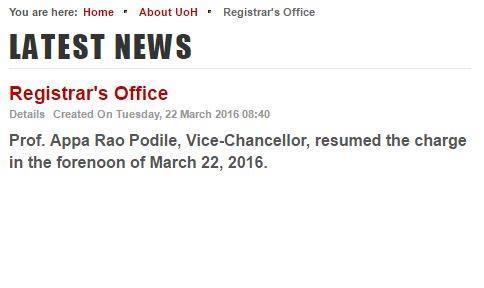 Prof.Appa Rao Podile, Vice-Chancellor, resumed the charge in the Forenoon of March 22, 2016". This was pasted on the website of the University of Hyderabad.
Time: 09.00 am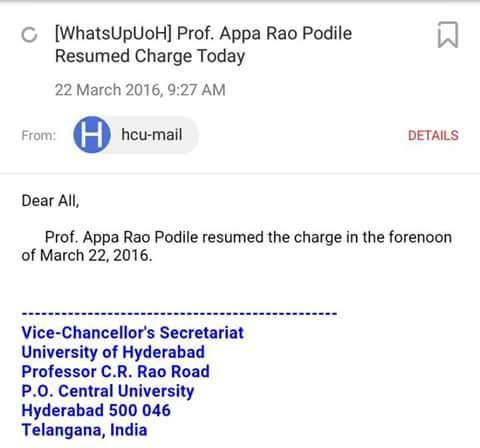 The news of professor Appa Rao Podile resuming his post of V-C spreads in the social media network and then the student fraternity and JAC starts to convey message to their fellows regarding to protest in front of his place of official residence. There was also message circulated that professor Appa Rao Podile was going to address a Press conference at 11.30 am.
Time: 10.00 am
Internet access at the HCU was stopped. There was no internet access from the servers of University of Hyderabad. Students were not able to connect to internet via the WI-FI and other networks of University of Hyderabad. There was complete "Internet Access" blackout from 10 am onwards. This 'blackout" continues today.
Time: 10.30 am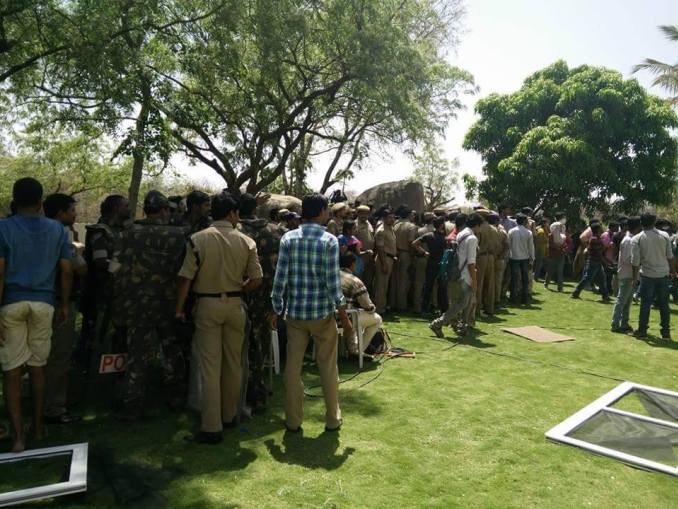 The students community and most prominent members of Joint Action Committee for Social Justice –UoH ( JACSJ-UoH) reached in front of the official place of Residence of V-C. Members of JACSJ-UoH. They found out the most of the Non Teaching Staff of the University and ABVP student members were already present in the Bungalow.
The non-teaching staff and ABVP student members blocked the way for the other students and did not allow them to enter. Hence, JACSJ-UoH members were prevented from entering the bungalow and it was students from the RSS/NJP affiliated Akhil Bharatiya Vidharthi Parishad (ABVP) who allegedly were aggressively at the forefront of things at this stage. This is when the scuffle started. According to sections of the students who have been injured (names being withheld to protect identities), it was some of the students belonging to the ABVP who began ransacking the bungalow and breaking the window panes. Sensing these acts of violence could snowball, the JACSJ-UoH and other students left the Bungalow corridor and then they assembled in the front Lawn garden in the premises of the bungalow of the VC.
As soon as the JACSJ-UoH and other Student left the inside corridor , ABVP student members started sloganeering " Appa Rao Zindabad , Appa Rao Zindabad" , " Bharat Mata ki Jai , Bharat Mata ki Jai".
There were counter slogans to these " Arrest Appa Rao , Arrest Appa Rao " , "Justice for Rohith Vemula , Justice for Rohith Vemula" .JACSJ-UoH and other students sat in the lawn and started their "dharna". The protest was a non-violent peaceful demonstration conducted in a democratic way by raising slogans against the VC Appa Rao.
One of the students members of the ABVP identified in the whole scuffle was Gurajada Garikipati.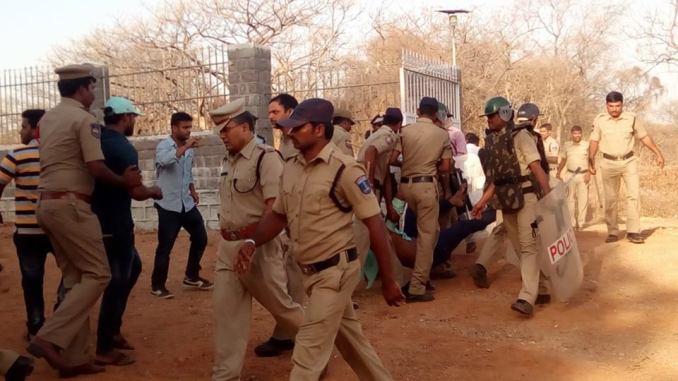 Police arrived in the campus. At the same time some media persons also came into the Campus.
​JACSJ-UoH and other students were protesting through sit-in dharnas in the lawn of VC Bungalow and slogans were raised to arrest Appa Rao. Meanwhile two students were injured by attacks from by students belonging to the ABVP students and these students were taken to University Health Center.
The protest against suspended VC Appa Rao was on the grounds that since he had been booked under sections of the PoA (Prevention of Atrocities Act) –and an inquiry was still underway under the auspices of the Ministry of Human Resources Development (MHRD) – his return to the HCU was nothing short of showing a complete defiance of due process under law.
Meanwhile, the non-teaching staff members complained to the police regarding the 'forceful' entry of Students into the premises of the VC's bungalow. However the narrative of the Private Security Guards differs from this account of the non-teaching staff. The non-teaching staff also complained that JACSJ-UoH assaulted the non teaching Members. During this whole process there was sloganeering of "Arrest Appa Rao, Arrest Appa Rao."
Time: 12.30 pm
Forces in great numbers were suddenly deployed by the Telangana government. Contingents of the Rapid Action Force (RAF), Andhra Police and more personnel of Telangana Police started to arrive at the spot. A student gives an account that nearly 4 trucks and nearly 400 Police personnel were present. Meanwhile some students were giving their side of the story to some media persons also on the campus.
At just about this time, some prominent police officers of a high rank reportedly had a brief meeting with VC Appa Rao. After his meeting with Appa Rao, the same police officer reportedly met the protesting student representative and asked them to leave the premises However, the students continued their peaceful non-violent protest through sloganeering. At this stage, Appa Rao Podile, sent SC/ST Faculty members to negotiate with the protesting students.
Time: 4.00 pm
It was around this time that the police started what the students felt, was the forceful eviction of the protesting students. At this stage, some of the Faculty Members started to approach the Police protesting the way they were manhandling students but they too were lathi charged and police used the force to disperse them!
Soon, the entire Police Force present started lathi Charging on all the Protesting Students. Female student were manhandled by the male Police Personnel. A female faculty member's was pulled by the hair ans she was allegedly also molested by the police. Through this assault, many students suffered injuries and they were taken to University Health Center. Some of the students were forcefully detained, dragged into the Police Van and were taken into Custody.
Some of the prominent faculty members like KY Ratnam, Thhataghata Sengupta, and Lakshmi Narayana were also taken into custody. The [police also snatched away the mobile phones that was recording the assault. Women police officers were also present as, it Is alleged were police personnel in plains clothes. There were some examples of institutional bias: for example when the police asked one student his name and he replied, "Ajmal", police reportedly beat him with a lathi and exclaimed " You Muslim Terrorist!"
Meanwhile the Registrar of the University declared "Shut down the Mess and close the Water facilities, all this protesting students will come to their senses"
During the forceful eviction and then lathi charges incidents of stone pelting was also noticed. The Police too indulged in the same act of stone pelting on the students. Some students got wounded in this as also police personnel.
Time: 6.00 pm
Dontha Prashanth and 36 students are arrested and taken to Chanda Nagar and Cyberabad Police station.Some students were severely wounded and were Hospitalized.The Faculty members were also wounded in the Police Lathi Charged. Prof K Y Ratnam, Prof Lakshmi Narayana, Prof Thatagata Sengupta were taken to Chanda Nagar and Cyberabad Police Station.
Time: 9.00 pm
Meanwhile the Mess has been shut down and there is threatening of boycotting protesting students by the non-teaching staff. There is still a heavy contingent of Police presence in the Campus. Police Personnel continue to threaten some students that their future will be doomed if they carry out such protests again.
The above chronology has been compiled after telephonic talks with the students present at the University of Hyderabad.Identities of the Student are kept secret due to security concerns.
Unexpected Return of Appa Rao to the Campus while MHRD-level Enquiry is still on:
Interestingly, the authorities have expressed "surprise" at the resumption of duties by the Vice Chancellor.
Periasamy who had assumed charge on January 30 in place of Appa Rao was reportedly not informed of the return of the Ministry of Human Resource Development (MHRD) appointee, Mr. Rao even on January 21. Just like the rest of the UoH community, Periasamy who was in Kakatiya University, Warangal on official duty was informed of Mr. Rao's return only on Tuesday morning.
When asked by the Hindu, Periasamy said, "I came to know that Mr. Rao returned to the campus only at 6.45 am. Once he assumes office after leave I don't have to do any paperwork to step down from the position".
As per two task sheets on paper found at the Vice Chancellor's residence, a detailed plan was already underway starting January 21. As per the 'task sheets' , only a handful of people would have known of Mr. Rao's return to UoH two months after he went on leave.
Among those who would have been informed of the entry are Dean of Students Welfare, Prakash Babu, former in-charge VC and senior professors of University of Hyderabad, Vipin Srivastava and Alok Pandey. In the document titled 'Tasks for Appa Rao', it was mentioned that starting March 21 night, the VC who had gone on leave following the suicide of Rohith Vemula. (A copy of the "Circular Plan can be read here—hyperlink please)
The second task sheet (also unsigned) meant for office bearers and faculty members of UoH, also details a plan to aid Appa Rao in assuming office smoothly. . "If he continues in office, at least a 100 research scholars will resign from their respective PhDs and M.Phils. The JAC will take the formal decision late on Monday," said D. Prashanth, a student leader. ""If Appa Rao continues in office, at least a 100 research scholars will discontinue their PhD and M.Phil programmes:D. Prashanth, student leader
Some Student Narratives
Male Student:
"The case is in court. Everybody knows that he is the main one accused of Rohiths death. Two months have passed and without informing the authorities, he simply resumes charge, gives notice and even calls for an Executive Council meeting along with some students, Professors and Deans.
How can the Vice Chancellor, suspended because of an ongoing high level inquiry selectively call in some students inside the VC's bungalow? How can he selectively hold an EX meeting? Does the meeting have any validity?
"The suspended VC is misuing the services of some students of the life sciences and those affiliated to the ABVP. All we did was conduct a peaceful protest. And this is what is happening?! We are going to stop the Academic Council meeting scheduled for tomorrow.
Woman Student:
"The University cut off our internet facilities from the forenoon. There's no drinking water available in mess, no dining hall opened anymore and internet blackout too. This is going really well VC. You have got us starved, thirsty and alienated from reaching out to outside world! Around 30 students are arrested (we are yet to confirm the numbers even) and 3 faculty members are taken into custody along with them. Students say police were shouting 'Muslims are terrorists' while beating up students.
In some sections of the media who were not present, reports of 'vandalism by protesters' were carried but these sections of the media did not find the time to cover the lathi-wielding violent acts of the police! We condemn the malicious lie spread by media that protesters vandalized VC's lodge. It was the ABVP which barricaded VC's lodge from rest of the students with furniture and created unnecessary tensions shouting 'Bharat Mata ki Jai' at us while protecting a man like Appa Rao Podile. They were the ones who actually vandalised the place. Police did stop students who were filming their brutality, beat them up and even broke cameras. A police man in mufti was shouting rape threats at female students all the while beating them up. Is this what students will now have to face ?"
"Male police brutally grabbed, molested, tossed and beat female students and faculties alike. Female faculties were grabbed by their hair and dragged into vans. Male students were swept inside the van and were beaten without mercy. When I ran after them questioning that, police harassed me. They asked where I am from and when I told them its none of their business, they made a pass on my skin tone and threatened to teach me how to behave and tried to chase me away. They were doing the same to other students. They were rounding up stranded students and started chasing them beating. Many of us are in health center and some are moved outside. Three van-full of students are arrested by now.
Shame on you VC for facilitating this violence against your own students!
"We got hold of the 'action plan' email that was sent out to faculties regarding 'smuggling' the killer VC back inside university of Hyderabad without letting its students know. What a shameful story! This is so shameful that it is actually sounding funny! We are sitting at VC's lodge lawns, while Prashant reads out VC's press release which is another joke! (It will be uploaded soon in JAC's page) We condemn the ridiculous statements he made in the press release. In between, for demanding to arrest the VC, who we believe is responsible for the institutional murder of Rohith Vemula with regard to the case filed against him, police call us immature! They do not even have the wisdom to understand what we are demanding is as per the constitution of India and the constitution of university of Hyderabad which Appa Rao Podile is actually violating .
Police Go Back!
"This university was functioning almost normally till the killer has returned! He is back only to disrupt the academic activities of the entire campus now! We want the man accused of the institutional murder of Rohith Vemula out of the campus! We know he will try to avenge whoever protested against him and will try to destroy evidence.
Police are planning to move us from here meanwhile. We remain here still even if it means we remain without food or sleep!"
"The non teaching staff has decided to play along with the suspended VC. They have declared they are striking against students. All the messes in UoH are closed now. We are all here. Professors started joining us. Heavy police force deployed all over. They might lathi charge any moment. Since we believe in Constitution, we appeal the police to arrest a man charged with offences under the Scheduled Caste and Scheduled Tribes Atrocities Act. The Library is also closed. We are going to strike till he is arrested!

(Identities of the Student are kept secret due to security concerns.)
Student's narrative of police brutality in University of Hyderabad