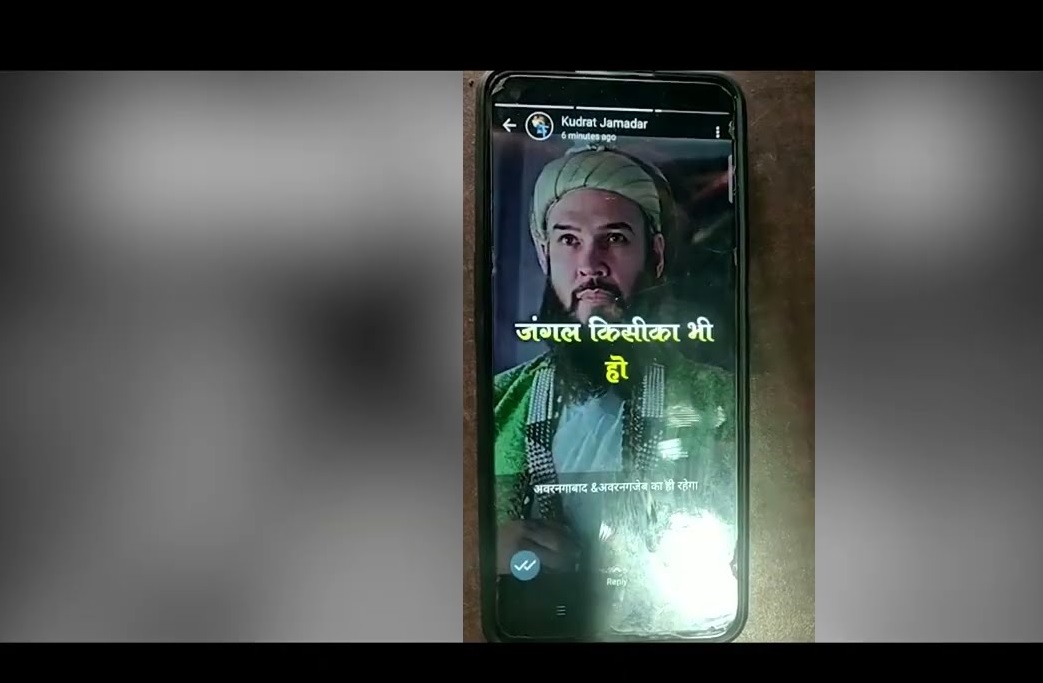 Amid the growing attempts towards distorting the history of places and spaces by changing their names, it is being reported two families have been forced to leave their homes in Hatkanangale tehsil of Maharashtra's Kolhapur district over the last week due to pressure from local residents and Hindutva activists over WhatsApp statuses praising Mughal emperor Aurangzeb. Last month, an uproar had occurred when the name of the Aurangabad city had been changed to Sambhaji Nagar. This decision has led to two different reaction, with one group peacefully protesting the said change, while the other group, led by Hindutva outifts, took it upon themselves to force this decision down the throats of those who did not agree with it.
Earlier this week, it had been reported that two FIRs have been filed against those who posted these status, and a third complaint has be referred. The accused in one case, namely Mohammad Momeen, is in custody, while the accused in the second case is untraceable. Momeen, a 19-year-old resident from Savarde village who sells jute bardana bags, was booked under IPC sections 298 and 505, has been in custody at Kolhapur sub-jail since his arrest.
As reported by Newslaundary, the status put by him read, "Tum naam toh badal loge, lekin itihaas naa badal paaoge. Woh pahaad aaj bhi gawah hai, iss shahr ka badshah kaun tha aur kaun hai; Aurangzeb Aalamgeer. (You can change a name but you will not be able to change history. The hills stand witness to who was and is the king of this city; Aurangzeb Aalamgeer.)"
As was previously reported, the day after Momeen had put up this status, on March 17, the Hindutva groups has assembled at Momin's house and caused havoc, setting fire to Sugar Sack Warehouse and a tempo owned by the family. They had also attacked and assaulted Momin's father. Even though assault on property and human bodies is held to be offences in India, it was Momeen who was arrested. Now, it has been reported that Momeen's family were also forced to leave the village.
According to the report by Newslaundry, the complainant, Parshuram Chavhan, associated with the BJP and the Sambhaji Bhide-led Shiv Pratishthan Hindustan, said "Police arrested him and his family left the village. Although they have been seeking forgiveness…we want to set an example. We will discuss the matter among our people and then take a final decision. Without our permission they cannot enter the village." The Newslaundry report had further provided that Vadgaon police senior inspector, Bhairu Talekar, had said that Momeen was arrested "because his WhatsApp status was not correct and could have led to a riot-like situation in the area". Both the police and the Savarde sarpanch Amol Kamble refused to have any knowledge regarding the family of the accused being forced out.
The second FIR, also filed on March 17, was against Faizan Saudagar, a 23-year-old tempo driver from Minche village, over his WhatsApp status, which read, "Namumkin ko mumkin banaanewala badshah sultan Aurangzeb Alamgir (Aurangzeb Alamgir, the emperor who made the impossible possible.)"
This FIR, filed under IPC sections 298, 295A, and 505(2), also alleged that the status was posted with the intent to offend Hindu religious sentiments. Vaibhav Hirawe, a member of Shiv Pratishthan Hindustan, had filed the complaint.
The third FIR, filed on March 21, was against Kudrat Jamadar, a 21-year-old resident of Khochi village, over his WhatsApp status. His status read, "Aurangabad Aurangzeb ka hee rahega (Aurangabad will remain Aurangzeb's). It was also accompanied with an audio remarking that "it doesn't matter who the forest belongs to, the hunt will be the tiger's – Aurangzeb Alamgir".
Related:
Rising Intolerance in Maharashtra: 2 Muslim boys arrested for putting a status on Aurangzeb
Take action against hate speech in Mira-Bhayandar: Residents, Opposition parties to Commissioner of Police
Maharashtra: Vitriolic speaker from Gujarat calls for economic boycott of Muslims in Mira-Bhayandar
A roundup of the CJP's efforts to curb hate speeches by Hindu Janajagruiti Samaj, from filing preemptive complaints to following up with officers
Memo seeking preventive action against Hindu Janajagruti Samiti event sent to authorities
Citizens' attempts to prevent hate speech event ignored, Hate Event allowed by Ratnagiri Police
Maharashtra: The new breeding ground for hate, oaths of allegiance to the Constitution brutally violated