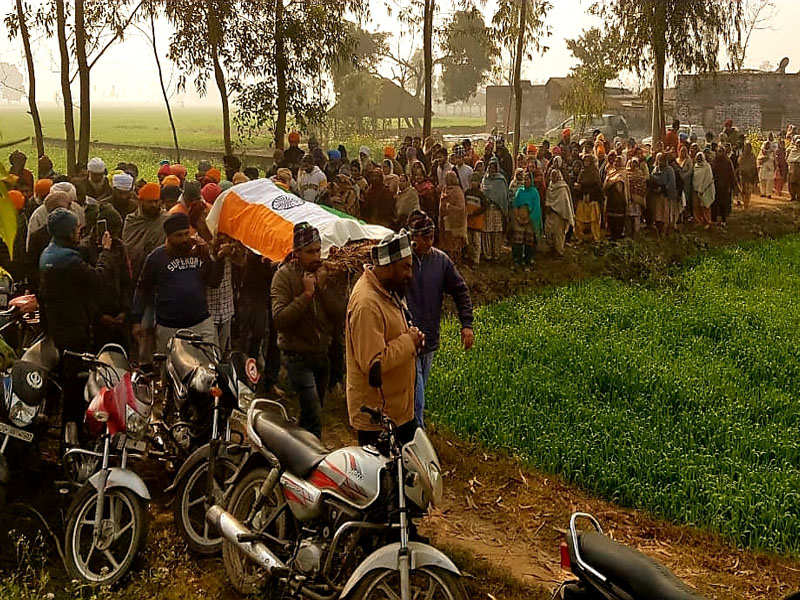 The grieving family of Baljindra, a farmer who reportedly died in a road accident near the Ghazipur protest site, has now been accused of insulting the National Flag, according to a report in The Tribune. UP police have booked the mother and brother of the farmer, along with another person, for allegedly insulting the national flag, after a video, said to be of his last rites, "showed the body draped in the Tricolour".
According to the news report, Baljindra had gone to the farmers' protest site at Ghazipur (Delhi-Uttar Pradesh border) and had died in a road accident near there. According to the UP police, "Baljindra, a resident of Bari Bujhia village in Sehramau area, had gone to participate in the farmers' agitation on January 23 with his friends. He died in a mishap on January 25 and his body was kept in a mortuary as that of an unidentified person. His family members came to know about the incident on February 2 and they brought the body here." Superintendent of Police Jai Prakash Yadav was quoted saying, "The family covered the body with the National Flag like that of a martyr and took it for last rites on Thursday. The video of the last rites went viral on social media after which an FIR was registered against Baljindra's mother Jasvir Kaur, brother Gurvinder and an unidentified person". The Tribune report stated that according to the Flag Code of India, draping the Tricolour in a civilian funeral is an offence.
Interestingly, it was widely reported in 2016, how the casket of Ravi Sisodia, who was accused of brutally murdering Mohammed Akhlaq in Bishara village of Dadri, Uttar Pradesh, in 2015, was draped with the national flag. Sisodia had died while in judicial custody, of complications relating to an improperly diagnosed fever. Sisodia, aged 22, was one of 18 people accused of brutally murdering Akhlaq accusing him of eating beef. Draping his casket in the tricolour, however, is a violation of the Flag Code, which prohibits the use of the national flag at private funerals and classifies this as disrespect to the flag. Though it is not known if anyone was booked for those violations in Dadri. Sisodia had been hailed a martyr, an icon of Hindutva pride and his death a rallying cry for 'Hindutva warriors'.
Related:
Farmers' movement: How NIA summons triggered the 'Khalistan' conspiracy theory
The Khalistan conspiracy makes startling revelations about the state complicity in Sikh Genocide
Go ahead, call me a Khalistani!
Why is NIA seeking to question Khalsa Aid, other volunteers now?
FIR against unknown 'toolkit' makers, not Greta Thunberg: Delhi Police
Can concertina wire, cemented barricades, keep out ideas?