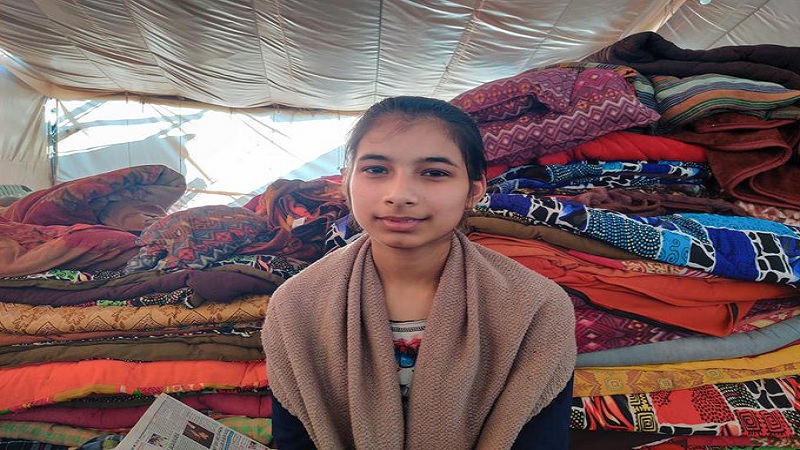 Image Courtesy: Twitter
Pavneet Kaur, an eleventh grader has not attended a single online class since January 27, as internet remains suspended at the Delhi Haryana borders. The school administration has asked her to attend all classes as examinations are around the corner.
Pavneet Kaur, class 11 student from Sangroor, who has been participating in #FarmersProtest at #SinghuBorder hasn't been able to attend online classes since Jan 27 after Internet was suspended. Her school has asked her to come back as exams are approaching. pic.twitter.com/8czwolxEN6

— Hemani Bhandari (@HemaniBhandari) February 5, 2021
The Hindustan Times reported the story of a 14-year-old Kunal Kumar, who is a Class 9 student of Government Senior Secondary School at Tikri border. He has not been able to attend online classes due to connectivity issues. Many school-going students in the Delhi border areas have turned to private tuitions in order to prepare for exams as only some of them have access to a Wi-Fi connection.
While speaking to the HT, Kunal said that he had not been to school since the Covid induced lockdown and since the Republic Day violent clashes that subsequently led to internet suspension in the area, it has been difficult to connect to online classes.
"Earlier, we used to take online classes from 8 AM to 1 PM at our house, but now, because there is no network, I have not been able to attend classes for the past 10 days. We cannot download videos or study material. Now, students in classes 9-11 have been asked to come to school. Our final exams are scheduled to be held next month. We are under pressure", he said.
Parents have also expressed their concerns over their children missing out on online classes in a situation where education and learning has already been exacerbated due to the pandemic. Anil Kumar, a parent of three, told the HT, "I have been regularly paying the fees, ₹500 per child for months. Throughout the year, there were only online classes and now, for the past ten days, they have also stopped. Left with no option I have to send my children for tuition so that they can prepare for their exams".
He also expressed how he has landed in deep waters financially, as he runs a shop right next to the Tikri border agitation site. "To pay the school fee along with tuition fees and for the internet is difficult to afford," he said. Another parent and Panipat (Haryana) resident Suman Malik said, "Not all schools have reopened in Haryana. While one of my sons has resumed his offline classes, the other one, who studies in a private school, cannot go for in-person classes. Online learning is the only option for him, and he has his exams next month. Besides, students cannot be expected to follow online classes for nearly a year and then just switch to offline classes after an internet ban. There has to be blended learning."
The Ministry of Home Affairs has been suspending internet services at the farmer protest site and adjoining areas of New Delhi since January 26, 2021. On January 26, after the Republic Day parade, the Union Home Ministry suspended the internet services in the areas of Singhu, Ghazipur, Tikri, Mukarba Chowk and Nangloi and their adjoining areas in the NCT of Delhi for 12 hours.
Thereafter, the Centre issued a similar circular on January 29 and ordered for temporary suspension of Telecom Services "in the interest of maintaining public safely and averting public emergency" in the areas of Singhu, Ghazipur, Tikri, and their adjoining areas of Delhi from January 29 to January 31 which was further extended to February 2.
According to the HT, Bharatiya Kisan Union leader Rakesh Tikait has also appealed to the Government to restore the services so that students who are at the protest sites, can attend classes.
Related:
Why is NIA seeking to question Khalsa Aid, other volunteers now?
Farmers' movement: How NIA summons triggered the 'Khalistan' conspiracy theory
Ensure safety of protesting farmers, stop propaganda against Sikhs: Plea in SC
10,000 people assemble at Azad Maidan! Mumbaikars put Centre's claim to shame
Women Famers still struggling for recognition