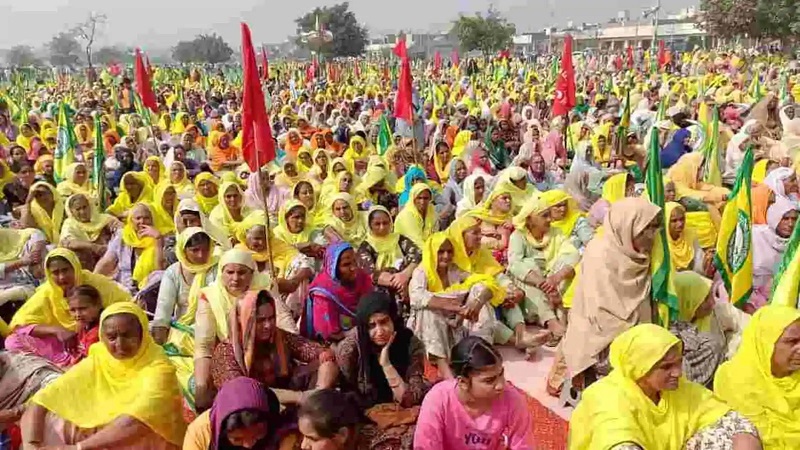 Farmers organisation Samyukta Kisan Morcha (SKM) announced 'Kisan Mazdoor Ekta Divas' on February 27, 2021 as the finale for a series of farmers' protests for this month.
Protests in the last week of the month will start off with the 'Pagdi Sambhal Diwas' February 23. On this day, farmers will wear their regional turbans to celebrate the memory of peasant leaders Sardar (Chacha) Ajit Singh and Swami Sahajanand Saraswati.
The following day, participants, including farmers and citizens, will observe 'Daman Virodhi Diwas' and protest against overall suppression of farmers across India. Moreover, the SKM announced tehsil and district-level groups would submit a memorandum to the President of India Ram Nath Kovind.
Later, on February 26, farmers will honour the contributions of youth in this movement by organising a 'Yuwa Kisan Diwas.' All SKM stages at Delhi borders will be operated by the youth. Young people from across the country are invited to join farmers protesting at city borders.
The week will conclude with the 'Kisan Mazdoor Ekta Divas' on Saturday. Farmers invite all citizens to join the movement at Delhi borders on the martyrdom day of Shaheed Chandrasekhar Azad and Guru Ravidas Jayanti on Saturday
Regarding further protests, SKM leader Inderjit Singh declared after a general body meeting at the Singhu border that farmers would enter the next stage of the movement after discussions on February 28.
Meanwhile, farmer leaders grieved the death of SKM leader and President of Kirti Kisan Union in Punjab Datar Singh.
"SKM pays revolutionary tribute to him. Datar Singh's contribution to farmers' interests, especially in this movement, is incomparable," said farmer leader Darshan Pal. The SKM also condemned the arrests of some farmer leaders in Yavatmal, Maharashtra by state police. Although people were later released on bail, farmers decried "the government effort to disturb leaders of the farmer movement."
Related:
Congress sweeps Punjab civic polls, power of farmers' vote evident
When sports stars, politicians return awards citing betrayal of farmers, the world notices
Farmers observe 'rail roko' across India
International organisations support Indians farmers: NYT carries full page declaration
Farmers honour fallen CRPF soldiers and martyred farmers on February 14
Are the new farm laws constitutional?
We continue to fight for the same rights as Sir Chhotu Ram: Farmer leaders