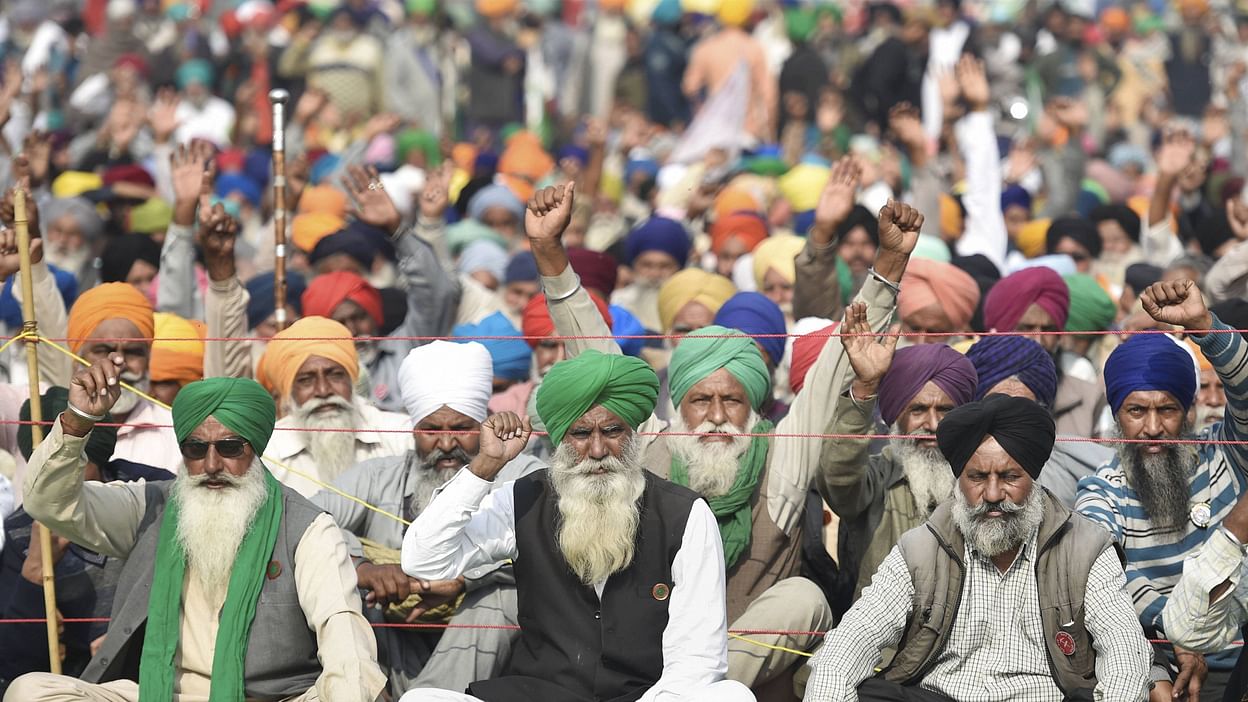 Image courtesy: PTI
The Working Group of the All India Kisan Sangharsh Coordination Committee (AIKSCC) warned the central government that the success of January 4, 2021 talks with farmer leaders depends on the executive's decision to repeal the four anti-farmer-dubbed laws.
In a press release on January 3, 2020, farmers asked the central government to be considerate of peasants amidst its "blind commitment to serve corporates and crony capitalists."
Addressing the widespread speculation about procedures for repeal of the three Acts – the Farmers (Empowerment and Protection) Agreement on Price Assurance & Farm Services Act, the Farmer's Produce Trade and Commerce (Promotion and Facilitation) Act and the Essential Commodities (Amendment) Act – the AIKSCC stated that the Constitution allows for the government and parliament to make Ordinances to repeal laws.
They asked, "They [the procedures] are neither time consuming, nor complicated. If the Modi-government has the will, it is a matter of only a day or two. The main hurdle is the political will of the BJP-led NDA government. The main question is – does the Govt stand with Corporates or the Farmers?"
Further they dismissed the government's appeal for an alternative solution as a "sure recipe for failure" by saying that it will only intensify the struggle, at the cost of life and livelihood of farmers.
"While lacs of protesting farmers at Delhi are braving the extreme cold conditions and heavy downpour which has made wet and soggy clothes and bedding, the mood at all camps continues to be of high spirits. Farmers continue to be in high morale and are consolidating forces. All four major protest sites are being coordinated, more forces are joining in and protests in other places are continuing," they said.
Farmer leaders also blamed the central government for the deaths of those farmers who sacrificed their lives during protests. They called the deaths, "murders" and demanded accountability from the government.
On Sunday, the AIKSCC appealed to women, farmers, workers, intellectuals and common people to observe the birth anniversary of Savitri Bai Phule by linking her contribution and struggle to advancement of the downtrodden and to draw the inspiration to support the present farmers struggle.
Related:
Re-Plug: 28 protests in 22 days! Kranti ka Naqsha (Mapping the Revolution)
Karnataka: Youth groups visit villages to spread awareness about anti-farmer laws
Exclusive: G. T. Ramaswamy dismantles government's claims about South Indian farmers
Centre blinks, agrees to two of the four farmers' agenda points
Peasant supporters call for creation of Save Farmers, Save Nation committees
Are the new farm laws constitutional?
Farmers chart out January protest plans with a tractor march, Mahila Kisan Diwas and more!