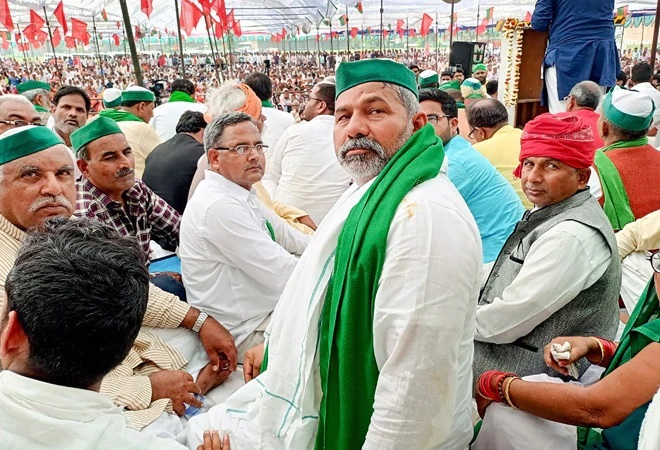 Farmers organisation Samyukt Kisan Morcha (SKM) announced complete Bharat Bandh on March 28, 2021 marking the completion of four months of the farmers' agitation against the three laws forcibly passed by the government.
On March 11, farmer leaders announced a series of demonstrations and agitations for the second half of March. Most notable among these events is the Bharat Bandh for which trade unions and other mass organisations will organise a joint convention on March 17.
This planning meeting will be observed shortly after the 'Anti-Privatisation Day' on March 15 wherein protesters will submit memorandums to sub-district magistrates and district magistrates against rising diesel, petrol, LPG prices and other essential commodities. Trade unions will also hold protests at railway stations across India against privatisation.
Later, on March 19, Muzara Lehar day will be celebrated and protests will be held in mandis across the country under the Food Corporation of India (FCI) and Kheti Bachao programme.
Then on March 23, the martyrdom day of freedom fighter Bhagat Singh, youngsters from all over the country will join farmers' protest sites at Delhi borders. Finally, peasants will burn copies of the three laws – the Farmers (Empowerment and Protection) Agreement on Price Assurance & Farm Services Act, the Farmer's Produce Trade and Commerce (Promotion and Facilitation) Act, and the Essential Commodities (Amendment) Act – on March 28, during Holi.
As for on-going initiatives, the SKM organised a massive Kisan Mazdoor Ekta mahapanchayat at Alewa in Jind district, Haryana to mark the completion of 105 days of agitation on March 10. Similarly, another mahapanchayat was organised at Dulheri in Bhiwani district on Wednesday. Local leaders unanimously decided that the three agricultural laws and laws related to electricity and pollution should be repealed and a law should be made on Minimum Support Price (MSP).
On the same day, a big rally was organised in Calcutta on Wednesday. More than 10,000 students, youth, farmers, workers and concerned citizens participated in this rally and chanted "No vote to BJP!"
Meanwhile, the Kisan Majdoor Jagriti Yatra started from Kashipur and reached Dineshpur on March 9 riding a large number of tractors, four-wheelers and two-wheelers. Further, farmers will take out such Kisan Yatras in Bihar from March 11 to 15, which will conclude on March 18 on the Kisan Kranti Diwas in the Vidhan Sabha march in Patna city.
Regarding the No-Confidence motion in Haryana Assembly yesterday, the SKM thanked Haryana citizens for showing their full strength against the BJP-JJP government. Leaders said that the on-going movement has exposed the JJP that identifies as part of the farming community.
"These MLAs have no political future because of ongoing movement and this expresses the defeat of no confidence motion. Farmers have sown seeds of opposition and resistance against these anti-farmer faces and results will be harvested soon. Haryana farmers intended to intensify this protest by socially boycotting all BJP and JJP leaders," said farmer leader Darshan Pal.
The peasant group also warned against some websites sending threatening messages related to the Kisan movement through software called "SARBLOH RANSOMWARE." The SKM clarified that the organisation has nothing to do with such messages since the movement is peaceful.
Related:
Haryana: Manohar Lal Khattar-led govt survives no-confidence motion
Pass the no-confidence motion against Haryana gov't: SKM leaders
Adivasi Mahila Kisan: the unsung voices of Indian agriculture
Anti-farmer laws ending mandis of Karnataka: Yogendra Yadav
100 days of farmers' struggle: Agitation evolves and grows stronger
Karnataka farmers ask: Where is MSP Modi ji?
India's farmers and workers to commemorate Anti-Privatisation Day on March 15
IT raids, govt's desperate attempt to attack farmer supporters: SKM
Farmers focus on assembly election stating "govt only understands votes"