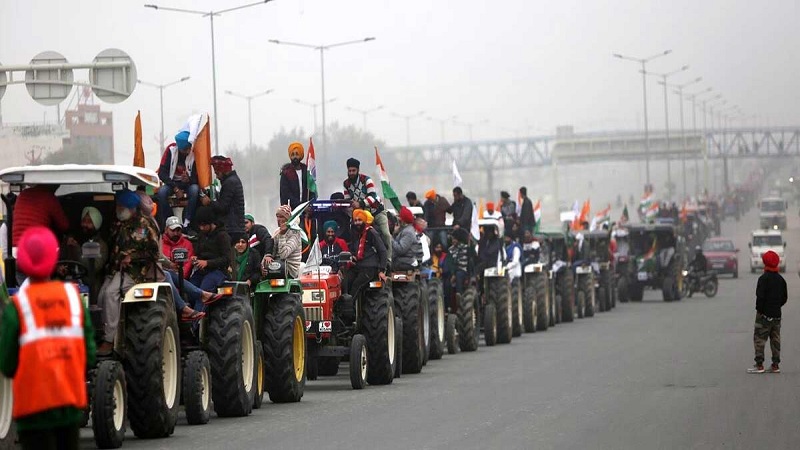 Image Courtesy:financialexpress.com
"Friends, we are about to make history. Never before in history have the people of this Republic been part of a parade of this nature on the Republic Day. Through this parade we have to tell the country and the world about our plight. We have to bring forth the truth about the three Anti-Farmer Laws. We've to take care that this historical parade is not stained at any cost. Our victory lies in the parade being taken out in a very peaceful manner; without any unwanted events taking place. Remember, that our aim is not to conquer Delhi, but to win over the hearts of the people of this country," is a message by farmers organisation Sanyukta Kisan Morcha (SKM) circulated on social media on January 24, 2021 during preparations for the Kisan Parade on Republic Day.
Resolving to keep the movement peaceful and organised, the SKM released a list of instructions along with this message to prepare farmers for the much-awaited event. Farmers also gave a helpline number 7428384230 in case of any confusion in any area. Farmer leaders also clarified that trolleys will not be allowed in the parade. Only tractors and other vehicles will be allowed although trolleys with special tableaux may be exempted. They asked farmers to arrange for the safety of the trolley from the back.
The SKM appealed that every tractor or cart be fitted with its respective farmers' organisation flag and national flag. However, they said that no flag of any political party will be allowed.
"Pack 24 hours of ration and water with you. Make sure you have proper arrangements for protection from cold. It might be required if you are stuck in a traffic jam," said the organisation.
They emphasised that participants should not carry any weapons or sticks and refrain from using banners that use provocative or negative slogans. On the other hand, aspiring participants may give a missed call on the 8448385556 phone number to join the parade.
The parade will be led by farmer leaders' cars while volunteers dressed in green will oversee the procession.
"The route for the parade has been pre-decided and marked. Police and traffic volunteers will guide you. Any car/tractor found deviating from the route will be acted against," said farmer leaders.
Five separate parades will be carried out along Delhi borders from the Singhu border, Tikri border, Ghazipur border, Chilla border and Dhasa border. Two such parade routes may be viewed below:
Similarly, along the Haryana-Rajasthan border, parades will be carried out from the Shahjahanpur border, the Palwal border, the Masani Barrage in Rewari district and inside Mewat city.
Any vehicle that occupies an area without any reason will be removed by volunteers. Meanwhile, other vehicles will return to the starting point after completing the parade. As many as five people including the driver will ride one tractor but not on the bonnet, bumper or roof of tractors.
Leaders also asked people to avoid playing music. Instead they asked people to ensure they hear all announcements to avoid confusion. Accordingly, they asked people not to throw garbage on the road and avoid the use of any drugs before or during the parade. The SKM said that anyone found in possession of or consuming drugs will be reported to the traffic volunteer.
"Please remember that our intent is to gracefully carry out the parade and win the hearts of our fellow citizens. The policemen are also part of us, we must not indulge in any quarrels. Representatives of all news channels must be respected," said farmer leaders.
To avoid any kind of panic, the Kisan Ekta Morcha issued emergency guidelines that asked participants to verify all information via their Facebook page.
Ambulances will be in the vicinity of the parade. In case of any issue with the vehicle, leaders asked people to contact the helpline number that will be open 24 hours on Tuesday. Similarly, the police control room will be available at number 112 in case of any unfortunate incident.
Related:
Farmers win! Republic Day 2021 will be celebrated with unique tractor march
At least 10 lakh farmers will march on Republic Day: AIKMS
Thousands of tractors set off along the KMP highway …
Farmers rights are human rights: Protesters at Tikri Kalan
Farmers reject govt proposal for temporary suspension; talks to continue
144 peasants died during farmers' struggle since November 24, 2020
Why is NIA seeking to question Khalsa Aid, other volunteers now?