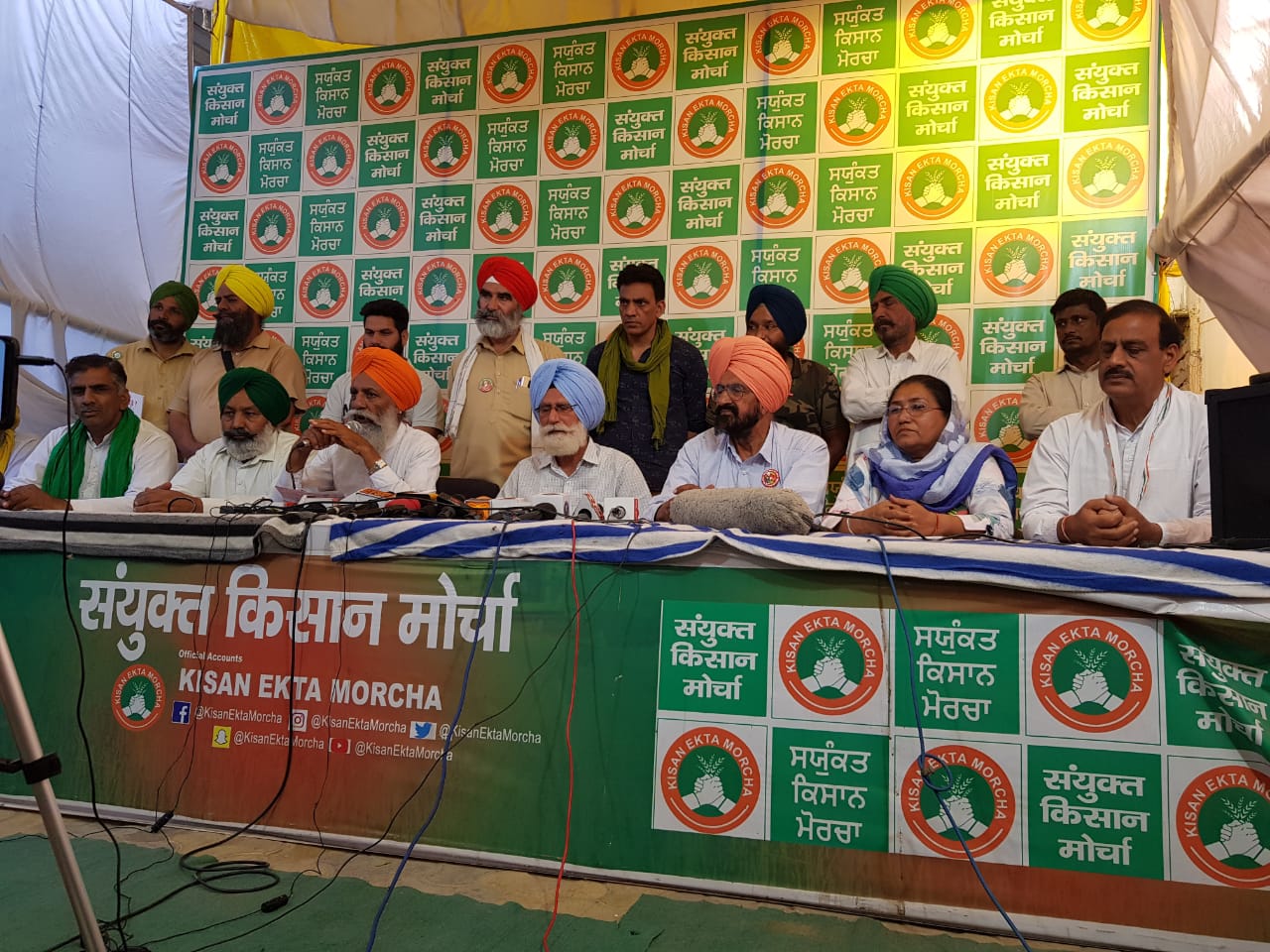 Farmers called for a 'Samvidhan Bachao Diwas' on April 14, 2021, the birth anniversary of Dr. Bhimrao Ambedkar, to condemn the central government's denial of the constitutional rights of farmers.
During a press conference on March 31, Samyukta Kisan Morcha (SKM) leaders listed a series of events over the next two months to continue their agitation against government policies and oppression. Members alleged that the current Bharatiya Janata Party (BJP) regime has put constitutional values such as "secular" and "democratic" under threat.
"During this agitation, mean tactics such as internet shutdown at protest sites, sudden arrests of protesters and other methods were noticed not only by national entities but also by international organisations like the British Parliament and the UNO. As for secularism, Article 370 shows this government is not tolerant of minorities," said SKM legal team member Prem Singh Bhangu.
The advocate pointed out that several of farmers' constitutional rights like right to peaceful protest, right to civil liberties, right to life and liberty and others were challenged. Particularly, the farmers' organisation condemned the "draconian" law passed by the Haryana government that demanded compensation for property damage from protesters.
Other events planned for April include Baisakhi celebrations at Delhi borders on April 13, a 24-hour road blockade of the KMP highway on April 10 and the 'FCI Bachao Diwas' on April 5 wherein farmers will gherao FCI offices across India.
Regarding May events, farmer leader Gurnam Singh Chadhuni announced a Parliament March in the first fortnight of the month.
"Other than farmers and labourers, women, Dalit-Adivasi-Bahujans, unemployed youth and every section of the society will be part of this march. This program will be completely peaceful. People will come in their vehicles from their villages to the borders of Delhi. After this, a Paidal [on-foot] March will be done from the borders of Delhi," he said.
While the exact date of the paidal march is yet to be announced, it will be organised after the Mazdoor Day on May 1 when all programmes will be dedicated to worker-farmer unity.
Meanwhile, SKM member and farmer leader Biju among others held a 'No Vote for BJP / NDA in Trivandrum,' banner to condemn the attack on agitators there by BJP-RSS workers.
In another part of India, the Mitti Satyagraha Yatra farmers stopped at Umrachi, Gujarat where soil from 100 villages in Dandi and 50 viallges in Bardoli was handed over. State police stopped the yatra in the town. However, farmers said that members will continue to protest against government-attempts to snatch the soil (land) of farmers and hand it over to capitalists. The yatra also honours the over-320 farmers who died in the struggle.
Simultaneously, a second Yatra of the Mitti Satyagraha was started from Rajghat in the Barwani district of Madhya Pradesh under the leadership of National Alliance of People's Movement (NAPM) Founder Medha Patkar. Representatives of Narmada Valley farmers, labourers, fisherfolks participated in the Mitti Satyagraha. Both yatras will meet in Rajasthan and then head towards Delhi borders.
Related:
TN: Over 20,000 peasants gather for mahapanchayat at Kanyakumari
Farm laws: SC appointed committee submits report
Protect arrestee's human rights: Lawyers send open letter to UNHRC
Farmers declare FCI Bachao Divas on April 5
SKM thanks citizens for the overwhelming response to Bharat Bandh call!