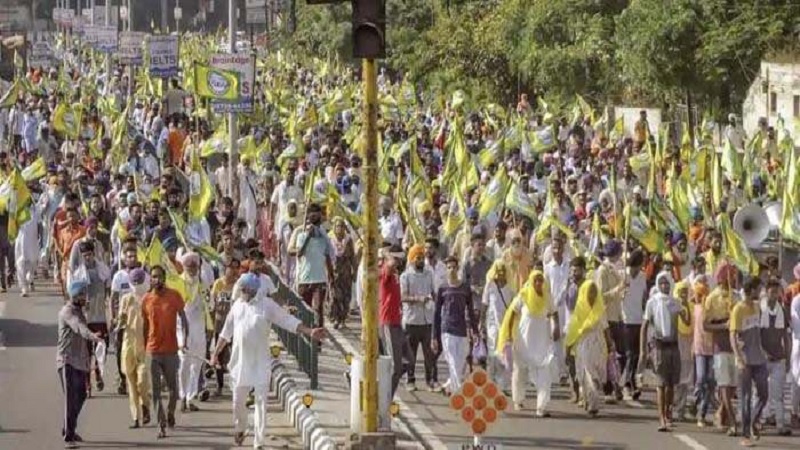 Image Courtesy:daijiworld.com
As peoples' anger against the central governments' refusal to repeal the Acts is gaining strength, another protest site has opened up in Gangaicha border in Rewari, said farmers organisations in a press release on January 8, 2021.
While protests in Manesar, Haryana gain strength, All India Kisan Sangharsh Coordination Committee (AIKSCC) Working Group members reiterate their call for widespread mobilisation on January 13, January 18, January 23 and January 26.
"The fight to repeal the three farm Acts is very much a fight to protect the environment, river and forest resources and save the seed sovereignty of India. These will be further jeopardized once corporates and MNC control agriculture markets and farm processes and gain control due to implementation of these Acts," said All India Kisan Mazdoor Sabha (AIKMS) General Secretary Dr. Ashish Mittal.
Members said that the success of this movement will have several gains for the country, particularly saving the food security as corporate interests lie not with providing food to the hungry but in utilizing agriculture for profits.
Illustrating their point, farmers talked about how the Modi-government decided to free up supply of wheat, rice, jowar, bajra, barley and others for conversion into alcohol to be mixed in fuel.
"The poor man's food will serve as a rich man's fuel," they said.
Farmer leaders said that the movement created an atmosphere of peoples' unity and communal harmony despite the threat from Active Communal forces. They said protesters imbibed the teachings of the Gurudwara Service Culture that call for sacrifice and deep consideration for the neighbour and for those in misery and struggle.
"It is contrary to Corporate Culture of looking after one's own interest," they said.
The Working Group asserted its belief that the sense of unity amongst farming people will end attempts to sow regional dissensions over water disputes and will create an atmosphere where water resources are salvaged from corporate loot to use for farming and peoples' development. The transfer of Narmada water and other big dam reservoir water are examples of such inter-state water disputes.
Related:
Do farmers' demands benefit India's hungry population?
Thousands of tractors set off along the KMP highway!
BJP's anti-farmer tirade motivated by Modi's desire to implement farm Acts: AIKSCC
Is Reliance not walking the talk on Contract farming?
Karnataka and Kerala farmers come together to intensify struggle
Are the new farm laws constitutional?
Haryana: Farmer protesters suffer tear gas shellings, survivors claim police used expired shells
Former Minister calls Centre's three agri laws "draconian", demands repeal