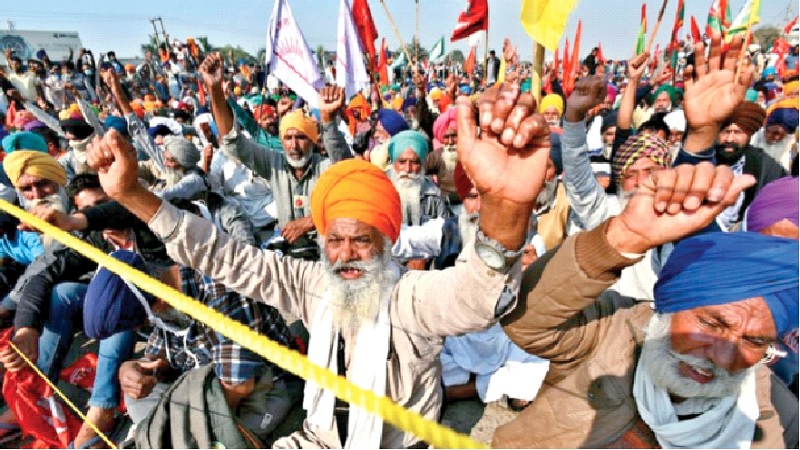 Image Courtesy:organiser.org
Farmers at many mandis in India demonstrated against the central government's agri-related policies on March 19, 2021 in response to the Samyukt Kisan Morcha (SKM) call for the same.
"The Government of India's Food Corporation of India (FCI) has brought in new quality specifications and procurement norms in a direct attack on the procurement regime and ongoing protests," said the SKM adding that farmers submitted memoranda from different protest locations across India in the name of Prime Minister Narendra Modi.
Meanwhile, for Shahadat Diwas of 'Muzara Lehar movement' – the movement in the early twentieth century that secured rights for oppressed tenant farmers – family members of martyrs were felicitated at the Tikri Border protest site on Friday. Families were warmly welcomed by protesters. Bengaluru farmers also paid their respects to martyrs during a well-attended Shraddhanjali meeting on the same day that was joined by SKM leaders.
While these activities took place at Delhi borders, Punjab's farmer unions joined hands with Arhtiya Association representatives in several places with meetings at Sangrur, Barnala, Jagraon, Rampura and other districts to oppose the new FCI guidelines. Protesters submitted memoranda to Deputy Commissioners. In Kurukshetra and Sirsa of Haryana, mandi secretaries received memorandum addressed to Modi.
In the spirit of a united front by peasants, the SKM extended its full support to the call given by Joint Platform of Central Trade Unions against privatisation of public sector entities and against the four recently enacted labour codes. Farmer leaders also expressed full support for the panchayat to be held at the tehsil- and district-level on March 24 and March 25.
Other initiatives of farmers' movement also continue such as mahapanchayats in Odisha and Sitamarhi district of Bihar. The Mitti satyagraha that started from Maharashtra has now passed by Barwani Rajghat region in Madhya Pradesh on Thursday. Another march, the Kisan Mazdoor Jagriti Yatra from Uttarakhand reached Sitapur district in Uttar Pradesh recently and convinced many traders associations and public to make the Bandh call for March 26 a success.
Related:
Maize farmers lost 71 crore in last 15 days: MSP Loot Calculator
Farmers reject new FCI proposals for procurement norms
Farmers introduce MSP Loot Calculator; PM's MSP claims busted?
SKM finalises Bharat Bandh on March 26; progessive associations to join
Gujarat farmers resolve to support struggle for agrarian rights despite state repression
Mitti satyagraha begins on the same day as the historic salt satyagraha!
Punish anti-farmer BJP and its allies in upcoming elections: SKM
Karnataka farmers ask: Where is MSP Modi ji?
March will witness mahapanchayats across India, says the SKM